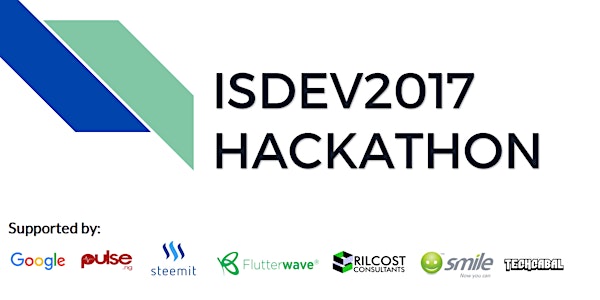 When and where
Date and time
August 24, 2017 · 8am - August 26, 2017 · 6pm WAT
Location
Cedar Point Events Centre 4, New Era Road Iyana Ipaja Iyana Ipaja, Lagos 23401 Nigeria
Description
ABOUT ISDEV
ISDEV (Innovative software developers) is a tech meet up program created to support and train individuals and students, training them to create smart software's and applications that support all platforms.
THE EVENT
ISDEV Hackathon is a weekend dedicated to you and to many hackers, developers and programmers. Collaborate and build creative solutions to problems, while pushing the limits of your mind and body to make something amazing. This event would also showcase interesting artifacts and innovations. We are a young and upcoming group with determined and innovative individuals and this is our second gathering. We have been making preparations to host this event in a more dynamic and unique way with lots of activities.
What is Inclusive?
Come as you are. We make sure you have everything you need to carry out your craziest ideas—amazing mentors, delicious food, and a fun work environment.
What are we to learn?
Get personalized help from mentor teams comprised of ISDEV best and brightest. Collaborate with your peers and learn from industry leaders.
How about the Community
Take a break from your hack to enjoy games, guest speakers, and other special events. Make new friends or even network with our sponsors.
Frequently Asked Question
Who can attend?
All individuals, students, teachers and entrepreneurs are welcome. Whether you're building your first website, app, or hacking with an hardware, ISDEV Hackathon welcomes you.
What can my team build?
Whatever hardware, software, or technology-related projects you and your team can come up with in reference to the theme of the hackathon! Projects will be judged based on creativity, technical difficulty, design, cleanliness and usefulness.
How many people make up a Team?
Teams may contain up to 5 people. If you don't have a team prior to ISDEV Hackathon, that's completely fine - we will be holding a team-matching session at the beginning of the hacking period. You can also compete alone, but that's a lot less fun!
What should I bring?
All attendees are required to bring their online Registration badge (name must match the application) and their laptops, Ipads, or any useful electronic device they can use for hacking. If you want to do a hardware hack, don't forget to bring the devices you plan on working with just in case we run out hardware to loan out. We also recommend bringing a sleeping bag or camp bed for a good night's rest.
How much is this going to cost me?
Admission is free for all hackers! That includes food and drinks. Those living outside of Lagos are still encouraged to apply.
What if I have a question that wasn't answered here?
We're here for you! Send us an email at brindocorp@gmail.com or feel free to reach out to us on Twitter or Facebook.
About the organizer
Brindocorp is an IT company that renders satisfying, cost effective and innovative solutions. Our main objective is to let our clients satisfied with services rendered to them, and also we aim to improve the development of software's with our mind blowing technology.