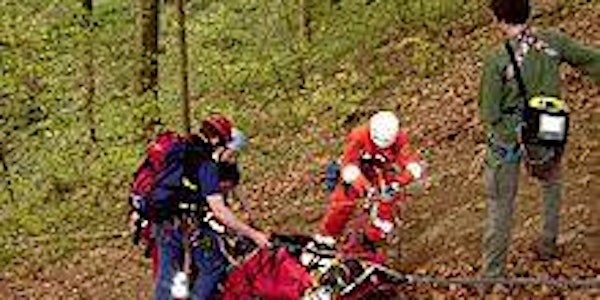 ISAR - Introduction to Search and Rescue (SARTECH III)
Description
This course is a combination of the National Association of Search and Rescue's (NASAR) Introduction to Search and Rescue (ISAR) and skills to ready CERT members to assist SAR Teams. Upon successful completion of this course, the student will have successfully passed the SARTECH III written test and Field Qualification for AAACERT portions to become Call Out Qualified (COQ).
NASAR's Introduction to Search and Rescue (ISAR)/SARTECH III course is designed to provide knowledge concerning the general responsibilities, skills, abilities, and the equipment needed by persons who would be participating in a search or rescue mission. The course is based around rural and wilderness environments, but the material is recommended as a base of knowledge for all SAR environments.
The CERT COQ (Call Out Qualified) portion is designed to teach CERT members to operate as a land search team member under the supervision of trained and experienced SAR Field Team members.
ISAR/SARTECH III is the first course in a stepping stone approach to higher level NASAR courses of training for emergency personnel. It provides a common starting point in training for the new person to SAR and in many cases, an excellent refresher course for the more experience SAR worker. This common starting point provides continuity during SAR operations and future training of all team members.
The recommended number of hours for the course is (16) sixteen. ISAR is also designed to prepare the student for SARTECH III certification, according to the knowledge objectives defined in the NASAR Certification Criteria for SARTECH III. This course will encompass at least 18 days over the three day period.
The textbook that prepares a student to take the SARTECH III exam is entitled "Introduction to Search and Rescue". The ISAR book will be furnished to the student as part of the fees.
Who Should Attend?
CERT members who are interested in becoming involved or have just become involved with search and rescue operations.

CERT and SAR personnel who would like to maintain or refresh their knowledge of search and rescue.

Emergency response personnel who belong to organizations who provide resources and assistance during search and rescue missions.

Managers of emergency response organizations who want to understand the state-of-the-art skills and knowledge needed by the SAR workers.

Community members and groups (scouts, hunters, hikers, etc.) that have an interest in safety and preventative SAR operations
Prerequisites:

None
Topics
SAR: What is it and how do you fit in?

Components of SAR

SAR Management System

Land Navigation and Orienteering

SAR Resources

Search Philosophy and Probability Theory

Search Tactics

Clue Consciousness

Search Operations

Lost Person Behavior

Helicopter Operations in SAR Communications
Upon successful completion of the ISAR/SARTECH III course, the student shall have the knowledge to:
Define the components of SAR operations

List the major responsibilities for search and rescue

Describe the components of ICS and their functions

List and differentiate between at least three types of maps used in SAR

Identify, define and demonstrate the use of topographical maps

Define the plotting methods or grid systems and demonstrate the ability to use them to determine the coordinates for a given point

Describe the parts of the compass and demonstrate the ability to use it

Describe the navigational functions used in map and compass

Define SAR resources

Define the six crucials in SAR management

Differentiate between the two basic categories of search tactics (Passive and Active)

Describe the primary types of active search tactics

Describe the techniques and methods used by searchers

List at least five of the searching or tactical skills needed by field searchers

Explain why SAR personnel search for clues not subjects

List the information needed by the searcher when alerted

Define the functions of the search crew positions

Explain why knowledge of lost person behavior can be an advantage to the searcher

List at least ten of the safety rules for personnel during helicopter operations

List at least five common radio procedures and guidelines
Required Equipment and Supplies
Long sleeve shirt (uniform shirt if available)

Cargo Pants (no shorts)

Hard toe boots, minimum ankle height (composite or steel toe)

Hat or helmet

Notebook

Pencil

Compass

Water & Snacks

Personal First Aid Kit

Other "suggested" equipment list will be sent upon registration
Fee: $169.05 DOES NOT INCLUDE REQUIRED BOOK! Includes instructional fees and SAR TECH III testing fee. Eventbrite will add processing fees.
You MUST purchase the book on your own. We suggest you purchase from Amazon search for "Introduction to Search and Rescue" by Eric H. Martin.
You may cancel your attendance up to 7 days before the class and you will receive a full refund. If you registered early and your registration included the book we will refund the cost of the class minus $49 (the cost of the book plus shipping it to AAACERT then shipping it to you). NO cancellations will be accepted within 7 days of the class and the cost of the class IS NOT refundable.
Organizer of ISAR - Introduction to Search and Rescue (SARTECH III)
Anne Arundel County and City of Annapolis Community Emergency Response Team, Inc. (AAACERT) is a 501(c)3 nonprofit organization located in Anne Arundel County, Maryland. Our mission is to provide citizens with emergency and disaster response, safety and disaster preparedness education and training to increase community-wide readiness and response capabilities in direct support of local, state and national emergency response initiatives.
We are affiliated with the Anne Arundel County Office of Emergency Managment and the City of Annapolis Office of Emergency Management.