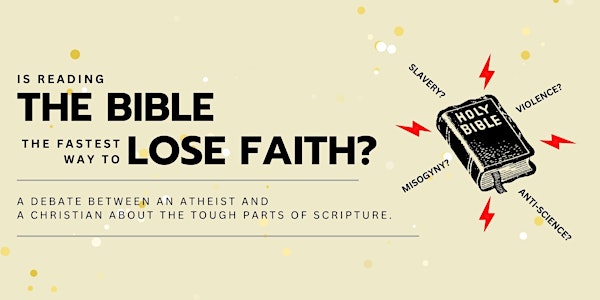 Is Reading the Bible the Fastest Way to Lose Faith?
A debate between an atheist and a Christian about the tough parts of Scripture.
When and where
Location
WestGate Church | Saratoga Campus 1735 Saratoga Avenue San Jose, CA 95129
About this event
The ReGeneration Project presents:
IS READING THE BIBLE THE FASTEST WAY TO LOSE FAITH?
A debate between a Christian and an atheist on the tough parts of the Bible
Friday night, May 5, 2023 - 7:00-9:00 PM at Westgate Church in Saratoga, CA
There is a repeated saying coming up a lot lately that goes:
"The fastest way to become atheist is to read the whole Bible".
The reason? Because so many people have Bibles but have never read the whole thing. The claim is Christians generally focus on the nice parts, but there are many parts of the Bible that often ignored that include verses that seem:
- anti-women
- anti-Science
- pro-violence
- pro-slavery
- hateful and divisive
Join us for a discussion and debate with an atheist who grew up "Christian" but reading the Bible caused him to become an atheist. And a Christian, who was an atheist but reading the Bible caused her to become a Christian. We will hear their stories and then have discussion on the troubling part of the Bible that often are leading to deconstructing and even abandoning faith. There will be time of open Q and A with those there as well.
We will have some free book and other giveaways for those who attend this event.
Featuring:
Mary Jo Sharp, a former atheist and now Christian. Mary Jo is Assistant Professor of Apologetics at Houston Baptist University and author of "Why I Still Believe: A Former Atheist's Reckoning with the Bad Reputation Christians Give a Good God" (www.maryjosharp.com )
Michael Wiseman, is a former Christian, and now atheist. Michael author of the book "The Bible Says What!?" the podcast host of discussions featuring discussions about atheism and Christianity.
Debate Moderator: Dan Kimball, Western Seminary/ReGeneration Project and author of How (Not) To Read The Bible (www.dankimball.com)
This is a free event – register here.
For questions contact: kaylee@regenerationproject.org
Regeneration Project is a ministry of Western Seminary