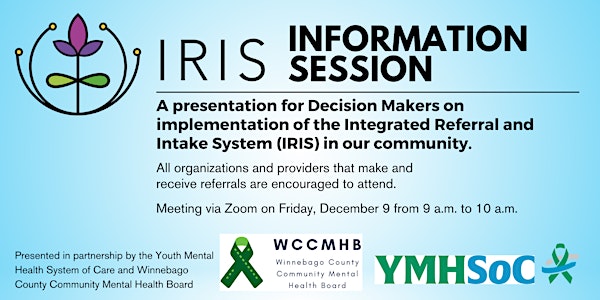 IRIS Referral System - Community Implementation Discussion
A conversation for organizations, health care, and mental health providers on implementing IRIS in our community.
About this event
Date and Time: Friday, December 9 from 9 a.m. to 10 a.m.
Location: Online via ZoomOnline via ZoomOnline via Zoom, 4990 E State St, Rockford, IL 61108. Lunch and refreshments will be provided.
Details: Once again, Winnebago County Community Mental Health Board (WCCMHB) is Convening Organizations to Collaborate! This year, the WCCMHB is partnering with the Youth Mental Health System of Care Collaborative who is leading the implementation of the Integrated Referral and Intake System (IRIS) in our community.
IRIS is a web-based community referral system that helps organizations connect the families they serve to the right resources in their community. IRIS is already in use in nearly two dozen communities in Illinois. You can learn more about IRIS by watching this 5-minute video here: https://connectwithiris.org/why-iris. Learn about IRIS basics here: https://connectwithiris.org/knowledgebase/iris-basics.
As a valued provider serving the people of Winnebago and/or Boone County, we are inviting you and decision makers from your organization to this information session which will provide more information about how your organization can collaborate by using this tool and how it could contribute to our community's efforts to build a coordinated system of care for mental health and substance use services.
REGISTER HERE: https://us06web.zoom.us/meeting/register/tZ0od-6gqTgpEtLM6pA_h8--icGJATnnIolm
Please join us, and please share this invitation with peers and other organizations and providers who make or receive referrals.
Email the event organizer, NICNE, at bcallahan@niu.edu with questions.
About the Winnebago Community Mental Health Board: Visit http://r1planning.org/wccmhb to learn more. The purpose of the Winnebago County Community Mental Health Board (WCCMHB) is to plan, implement, and monitor a system of mental health and substance use services for Winnebago County residents suffering from serious mental illness and substance use. WCCMHB distributes sales tax proceeds to provide services to individuals whose illnesses prevent their functioning in age-appropriate social roles. The use of clinical, evidence-based practices allows individuals with serious mental illness and substance use disorders to remain in the community while accessing their care needs.
About the Youth Mental Health System of Care (YMHSOC): Visit www.ymhsoc.org to learn more. In 2018, a community planning team worked in collaboration to submit a grant proposal to the Illinois Children's Healthcare Foundation to improve the youth mental health system of care in Winnebago and Boone Counties. This team included representatives from Rosecrance, Youth Services Network, Children's Home and Aid, National Alliance on Mental Illness (NAMI), Winnebago County Health Department, Rockford Regional Health Council, Crusader Community Health, MercyHealth, Carrie Lynn Children's Center, Rockford Public Schools, Easterseals Metropolitan Chicago, and the 17th Judicial Circuit Court. The team was one of eight finalists but did not receive this grant. The team continued to meet, engage in preplanning work, and pursue future funding opportunities. In 2020, the group received a 4-year planning and implementation grant from the Children's Mental Health Foundation with a targeted focus on deep engagement of people with lived experience, heighted collaboration and coordinated care among partners, and community-based organizations through the creation of a professionals Community of Practice, and capacity building for mental health service providers through workforce development and training. Our mission is to create a coordinated and comprehensive system of care addressing the mental health needs of children and adolescents in Winnebago and Boone Counties. Our vision is to see a comprehensive, coordinated, equitable, and evidence-based youth mental health system of care affordable and accessible for all children, youth, and adults ages 0-21 in Winnebago and Boone Counties.
About NICNE: The Northern Illinois Center for Nonprofit Excellence (NICNE) has been strengthening nonprofits since August 2004 by providing capacity building, training, technical assistance, resource support and initiative leadership to nonprofit organizations in northern Illinois and southern Wisconsin. NICNE believes in investing in people and organizations that make communities in our area safer, healthier and more vibrant. We do so by providing training opportunities, which help nonprofits successfully achieve their missions. As the region's primary resource for nonprofit capacity and movement building, NICNE encourages collaboration and best practices that result in a strong, vibrant nonprofit sector to demonstrating significant social impact. NICNE Mission: Promote, model and grow innovation, excellence and social impact.
Please email questions to Associate Director Billie Callahan at bcallahan@niu.edu.