#IrelandinSF Speaker Series & Networking Breakfast

Friday, January 10, 2020 from 7:30 AM to 9:00 AM (PST)
Event Details
Join us on Friday, 10th of January at the Consulate General of Ireland, San Francisco for our first of the new year #IrelandinSF Speaker Series & Networking Breakfast!
We are delighted to have Jennifer Tejada, Chief of Police for Emeryville, California as our guest speaker.    
Originally from New Ross, Co. Wexford, Chief Tejada has been working in municipal law enforcement for over 24 years. She has a Bachelor of Arts degree from UC Berkeley, and a Master of Science degree from the University of San Diego. Chief Tejada served for 4 ½ years as the Chief of Police in Sausalito, CA, and has been serving as Chief of Police tor the City of Emeryville since September 2015. 
Joining Chief Tejada in conversation is Rachel Moran, SFPD Lieutenant of Police who is currently a member of the Special Victims Unit (SVU). Lt. Moran has been with the SFPD for 26 years where she is also on the board of the SFPD Emerald Society.
This event is a great opportunity to connect with the Irish & Irish-American community in the Bay Area. Come along to promote an event that is of interest to the Irish diaspora in the Bay Area or simply hear the latest community, cultural and business news.
If you would like to promote an event that is relevant to the breakfast audience, please email Noeleen.Pattison@dfa.ie with details.
Please bring a valid photo ID to present at reception on arrival. 
SIGN UP FOR OUR NEWSLETTER AND FUTURE EVENTS HERE!
Follow us on Twitter @IrelandinSF   #IrelandinSF
#IrelandinSF
Biographies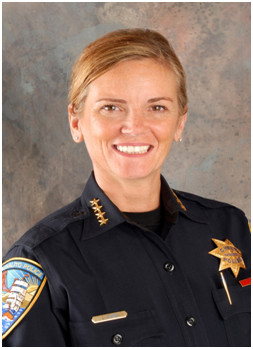 Chief Jennifer Tejada
Chief Jennifer Tejada has been working in municipal law enforcement for over 24 years. She has a Bachelor of Arts degree from UC Berkeley, and a Master of Science degree from the University of San Diego. Chief Tejada served for 4 ½ years as the Chief of Police in Sausalito, CA, and has been serving as Chief of Police tor the City of Emeryville since September 2015.
.
Chief Tejada has created programs and/or worked in a leadership capacity in several specialized areas including Community Policing Programs, Juvenile Justice Reform, Emergency & Disaster Preparedness, Workplace Violence Prevention, Domestic Violence, Sexual Assault Prevention, and Hostage Negotiation.

Chief Tejada is a strong advocate for building trust and community partnerships, working closely with public and private entities to deliver efficient and quality service to all community members. She is the recipient of several awards including the James Q Wilson award in Community Policing. She was recently awarded a grant through the POST Innovative Grant Program to create training curriculum to facilitate law enforcement engagement with the most marginalized community members, those negatively affected by police use of force and the loss of a loved one. Chief Tejada is achieving this using the process of Circle which supports a deep sense of community as well as recognition of shared humanity, and the ability to cultivate compassion and interconnectedness, as well as strengthen well-being and resilience.
Chief Tejada served on the California Police Chiefs' Association (CPCA) as the Chair of the Law and Legislative Committee for almost five years leading change within California Police Chief's policy and positions. In that capacity she influenced and supported legislation that introduced reforms in training and service delivery standards in California policing. She currently serves as 3rd Vice President to CPCA, and Chair to the Women Leaders in Law Enforcement Symposium.
Chief Tejada has been tirelessly advocating for the inclusion of resiliency training in Officer Wellness programs, and Criminal Justice reform measures-specifically in de-escalation and use of force training. She is certified as a Mindfulness Coach for law enforcement. Chief Tejada is a Subject Matter Expert in First Responder Wellness for the California Commission on Peace Officer Standards and Training. Chief Tejada was featured on the cover of Mindful magazine in 2017 for her pioneering work in recognizing the importance of the inclusion of resiliency training for law enforcement and her Human Behind the Badge initiative. She has authored numerous articles on the topic of Mindful Policing. She speaks regularly at a local, regional and national levels advocating for training that provides the skills and tools First Responders need to successfully navigate through the stress and trauma of this profession, and to train and perform in alignment with the changing expectations of police performance in the United States.
Chief Tejada is originally from New Ross, County Wexford. She attended the Holy Faith Convent and graduated at 16. She worked in the family businesses and volunteered providing services to the Homeless as well facilitating a youth program she created for teens within the Travelers' community.
Chief Tejada maintains a strong connection to her family and friends in Ireland. Having grown up in the theatre environment she is particularly thrilled with the recent partnership between St. Michaels Theatre, (where she performed many times growing up), and the Eugene O' Neill Foundation.
Chief Tejada is married to Eric and they have two children Aoife who is a senior at Loyola Merriment University, and Tighe who is a Freshman at the University of Hawaii at Manoa. In her spare time Chief Tejada enjoys family gatherings, travel, tennis, bee-keeping, and gardening and of course coaching in Mindfulness.
EDUCATION AND EXECUTIVE TRAINING, AND AFFILIATIONS
• University of California at Berkeley, Bachelor of Arts in Anthropology
• University of San Diego Master of Science in Public Safety Leadership
• West Point Leadership LAPD Program Graduate and Instructor
• POST Executive Certification
• Senior Management Institute for Policing, Police Executive Research Forum
• POST Executive Development Certificate
• POST Law Enforcement Chief 3rd Vice-President
• University of San Francisco Law Enforcement Leadership Symposium Committee
• State of California Sexual Assault Victims Services Commission -Member
• International Association of Chiefs of Police – Education and Training Committee – Member
• University of California at San Diego Center for Mindfulness – Certification in Peer Coach Mindfulness Resilience.
• POST Subject Matter Expert for First Responder Wellness
• Lecturer -University of San Diego Graduate Studies- Community Policing Strategies
• Lamorinda Rugby Club-Board of Directors -member
Rachel Ann Moran
SFPD Lieutenant of Police
Born in San Francisco (4th Generation) to Collette Patt and Louis Ozenne. I was raised in the Bay Area and graduated from Mercy High School, San Francisco in 1988. I attended Sacramento State University and Skyline College in San Bruno and entered the San Francisco Police Academy in January 1994.
Over the past 26 years I have proudly served in the following District Stations working in a variety of assignments including patrol, plain clothes investigations, undercover operations and event planning - Bayview Station, Taraval Station, Mission Station, Park Station and Tenderloin Station. I have also had the pleasure of being assigned to several Specialized Units-Narcotics, Cease Fire Task Force, MUNI Task Force, Marine Unit (1st woman assigned to unit), and the Special Investigations Division. I am currently assigned to the Special Victims Unit (SVU) where I oversee Sexual Assaults, Child Abuse, Cold Cases and the Sex Offender Unit.
I have 1 child, Gracie Murphy 13 years old (5th Generation born in SF). Gracie is an honor roll student, a member of student council-religious affairs and plays volleyball and softball. My husband, Michael Moran, is a 4th generation San Franciscan, proud Riordan High School graduate, and retired SF Police Captain-proudly served 32 years. Mike and I are board member of the SF Bay Area Law Enforcement Emerald Society and Mike is a former executive board member. We are also members of the United Irish Cultural Center.
My Great Grandfather James Patt was born in 1902 in Clounaman, County Kerry. Great Grandpa emigrated to US via the Cedric (ship) in 1924, where he met and married Annie Meighan. Great Grandma Annie was born in 1897 in Belfast and came to the US in 1924. My Great Grandparents met at the Dover Club on Valencia Street and the rest is history.
My Great Grandpa John Olsen was born in San Francisco in 1903. He was a Merchant Marine and sailed on Clipper Ships out of the SF Harbor. Great Grandpa's mother, Nellie McGrath was born in 1874 in Doon, County Waterford. We still keep in contact with our cousins in Ireland! We last visited our cousins in Ireland several years ago on a famous Patrick Burke Tour of Ireland.
My Grandparents James Patt and Violet Patt (Olsen) grew up in San Francisco. They had 10 children – 5 boys and 5 girls, my mother being the oldest daughter. Many of us (cousins, uncles/aunts) are invested and dedicated to San Francisco, 4 in Law Enforcement (SF), 2 in the Fire Department (SF), 2 in the Electricians Union (SF), 2 in the Elevator Union (SF), 1 in Dept. Public Works (SF). My Aunt and God Mother, Victoria (Patt) Chiechi, keeps a detailed record of our Irish Heritage and traditions which she passes on to the younger generations in our family
I am very proud of my Irish Heritage. The Irish, unlike no other, have a playful spirit, robust sense of humor, honorable work ethic, loyal friendships and unbreakable family ties. It is my responsibility as an Irish American to pass on our traditions and assure that the next generation does not forget where we came from.

When & Where

Consulate General of Ireland
100 Pine Street
Suite 3350
San Francisco, CA 94111


Friday, January 10, 2020 from 7:30 AM to 9:00 AM (PST)
Add to my calendar