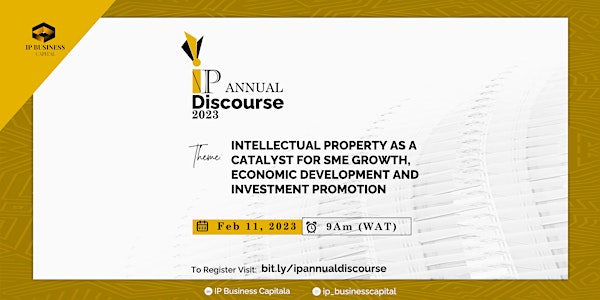 IP DISCOURSE ANNUAL CONFERENCE
The IP Annual Discourse serves as a think-tank where policy makers, investors, innovative entrepreneurs,& creatives discuss the future of IP
By IP RADIO and IP DISCOURSE
Date and time
Starts on Saturday, February 11 · 12am PST
About this event
Click here to register or copy the link to your browser bit.ly/ipannualdiscourse
(IP Annual Discourse) is a power house or platform focused on intellectual property and innovation development in Africa. We serve as a think-tank where policy makers, investors, innovative entrepreneurs, creatives and legal IP practitioners discuss the future of Intellectual property in Africa, proffer solutions to existing obstacles and chart the way forward for the growth of IP intensive sectors.
The conference is divided into three parts:
Topical presentations and discussions
Panel sessions
Master-class
Topical Presentation
ARIPO Trademark System
Intellectual property Rights, Foreign Direct Investment and Economic growth
Topical Discourse on Innovation and IP development
Panel Session:
Panel 1:
Licensing, Merchandizing and Partnerships in the creative industry: Opportunities and Risks.
Panel 2 – Trade and Investment Policies for Business Sustainability.
Short Break
Panel 3 - Exploring Intellectual Property insurance schemes.
Panel 4 - Creation of Specialized Courts for the enforcement of IP rights.
Short break
Panel 5 – Insights for building a sustainable trademark system
Closing Keynote Speech, Announcements and Vote of Thanks.
Click here to register if you are yet to register
Master-Class
Feb 12. 2023
Time 3pm (WAT)
Trademark opposition proceedings.
Licensing and Assignment of Intellectual property (Trademarks and Copyright)
Data privacy compliance for tech businesses.
Anti-counterfeiting measures for brands.
Click here to register if you are yet to register
Visit our website at www.ipbusinesscapital.org
Agenda
Topical Presentation
Panel Session
Masterclass
Topical Presentation
---
• ARIP Trademark System • Intellectual property Rights, Foreign Direct Investment and Economic growth • Topical Discourse on Innovation and IP development