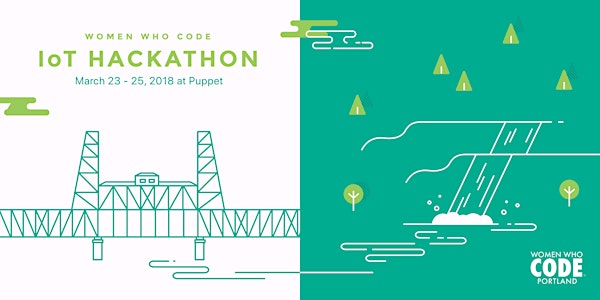 IoT Hackathon 2018
When and where
Location
Puppet 308 SW 2nd Ave., 5th floor Portland, OR 97204
Description
The Women Who Code Portland - IoT Hackathon is back the weekend of March 23-25! This event is geared towards women but we also welcome everyone who supports our mission of inspiring women to excel in technology careers. The goal of the hackathon is to gain new programming skills, have fun, and work in teams to build sustainability solutions. This year's theme is Sustainable Futures.
We welcome your expertise at this event, whether you are a developer, designer, product manager, project manager, data scientist, business analyst, or marketing professional. You will be working in teams of 4-6 to come up with the next great IoT solution. This hackathon is geared towards all skill levels. If this is your first hackathon, you will fit right in! If you are a seasoned professional ready to lead a dedicated team, this event is also for you!
Our aim is to provide a welcoming and supportive space to learn about IoT, work on a new portfolio project, or spend all weekend tinkering with hardware.
We will kick things off with a Sponsors Fair on Friday evening. This will be your opportunity to meet our sponsoring tech companies and learn more about them. We will get started with a welcome and short IoT talks at 7pm, before diving into idea pitches and team formating at 8pm. There will be plenty of food and drinks provided throughout the event. On Sunday, presentations will start at 2pm.
EVENT COST
The event cost is $25 for all hackathon participants and they include food throughout the weekend, WWCode swag, giveaways, and prizes for the winners.
Scholarships: If you are a student, under-employed, or in need of financial assistance, we have full scholarships available for this event. Please submit an application here.
No refunds. There will be no refunds for this event. If you cannot attend, you can email us to transfer the ticket to another attendee, or we can add it to our scholarship pool.
TIMELINE
Friday
6:00 - Doors Open + Dinner + Sponsors Fair
7:00 - Welcome from Women Who Code Portland
7:15 - IoT Tech Talks
8:00 - Team Forming
9:00 - Go home and rest
Saturday
9:00 - Doors Open + Coffee + Bagels
9:30 - Hacking begins
12:00 - Lunch
1:00 - Hacking continues
5:00 - Dinner
9:00 - Go home and rest
Sunday
9:00 - Doors Open + Coffee + Pastries
9:30 - Hacking
12:00 - Lunch
1:30 - Submissions Due + Presentations Begin
4:15 - Winners Announced
4:30 - Closing Remarks
PREPPING FOR THE HACKATHON

We have a few events to help you learn more about IoT and get your laptop set up for the event.
- Workshop: Intro to IoT - Monday, March 5th - 6 PM
- Installfest - Thursday, March 22 - 5:30 PM
More details will be emailed to attendees.
RULES
- All coding for the Submission must be done on site at the Hackathon.
- By coming to this event, you are agreeing to follow our Code of Conduct
CODE OF CONDUCT
Women Who Code (WWCode) is dedicated to providing an empowering experience for everyone who participates in or supports our community, regardless of gender, gender identity and expression, sexual orientation, ability, physical appearance, body size, race, ethnicity, age, religion, or socioeconomic status. Because we value the safety and security of our members and strive to have an inclusive community, we do not tolerate harassment of members or event participants in any form. Our Code of Conduct applies to all events run by Women Who Code, Inc. If you would like to report an incident or contact our leadership team, please submit an incident report form.
WHO SHOULD ATTEND

All skill levels are welcome. We are looking for developers, designers, product people, and anyone interested in learning more about the Internet of Things.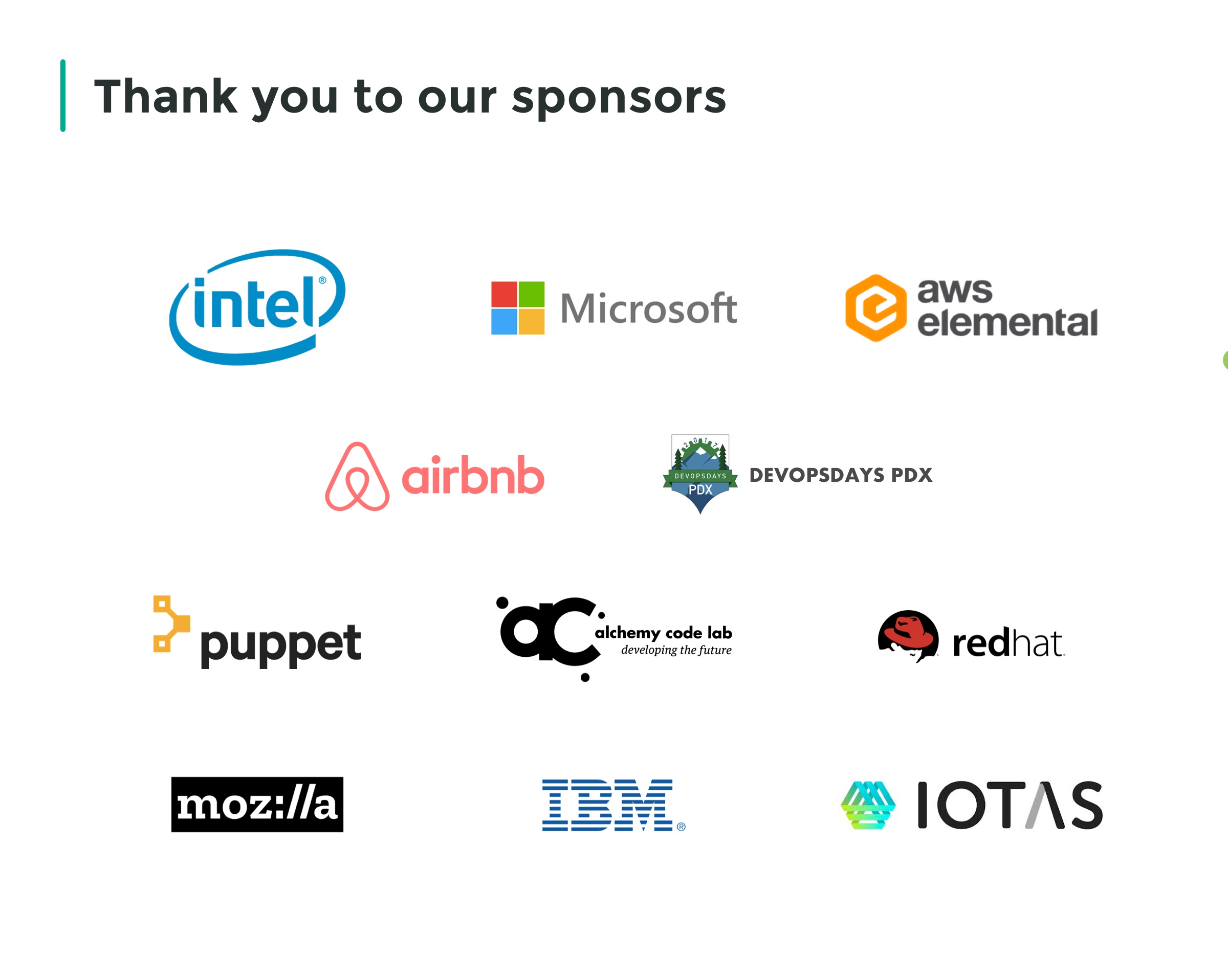 Gold Sponsors:
Intel: https://www.intel.com/content/www/us/en/homepage.html
Microsoft: Cloud Developer Advocates: https://developer.microsoft.com/en-us/advocates/index.html
AWS Elemental: https://www.elemental.com/
DevOpsDays PDX: https://www.devopsdays.org/events/2017-portland/welcome/
Airbnb: https://www.airbnb.com/

Silver Sponsors:
Puppet: https://puppet.com/
Alchemy Code Lab: http://www.alchemycodelab.com/
Red Hat: https://www.redhat.com/en
Bronze Sponsors:
Mozilla: https://www.mozilla.org/en-US/
IBM: https://ibm.biz/ibmcodesf
IOTAS: http://www.iotashome.com/