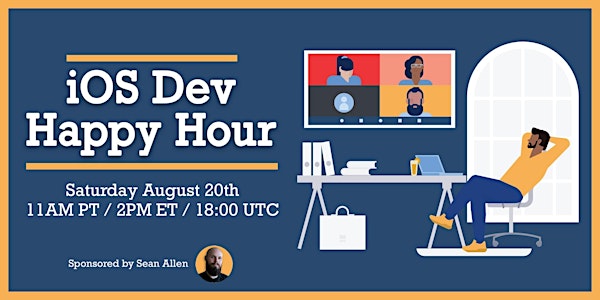 iOS Dev Happy Hour: August 2022! (Sponsored by Sean Allen)
A place for iOS Devs to hang out!
About this event
The goal of #iOSDevHappyHour is to allow current and aspiring iOS Developers a place to share experiences, share knowledge, simply hang out, build community, and even enjoy a drink or two online during a time where face to face contact is limited.
This month's event is sponsored by Sean Allen! Sean is an iOS development pro who boasts a YouTube channel with more than 106K subscribers and a Twitter account with more than 33K subscribers. He also offers paid iOS development courses available on his website. Come learn from his experience and about his courses at this month's event! Some extra background on Sean:
iOS Developer for 7+ years. I spent the first 5 years of my career building for startups in Silicon Valley, but left to pursue my own business in 2019.
I teach iOS development through my YouTube Channel and online courses. On the side, I work on my app Creator View; a product that helps YouTube creators run their business.
This month's event includes:
Sponsor talk with Sean Allen
Multiple community guest speakers
Breakout rooms (topic-based and random assignments)
A super special giveaway (must be present!)