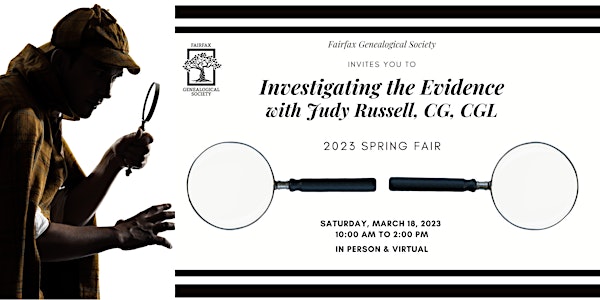 Investigating the Evidence with Judy Russell
Join us in a workshop to discover genealogy's best practices for resolving conflicts in evidence and a lecture on using negative evidence
When and where
Location
Dunn Loring Fire Station 2148 Gallows Rd Dunn Loring, VA 22027
Refund Policy
Contact the organizer to request a refund.
About this event
Join us for the Fairfax Genealogical Society (FxGS) Spring Fair, "Investigating the Evidence with Judy Russell" on March 18, 2023, 10:00 am to 2:00 pm. The event is open to both FxGS members and nonmembers. This is a hybrid event presented with a choice of attending in-person or on Zoom.
Our speaker is Judy G. Russell. As a genealogist with a law degree, she is a lecturer, educator, and writer who enjoys helping others understand a wide variety of genealogical issues, including the interplay between genealogy and the law. She holds Certified Genealogist and Certified Genealogical Lecturer credentials from the Board for Certification of Genealogists, and writes a blog, The Legal Genealogist. Visit her website at www.legalgenealogist.com.
At our Spring Fair, Judy will present a workshop entitled "When Worlds Collide: Resolving Conflicts in Genealogical Records" and a lecture, "No, No Nanette! What Negative Evidence Is...And Isn't."
The schedule and a description of each session is as follows:
9:00 am-10:00 am: Check-In for In-person attendees
10:00 am-12:00 pm: When Worlds Collide: Resolving Conflicts in Genealogical Records
The Genealogical Proof Standard says to resolve conflicts in data...but like so many things that sound good, it's easier said than done. What exactly are we supposed to do when we encounter conflicting evidence? What are the basic types of evidence conflicts and the methods we can use to resolve them? This hands-on workshop will review genealogy's best practices for resolving conflicts, with tips and tricks to make it easier.
12:00 pm-1:00 pm Lunch break
1:00 pm-2:00 pm: No, No, Nanette! What Negative Evidence Is...And Isn't
Negative evidence is the hardest type of evidence to understand or use in genealogical research. Negative evidence arises "from an absence of a situation or information in extant records where that information might be expected," and so it is, as the fictional detective Sherlock Holmes told us in the short story "Silver Blaze," the "curious incident...in the night-time"-the thing we would expect to see or hear but that just isn't there. Learn more about what negative evidence is-and what it isn't and how to use it.
The 2023 Spring Fair will be held at the Dunn Loring Fire Station located at 2148 Gallows Road, Dunn Loring, Virginia. Free parking is available at the Fire Station and next door at Kilmer Middle School.
Box lunches ($12) will be available to order with conference registration for in-person attendees.
For those choosing the virtual option, a Zoom link to the presentations as well as presentation handouts will be emailed close to but prior to the March 18, 2023, presentation date. In-person attendees will receive presentation handouts by email prior to the March 18, 2023 date.
FxGS Members are eligible for a discount. To receive the discount, enter the promo code first at the top of the registration form then click on the Apply link before proceeding. The promo code is available in the members only section of the FxGS website (fxgs.org)