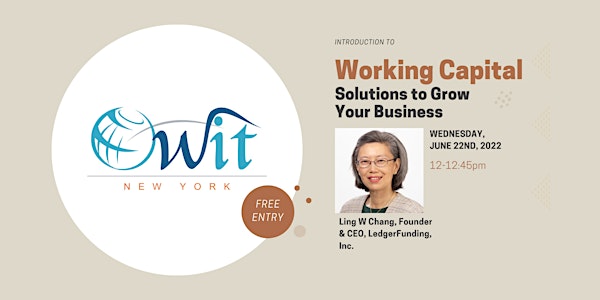 Introduction to Working Capital Solutions to Grow Your Business
Discover the power of working capital. Deepen your financial literacy.
About this event
Join OWIT-NY and LedgerFunding Founder and CEO Ling W. Chang June 22nd for an informative session on working capital. We will answer: What is working capital financing? How is it different from bank loan and line of credit? What circumstances should they be considered?
About Ling W. Chang: Founder and CEO of LedgerFunding, Inc., a FinTech company that democratizes business's access to and choice of working capital solutions on a funder-agnostic platform. She embarked on the entrepreneurial journey after running a Swiss software company and prior experience in sales and consulting at various tech companies.
About OWIT-NY: United around the globe to foster international trade and the advancement of women in business.