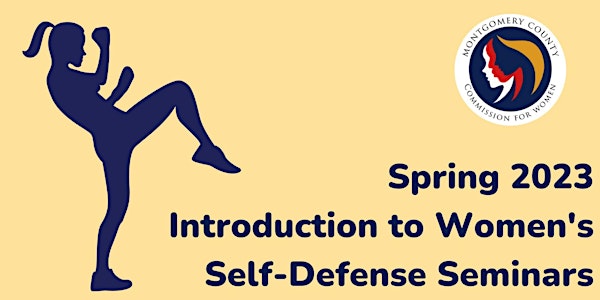 Multiple dates
Introduction to Women's Self-Defense Spring 2023
The S.A.F.E. seminar is a self-defense and awareness class for women of all ages and abilities taught by R.A.D. certified Instructors.
By Montgomery County Commission for Women
Date and time
February 20 · 7pm - June 10 · 3pm EST
Refund Policy
Contact the organizer to request a refund.
Eventbrite's fee is nonrefundable.
About this event
Montgomery County Commission for Women Presents Introduction to Self-Defense:
The S.A.F.E. (Self-defense Awareness & Familiarization Exchange) Seminar is a single 2-hour "sampler" seminar for women of all ages and abilities taught by Rape Aggression Defense (R.A.D.)-certified instructors. This seminar includes risk and crime awareness and prevention, along with information that may reduce the risk of exposure to violence as well as increase options for escaping violence. Participants also practice some physical self-defense techniques. S.A.F.E. seminar elements include:
a dynamic 13-piece full-color student folio with safety information every woman should know
a 90-minute interactive learning experience with R.A.D. instructors that introduce basic physical self-defense techniques that can be used to escape assaultive situations.
Spring 2023 Dates (Each seminar is held 7:00-9:00 pm, unless otherwise noted):
Choose a date that works for you:
Saturday, March 18, from 1:00-3:00 pm: Longwood Community Recreation Center19300 Georgia Ave, Brookeville, MD 20833
Wednesday, March 22: Plum Gar Community Recreation Center19561 Scenery Dr, Germantown, MD 20876
Tuesday, March 28: Mid-County Recreation Center2004 Queensguard Rd, Silver Spring, MD 20906
Wednesday, April 5: White Oak Community Recreation Center1700 April Ln, Silver Spring, MD 20904
Thursday, June 1: Wheaton Community Recreation Center 11701 Georgia Ave, Silver Spring, MD 20902
Saturday, June 10, from 1:00-3:00 pm : Bauer Drive Community Recreation Center 14625 Bauer Dr, Rockville, MD 20853
A minimum of 10 people are needed for each class. If less than 10 people sign up, the seminar will be canceled and participants will be notified via email.
Who Should Attend?
The seminar fits everyone's abilities! Don't worry about your age or athleticism.
Women ages 16-18 may attend; Parental consent form required before first class. Women ages 12-15 may attend if accompanied by an adult female who is also taking the class and a parental consent form submitted before first day of class.
What should you bring to the seminar?
Athletic footwear and comfortable clothing are recommended.
Water Bottle
The ability to learn and have fun!
Where Are the Seminars Being Held?
All seminar sessions are held in Montgomery County Libraries.
Is this for women only?
Yes. This class is for women only. A R.A.D. for Men seminar is available but is not currently being offered by the Commission for Women. Those interested should call 240-777-8300. A minimum of 10 individuals is required for a class.
Please note the following safety policy prior to signing up for the class:
Disruptive Behavior Policy
It is the policy of The Commission for Women to maintain an environment free from intimidating, demeaning, abusive or disruptive behavior which is contrary to a safe environment. The programs of the Commission are held primarily in county facilities, therefore, The Commission will default to the procedures established by the host facility (such as a library or recreation center) for disruptive behavior. As a result, action may be taken for any disruptive encounter that is not conducive to treating people with courtesy, dignity, and respect. Any attendee deemed to have displayed a form of disruptive behavior is subject to immediate removal from the facility or program and may be barred from attending future programs by the Commission or the host facility. The Department Head or designee of the host facility may consider pursuing criminal prosecution if they reasonably believe the person involved has committed a criminal offense.