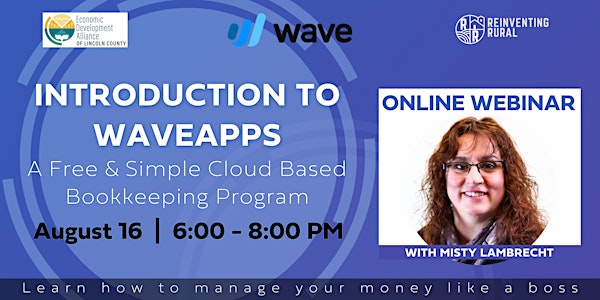 Introduction to WaveApps - A Free & Simple Cloud Based Bookkeeping Program
WaveApps is an ideal solution for small solo business owners, construction, or non-profits.
About this event
WaveApps Wave is one-stop money management for small business owners and it is free, just like this online workshop.
Get paid faster...move from an estimate to invoice, to payment all from a mobile phone while in the field. Allowing you to generate estimates, invoice on the job site, and give customers a paid receipt.
Track your income & expenses, painlessly...Monitor your cash flow, stay organized, and stop sweating tax season. Say #sorrynotsorry to your spreadsheets and shoeboxes.
Bye bye bookkeeping...Wave Money automatically syncs your expenses and income with our accounting software.
Pay your staff, and yourself, in minutes...Didn't go to school for payroll? No worries. We built our Payroll tool for small business owners, so it's easy to use AND teaches you as you go.
There are no monthly fees for WaveApps, and it is cloud based, so you need not be stressed about that old computer you plan to back-up someday.
Misty Lambrecht at Reinventing Rural will walk you through navigating the platform to your benefit and answer questions of how WaveApps can help you in what you're working to accomplish!
Please join us to see if this might be a solution for your small business accounting needs.