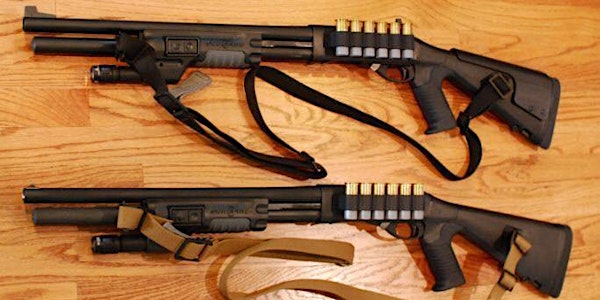 Introduction to Tactical Shotgun
When and where
Location
Nicys Firearms Instructions 540 NY-376 Whortekill Rod & Gun Club Hopewell Junction, NY 12533
Refund Policy
Refunds up to 1 day before event
Description
*Please Read "Requirements & Restrictions" Below to Ensure Your Participation*
*Fee Total: $135.00 - Deposit of $35.00 is paid at registration, $100.00 balance is due on the range, paid by cash, check or money order
*$10 off if you join or renew your NRA membership with us, click here
*Duration: 5 hours, from 9:30AM - 3:30PM (*lunch break in between)
*We meet on Police Range# (?) at 9:00 am for a safety briefing, please be on time
*Class Description*
This course is designed to introduce the shooter to the art of "Tactical Shotgun".
Students will be guided through various live fire shooting drills designed to improve performance and increase comfort levels.
At the end of this class, students will develop the knowledge, skills and attitude to use a shotgun efficiently and with confidence and be ready for advanced shotgun training.
This class will introduce you to the following:
-Safe handling
-Ammunition selection
-Clearing malfunctions
-Loading and unloading
-Birdshot, Buckshot patterns and Slug zeroing
-Understanding the shotgun's range
-Marksmanship fundamentals
-Shotgun manipulation and shooting techniques
-Static shooting drills
-Combat shooting
-Shooting from different distances
-Shooting on the move
-Multiple shots
-Multiple targets technique
-Cleaning and maintenance
*REQUIREMENTS*
-You must be a "U.S. Citizen or Legal Resident of the United States". Present a valid pistol license or a current driver's license or a valid U.S. Government issued photo Id.
-Clean Background: As a condition to attend this class, you must be able to legally possess a firearm.
-Be 18 or older
-Must demonstrate all aspects of firearm safety, good muzzle management and trigger discipline
-Mechanically sound pump or semi-auto shotgun with a sling (12 or 20 Gauge)
-Shotgun side saddle, shell holder, ammo pouch or extra large pockets
-Ammo Count: Birdshot 125 rounds (any size or # 7 or # 8), (00) Buckshot 20 rounds, Slug 25 rounds
-Ear Protection is a Must: Electronic type is recommended or any other type
-Eye Protection is a Must: Wraparound eyewear polycarbonate lenses or non-shattering prescription glasses
-Hat w/ Brim: Recommended for extra eye protection
-Footwear: Suitable for rapid movement and turning
-Knee Pads: Recommended
-Shooting Gloves: Recommended
-Clothing: Suitable for any weather, pants w/ large cargo pockets or long sleeve shirt or t-shirt are recommended, please no low-cut neck lines
*RESTRICTIONS*
-This is a Cold Range: When you arrive, "do not" remove your firearm from the gun bag, even if unloaded within the designated "safety area". We'll call you to the firing line to get your gun ready for the class.
-Ammo Type: No homemade reloads.
*WEATHER*
Please check the weather and dress accordingly, we shoot outdoors rain or shine. You'll be notified of a cancellation due to "severe" weather conditions.
*FOOD AND BEVERAGES*
Beverages are available for purchase from machines at the range, bring your own lunch and/or snacks
*REFUNDS/CREDITS*
A refund will be granted, minus processing fees (if applicable), only for requests made 48hrs prior to the date of this class or if a class is cancelled by Nicys due to severe weather conditions. If you miss the class for any reason and did not inform Nicys 48hrs prior to the class, only a credit will be issued. In order to get this credit, you must contact Nicys and apply it towards the next class within 3 months of the original date. No credits will be granted afterwards.
*SORRY, WE DON'T RENT GUNS*
*Please contact Nicys at 914-930-6238 should you have any questions or need additional information.
Thank you.