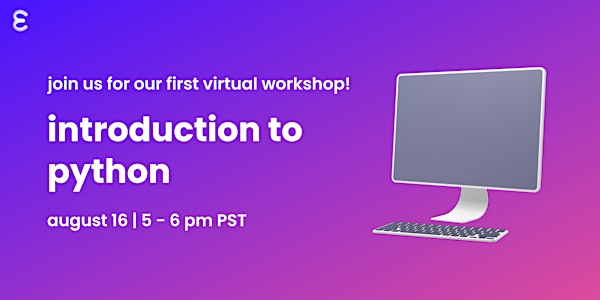 Introduction to Python
Join epsilon for our first online workshop! Learn about why we use python, basic syntax, and more!
About this event
During this workshop, you'll be introduced to Python, one of the most popular, general-purpose programming languages today. You'll learn about what is python, why we use python, and get started with basic syntax! Don't worry if you've never used Python or even coded before—this workshop is open to everyone, including newbies and beginners 🤗
💻 | workshop prerequisites
A laptop or PC device with internet connection
Zoom desktop client (preferably most updated version + working mic)
Registered Zoom account
❕ This workshop will be hosted on Zoom. You must have a registered Zoom account to participate.
👩‍🏫 | about the instructor
Simone Wood is a licensed Computer Technology and Networking Teacher, with over 8 years' experience teaching programming and coding to K-12 students, to include HTML, Python, and Javascript. Mrs. Wood has a MS degree in Information Systems and Technology Management and Education, and has also served 15 years in the United States Air Force as a Cyberspace Network and Security Systems Administrator.
🤔 | who are we?
We are a recently-started organization focused on building a strong and connected tech community to help youth in Las Vegas and Chicago break into STEM, starting with a virtual pilot-program to help us kick-off.
❕ Have questions? Send us an email at epsilonstem@gmail.com, and we'll be happy to help!
🙈 | want more?
Follow our Eventbrite page to keep up with our events
Follow our Instagram
Check out our website (full website coming soon!)
Interested in joining our team? Click here to view our application form!