Spend the day learning the basic concepts of Motivational Interviewing. No prior experience required.
About this Event
Motivational Interviewing is a style of communicating about behavior change. Whether you're a healthcare provider who speaks to patients about quitting smoking or taking medication, or an educator who speaks to students about time management and study skills, or a social worker who speaks to clients about coping skills and substance use, this workshop is for you. Dr. Kate Watson, President and Founder of The Advocacy Academy hosts workshops tailored to the needs of many professionals including, but not limited to those who come from:
Healthcare/ Fitness
Social Work/ Social Services
Psychology
Victim/ Survivor Advocacy
Criminal Justice
Education
Leadership/ Management
In a full-day introductory workshop, participants will learn the basic concepts related to Motivational Interviewing: Evocation, compassion, partnership, acceptance. Participants will also practice the four basic skills of MI: Open ended questioning, affirming, reflective listening, and summarizing.
Outcomes
By the end of the webinar, participants will be able to:
Define Motivational Interviewing
Give an example of ambivalence
Distinguish between change talk and sustain talk
List the 4 elements of the relational component of MI: Partnership, Acceptance, Compassion, and Evocation.
Demonstrate the 4 basic skills of MI: Open ended questions, affirmations, reflections, and summaries.
This ticket is not refundable, nor transferable, unless cancelled by the organizer. If the event is cancelled, ticket fees will be refunded.
Although this webinar is not pre-approved for continuing education credit through any particular accrediting body, most participants who are interested in CEUs are able to obtain them by submitting proof of attendance to their professional licensing and credentialing boards. If you have any questions about CEUs, please email Kate@AdvocacyAcademy.org.
To review the agendas for the entire MI series, see the image below. Participation in the 90 minute "Foundations" course is optional for anyone who would like to learn about MI before purchasing a ticket. Folks are also welcome to jump right in with Intro to MI.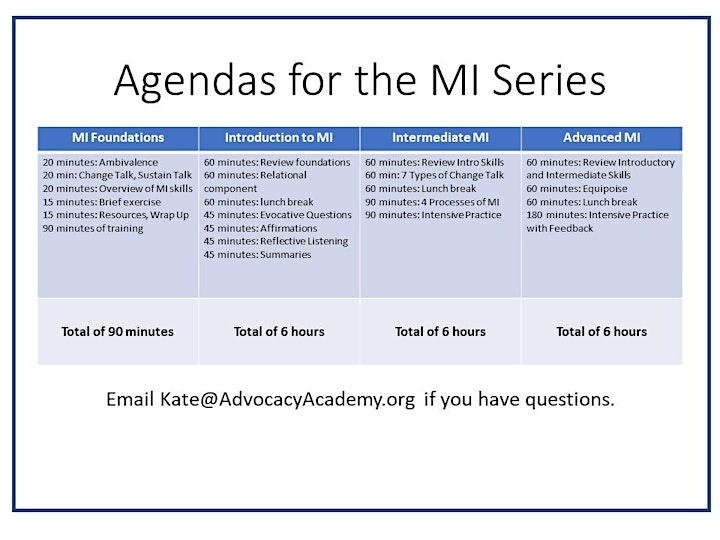 Date and Time
Location
Refund Policy