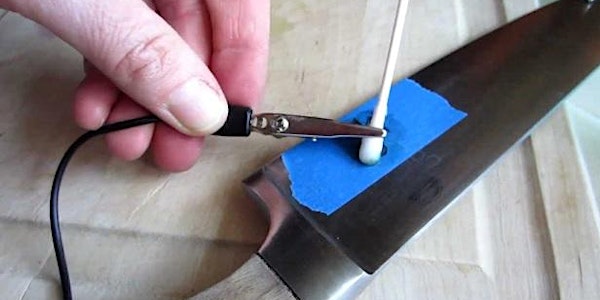 Introduction to Electric Etching Metal
When and where
Location
NYC Resistor 87 Third Avenue Fourth Floor Brooklyn, NY 11217
Refund Policy
Refunds up to 7 days before event
Description
Electric Etching is the process of using electricity and an electrolyte to etch a pattern onto a metal surface. A non-conductive pattern is placed over the material to be etched. The metal to be worked on is then grounded. The live wire is then connected to the applicator. When the applicator is applied to metal surface, wherever is not masked will be etched. The advantage of using electricity to etch metal is that it is a very predictable process. If it is desirable to have a deep etch, a higher current or longer exposure time increases the prominence of the edge.

This class will cover the basics of electric etching. It'll be broken down into 3 parts. The first part will cover a demonstration of the etching process. Students will be able to practice on a scrap piece of metal. In the second part of the class, students will be making their own masks out of Vinyl. In the 3rd part of the class, students will etch metal plates that we will provide or items that they want etched. After etching, students will be polishing the surface to protect the etching. We DO NOT recommend etching sentimental items, items of great value or family heirlooms.
The goal of this class will be to make patterns of your name and etch them onto name plates. However, if students are feeling particularly creative, they can make other designs and patterns. To save on time, students can make their own mask designs beforehand. We'd want the masks to be .DXF file format no larger than 12" across. Students are also recommended to bring their own laptops in case they want to make changes to their etch pattern. We will be providing name plates that measure 1" x 6" wide.

This class will be taught by Friend-of-Resistor Jack Poon, and hosted by NYC Resistor member AJ McGuire. As with all NYC Resistor events, this class is 18+ and governed by our Code of Conduct. The Code of Conduct, as well as accessibility information, can be found at
www.nycresistor.com/participate/
.
Please note that refunds must be requested 72 hours in advance. If you have any questions, please email
classes@nycresistor.com
.