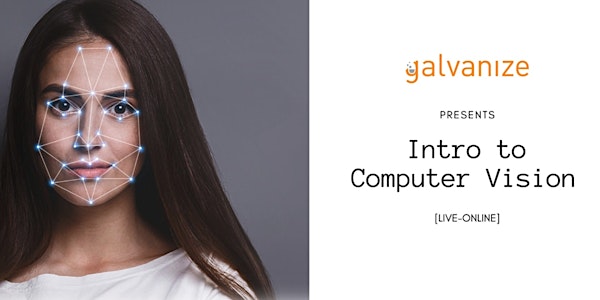 Introduction to Computer Vision [Live Online]
Join us for a free hands-on Intro to Computer Vision workshop!
By Galvanize Data Science
When and where
Date and time
Monday, March 15, 2021 · 5:30 - 7:30pm PDT
About this event
Thanks to advancements in deep learning and artificial neural networks, computer vision is increasingly capable of mimicking human vision and is paving the way for self-driving cars, medical diagnosis, manufacturing and much more.
In this introductory workshop, Sage Elliott will get you started with computer vision and walk you through how to build your own object detection system to locate objects in images and videos.
A dataset will be provided, but if you'd like to get started with your own dataset sign up for Sense Data Annotation(http://sixgill.tech/galvanize) and try labeling your own image(s) with the rectangle or polygon label schema.
What You Will Learn:
Computer Vision Systems for object detection and image segmentation
Practical Data Labeling for Computer Vision Projects
Using Google Colab to train your models for free
How to train your own computer vision model for Object Detection
Apply your model predictions to images and videos
How to Prepare:
Have the Zoom Client for Video Meetings installed well before the webinar begins: https://zoom.us/download
Optional: Use Promo Code: WEBINAR90DAY for a 90 day free trial of Sense Data Annotation( https://bit.ly/g-sense-labeling) and label your own images with rectangles for object detection. A good rule of thumb is to start with 200 images.
Taught live online:
2 Hours – 5:30pm - 7:30pm Pacific Time
A link to join the workshop will be provided to you once you RSVP.
About Your Instructor:
Sage Elliott is a Machine Learning Developer Evangelist for Sixgill (https://sixgill.com/) with over 10 years of experience in the engineering space. He has a passion for exploring new technologies and building communities. To learn more about Sage, you can reach him on Linkedin https://www.linkedin.com/in/sageelliott/
To learn more about our data science immersive program, visit http://bit.ly/36RZdb9
About Galvanize:
Galvanize is the premiere dynamic learning community for technology. With campuses located in booming technology sectors throughout the country, Galvanize provides a community for each the following:
Education - part-time and full-time training in web development, data science, and data engineering
Workspace - whether you're a freelancer, startup, or established business, we provide beautiful spaces with a community dedicated to supporting your company's growth
Networking - events in the tech industry happen constantly in our campuses, ranging from popular Meetups to multi-day international conferences
To learn more about Galvanize, visit https://www.galvanize.com/
Data Science Bootcamp: https://www.galvanize.com/data-science-bootcamp
Contact Admissions: https://admissions.galvanize.com/