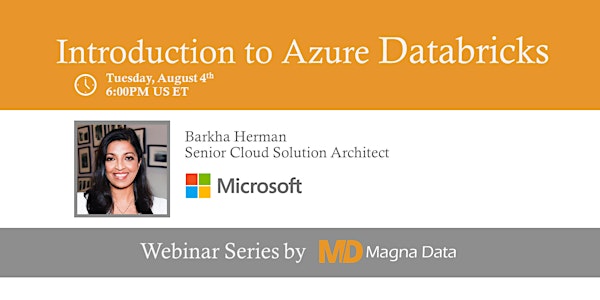 Introduction to Azure Databricks [Online]
Join us for this free webinar and get started with Azure Databricks!
About this event
Webinar Series by Magna Data presents:
"Introduction to Azure Databricks"
Big data analytics and AI with optimized Apache Spark
Unlock insights from all your data and build artificial intelligence (AI) solutions with Azure Databricks, set up your Apache Spark™ environment in minutes, autoscale, and collaborate on shared projects in an interactive workspace. Azure Databricks supports Python, Scala, R, Java, and SQL, as well as data science frameworks and libraries including TensorFlow, PyTorch, and scikit-learn.
Presenter:
Barkha Herman - Microsoft as a Senior Cloud Solution Architect, focusing on Data and AI.
Contact Magna Data for your Data, Analytics and AI Solutions
Microsoft Certified Partner in Data Analytics and Power BI
info@magnadatasolutions.com