Description
A panel discussion with the founders of the new publication theLAnd.

In 2017 the new owners of the LA Weekly fired its existing staff with no notice. This action by a group of Orange County investors (Semanal Media) led to a "Boycott LAWeekly" movement. Today former writers and editors from that paper have come up with their own vision for a print magazine that recaptures the rebellious spirit of the alternative weekly tradition.

Bret Berg (Voyager Institute) and George Chen present a talk with theLAnd's Jeff Weiss, Jennifer Swann, and Creative Director Evan Solano.
Twitter - https://twitter.com/thelandmagazine

*Jeff Weiss is a writer from Los Angeles, Ca. He founded Passion of the Weiss in late 2005 after a drunken revel led him to get tattoos of several blog bands named after animals. He does not regret the Wolf Parade one.
Other bullet points he feels compelled to hype in this space: He is the co-host of the Shots Fired podcast. He wrote the Bizarre Ride column for LA Weekly and the Rolling on Dubs column for Pitchfork. One time he co-authored a book about Biggie & 2Pac.
Other random self-aggrandizement: he's been anthologized multiple times in the Best American Music Writer series. Passion of the Weiss was named the LA Weekly's Best Music Blog, 2013.

*Jennifer Swann is a writer, producer, and editor in Los Angeles. Her culture reporting has appeared in print in Rolling Stone, the Washington Post, and the LA Times, and on the airwaves at KCRW. She currently serves as an associate producer for Refinery29's investigative documentary series, "Shady," and is a founding editor of The LAnd, a new magazine collective run by former LA Weekly writers.

*As theatrical sales director for AGFA (American Genre Film Archive), Bret Berg works with movie theaters across the globe to bring forgotten genre and arthouse classics back onto the big screen. As education director of The Voyager Institute in Los Angeles, Bret collaborates with a wide variety of artists and thinkers on Voyager's free-admission lecture series about movies and music. 
Previous curatorial residencies include KXLU 88.9fm Los Angeles, Alamo Drafthouse, Cinefile Video and The Cinefamily.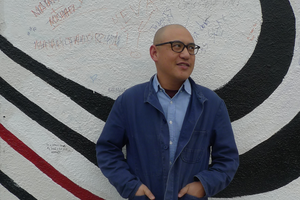 *George Chen was a figure in the Bay Area experimental music scene, playing in groups such as KIT, 7 Year Rabbit Cycle, and Common Elder King Elder amongst others. He was a promoter, stand-up comedian, zine editor, and founder of the eclectic record label Zum. George is the co-host of the Sup Doc podcast, runs the Thursday open mic at the Edendale Library, and co-hosts Giant Robot Comedy Night on Sawtelle.
Open to the public as a free event
The Edendale library is a branch of the Los Angeles Public Library located in the heart of Echo Park. The parking lot entrance is located on Alvarado between Sunset and Reservoir Street.