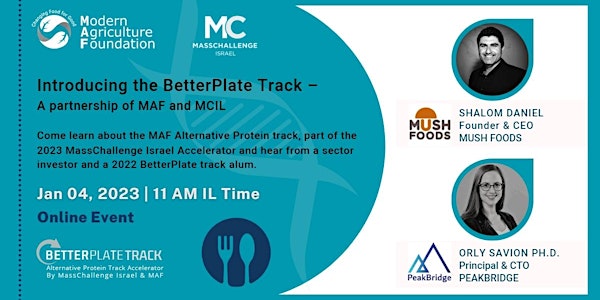 Introducing the MCIL Better Plate Track
Come learn about the Alternative Protein track in the 2023 MassChallenge Israel program with both a sector investor and a 2022 track alumni.
About this event
MassChallenge Israel in partnership with The Modern Agriculture Foundation (MAF) will be running for the second year a track focusing on alternative proteins. This track includes looking at food in a holistic manner. Considering the environmental, social and economic dimensions of food as well as securing sustainable protein sources. Startups in this track will be the most promising startups seeking to disrupt the alternative protein industry. Any processes or technologies that are used to provide sustainable alternative proteins are included in this category, including plant-based meat-like foods, cultured meats, fermentation products and land-based aquaculture as a means of protein intake.
Shalom Daniel from Mush Foods will be talking about his experience participating in the Better Plate Track in 2022, and Orly Savion from PeakBridge will talk about the investor perspective in the Foodtech industry.
This is a great opportunity to learn about the program and ask our staff questions.