About this Event
Are you an entrepreneur starting a new company? Recently moved your company to Texas? Want to find out how to connect with other entrepreneurs, mentors, and investors in the startup ecosystem?
Join us VIRTUALLY to hear an overview from experienced entrepreneurs, venture capitalists, investors, and community partners at Intro to Texas Startup Scene & Ask Me Anything with Dave Copps & Joshua Baer! Get a chance to introduce yourself and ask any questions on entrepreneurship and other related topics.
SPEAKERS: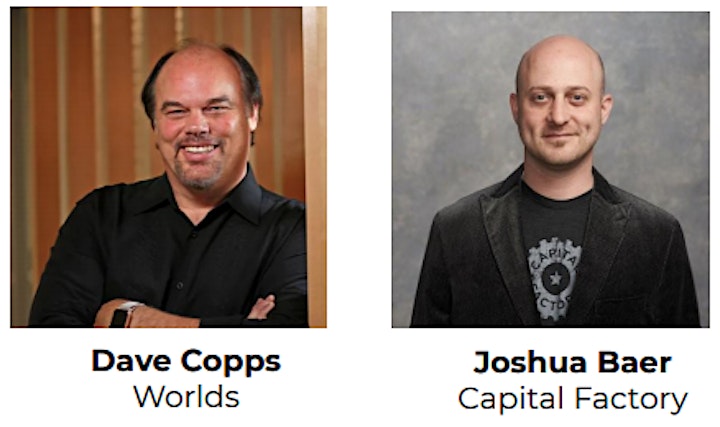 Dave Copps is a visionary technologist, entrepreneur, and CEO of Worlds. Dave is known locally and internationally as a technologist and visionary on the role that advanced technologies will play in transforming markets and the world. For the past 15 years, as a technologist, entrepreneur and CEO, he founded, launched and sold three companies all focused on machine learning and artificial intelligence. In 2017 Dave was recognized as Emerging Company CEO of the Year in Texas and Brainspace was recognized as North Texas' Emerging Company of the Year in 2016 He is an invited member of the Aspen Institute's Roundtable on AI, a frequent speaker at MIT's EmTech conferences and other events centered around machine learning, AI and the future of technology.
Joshua Baer helps people quit their jobs and become entrepreneurs. Josh founded his first startup in 1996 in his college dormitory at Carnegie Mellon University and now teaches a class at the University of Texas for student entrepreneurs. He has been recognized as a Henry Crown Fellow and Braddock Scholar at the Aspen Institute, a member of the National Committee on US-China Relations Young Leaders Forum, an Eisenhower Fellow, and a recipient of the Anti-Defamation League Torch of Liberty.
You'll get answers to questions like...
How do I find a co-founder?
How do I pitch to investors virtually?
Should I join an accelerator?
Where should I go to learn more about resources for startups in Texas?
How can I get the most out of Austin Startup Week virtually?
You will find out about...
Why Texas
Capital Factory
Texas Startup Scene
Austin Startup Week
Startup trends
Incubators & Accelerators
Syndicates