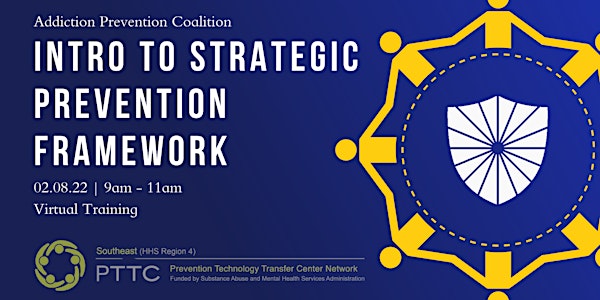 Intro to Strategic Prevention Framework
Join us for a training on the Strategic Prevention Framework, a model used by organizations to prevent and reduce the use of ATOD.
About this event
The Strategic Prevention Framework is a dynamic, data-driven planning process that prevention practitioners can use to understand and more effectively address the substance abuse and related mental health problems facing their communities. In this training, you will learn how to plan and implement prevention programs.
This event is eligible for 2.0 contact hours approved by the Alabama Board of Social Work Examiners.
Learning Objectives:
1) Explain the basic components of the Strategic Prevention Framework.
2) Identify challenges facing your community and how to incorporate the Strategic Prevention Framework.
3) Discuss strategies of how to implement the Strategic Prevention Framework in your community.
CE Credit Information:
2 Contact Hours approved by the Alabama Board of Social Work. Provider Number: 0687
Policies:
Program Fee Policy The fee of the event and any additional fees will be clearly communicated to potential participants when registering for the event. There will be no additional charge for a certificate of completion/participation or verification of participation.
Cancellation Policy Registrants may submit a request for a refund to the event organizer and CE authorized individual, Ashley Loftis (ce@apcbham.org). A request for a refund/cancellation request, which arrives at least 2 days prior to the workshop or event will be honored. Cancellation request that are submitted less than 2 days before the planned event will be reviewed by the event organizer and approved on a case-by-case basis. In the event that the training is canceled, refunds will be issued to registrants through the original registration source.
Grievance Policy Participants that are not satisfied with the event hosted by the Addiction Prevention Coalition may submit a complaint to Ashley Loftis, the CE authorized individual, via email (ce@apcbham.org). If this complaint cannot be immediately resolved, then, this complaint will be forwarded to the Executive Director for resolution.
Verification of Attendance Verification of participation will be verified through registration and engagement with the event. Participants will be asked to change their name on Zoom to the name that they used to register for the event and the name that will be printed on their certificate of completion/participation. The CE authorized representative will monitor that the participant remains logged into Zoom for the duration of the program.
Requesting CE Credits and Evaluations In order to receive CE hours, participants must have remained logged into the entire program presentation. The participant will need to complete the request for CE hours. The request for CE hours will be provided at the end of the program along with the evaluation. They will also need to complete the program evaluation. A certificate will be issued to the participant within seven days of the completion of the request for CE hours and completion of the program evaluation.