This five-week class will teach you how to become a standup comedian. Learn standup comedy in a fun, safe and professional environment.
About this event
Do people tell you that you're funny all of the time?
Have you always wanted to give standup comedy a try?
Not sure where to start?
Then this class is for you.
Our five-week Intro To Standup Class and learn everything you need to know to try standup comedy today.
This class explains the basics of creating and writing material and jokes, planning and performing standup comedy sets, and how to find places to perform.
The class includes on-stage practice sessions at our theater, open mics for students and a video taped graduation show.
You'll also learn how to deal with hecklers, overcome stage fright, and become more confident all types of public speaking situations.
So, whether you've always dreamed of having your own Netflix special or just want to be more confident, competent and accomplished public speaker this is the class for you.
Get out of the house, meet new people and final cross "try standup comedy" off of your bucket list.
Tuition And Registration Info:
Tuition for this five-week class is $250.
Class space is extremely limited.
A $25 non-refundable deposit is required (here on Eventbrite) to reserve your spot in class.
Payment of your remaining $225 tuition balance is due at the beginning of the first day of class.
Class Dates:
Tuesday 6/22 - 6pm to 9pm
Tuesday 6/29 - 6pm to 9pm
Tuesday 7/6 - 6pm to 9pm
Tuesday 7/13 - 6pm to 9pm
Tuesday 7/20 - 6pm to 9pm
Graduation Show Date: TBD
About Our Instructors:
All of our instructors are veteran comedy performers, writers and teachers with many years of experience both on stage and in front of the classroom. They strive to provide the safest, most professional and welcoming environment possible for new and returning students alike.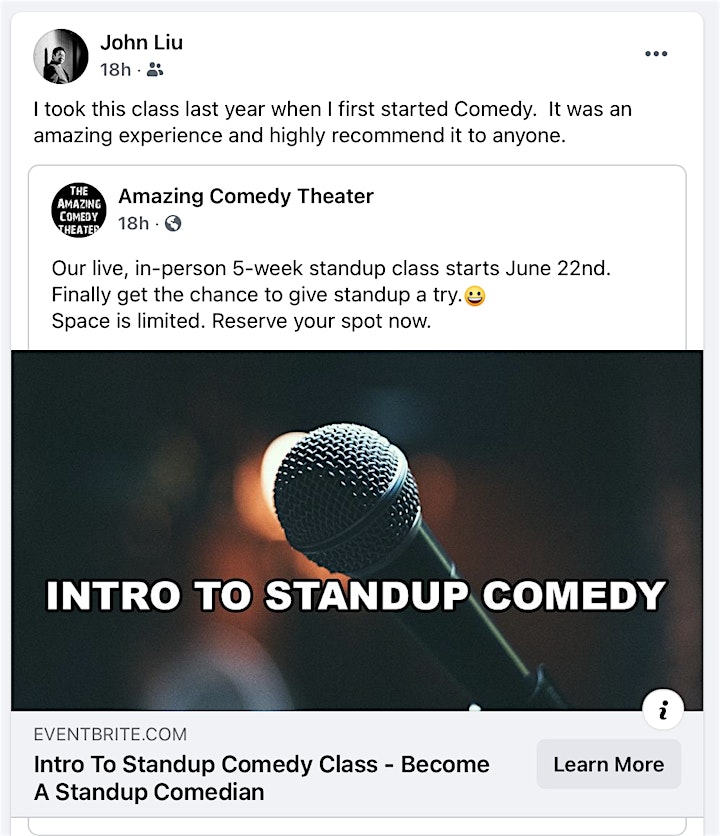 Organizer of Intro To Standup Comedy Class - Become A Standup Comedian - Tuesdays