Description
INTRO TO PROJECT DRAWDOWN
Join us at da Shop on Saturday, April 13 from 3:00pm to 5:00pm for Intro to Drawdown, a 2-hour interactive workshop that explains how we can reverse global warming!
Come learn about Project Drawdown, a comprehensive plan that identifies the one hundred most impactful, substantive solutions to REVERSE Global Warming.
Through videos, group activities, critical discussions, and contemplation, you'll discover the latest research on how this is possible and emerge filled with hope and ready for action!
Project Drawdown is a coalition of more than 200 researchers and other experts from 22 countries led by author, environmentalist, visionary and entrepreneur Paul Hawken.
Over the course of 5 years of rigorous scientific research, the Project Drawdown coalition identified and modeled the 100 most substantive, already existing solutions for addressing global warming and revealed astounding news: that it is possible not just to slow global warming, but to reverse it by 2050.
Project Drawdown identifies working solutions to reverse global warming. Drawdown empowers participants to take part in turning the tide for the future, leveraging their passions, skills and talents to accelerate and amplify solutions.
Let's join together in community to see what we can grow!
"To change everything, we need everyone."
'Drawdown: the most comprehensive plan ever proposed to reverse global warming' will be available for sale at da Shop. Please support local, independent bookstores and buy your copy when you arrive!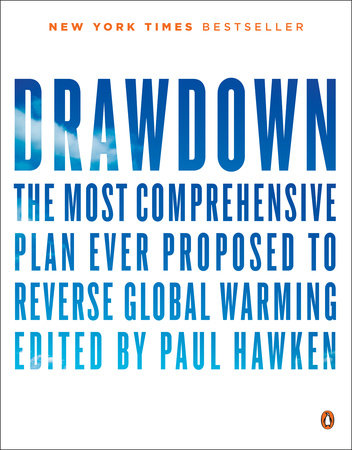 Paul Hawken
Author, entrepreneur, activist. Co-founder of Project Drawdown.
"The single most important thing to do about reversing global warming is to recognize there is no one single thing, that addressing global warming is a way of seeing the world, a way of being in the world, a pathway to understanding that human systems created the problem and thus the cure is within the whole of the system. The most impactful act an individual can do will depend on that person's life, knowledge, community, influence, relationships, courage. It will be different for everyone. Together, we act and make a difference. It is not about what "I" can do. It is about what we can do. Carbon is an atom (and molecule) that holds hands and collaborates. That is what global warming is telling us to do."
About our facilitators: Andrea Nandoskar and Ted Bohlen are activists, vision weavers, preservationists, conscious event producers and everyday change makers dedicated to using education to inspire shifts in awareness and behavior. They share a concern for the well-being of the Earth, and the belief that learning about and engaging with Project Drawdown will inspire a shift in our relationship with global warming and inspiration for a path forward to complete reversal by 2050.
The workshop material is provided by the Pachamama Alliance and includes video clips of Paul Hawken.
Pachamama Alliance is a global community that offers people the chance to learn, connect, engage, travel and cherish life for the purpose of creating a sustainable future that works for all. Learn more.
Organizer of INTRO TO PROJECT DRAWDOWN: reversing climate change