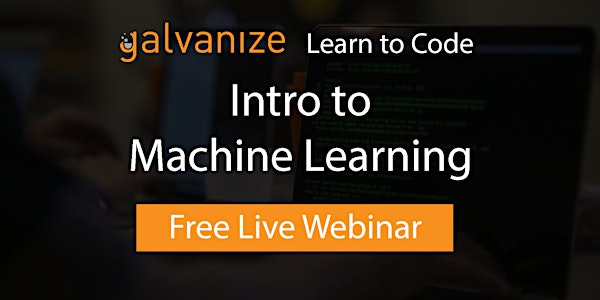 Intro to Machine Learning
Date and time
Tuesday, May 12, 2020 · 5:30 - 7:30pm PDT
Description
This is a workshop focused on learning about Machine Learning for beginners! Knowing some python will help, but not required.

What You'll Learn:
What Machine Learning is

Who uses Machine Learning

Careers in Machine Learning

Overview of common models and uses

Overview of working with data in python

Build 2 machine learning models (clasification & regression) in Python
If this sounds interesting also checkout this talk on 5/7 : an overview of building a computer vision application

How to Prepare:
- Install Google Chrome (any modern browser should work): https://www.google.com/chrome/browser/desktop/
- Sign up for a Google account if you don't already have one (We will be using an online code editor by Google)
- Have the Zoom Client for Video Meetings installed well before the webinar begins: https://zoom.us/download

Taught live online:
- 2 Hours – 5:30pm - 7:30pm Pacific Time
- Link to join the workshop will be provided to you once you RSVP.
We look forward to meeting you virtually!

About Galvanize:
Galvanize is premiere dynamic learning community for technology. With campuses located in booming technology sectors throughout the country, Galvanize provides a community for each the following:
Education - part-time and full-time training in web development, data science, and data engineering
Workspace - whether you're a freelancer, startup, or established business, we provide beautiful spaces with a community dedicated to supporting your company's growth
Networking - events in the tech industry happen constantly in our campuses, ranging from popular Meetups to multi-day international conferences

To learn more about Galvanize, visit https://www.galvanize.com/
Data Science Bootcamp: https://www.galvanize.com/data-science-bootcamp
Software Engineering Bootcamp: https://www.galvanize.com/web-development
Contact Admissions: https://admissions.galvanize.com/