A 6-Week Live Online Course, Sept.14-Oct.19, 2021, taught by James Baraz, co-founder of Spirit Rock Meditation Center
About this event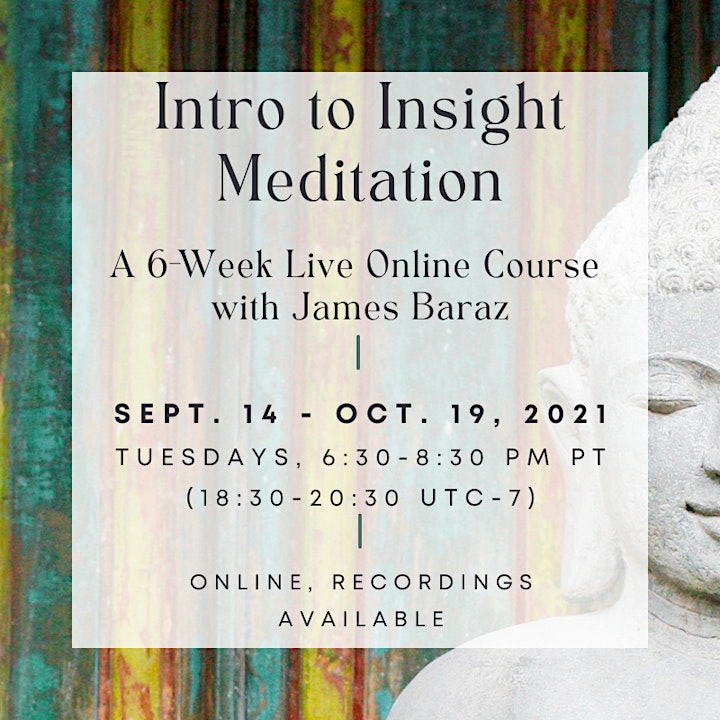 Introduction to Insight Meditation is a 6-week class series to help you establish an Insight (mindfulness) meditation practice in your life and understand the teachings upon which mindfulness meditation is based. Buddhist teachings covered include the "The Four Noble Truths," "The Eightfold Path," and "The Five Hindrances," and "The Four Brahma Viharas (divine abodes)." Each session builds on the previous ones in both the unfolding of the meditation instructions as well as the content of the teachings. We'll also explore how to apply these teachings in daily life.
I've taught this introductory class series for over 30 years. This is the first time I'm offering it again in over a decade.
If you're looking to establish a practice and understand the teachings upon which mindfulness meditation and the Awakening Joy course are based, I welcome you to join me.
- James Baraz
--
Each Live, 2-hour session includes:
A talk on the week's focus
A period of guided meditation with instructions
A time for interactive Q&A
What else you'll receive:
Access to session recordings
Weekly practice letters to support your meditation practice
Access to course support to answer questions between sessions
Finances for the Course
The course is offered on a dana (donation) basis. You'll be sent information on how to offer a donation before the first session, or you can come to the first session and offer a donation then. The suggested donation is $120 for the course ($20/class). No one turned away.
Logistics
You'll be sent the details to join the live online sessions and dana information closer to the start of the course.
Classes will be recorded, posted, and available for later viewing if you are located in a different time zone or have to miss a live session.
About James Baraz
James Baraz has been a meditation teacher since 1978 and leads retreats, workshops and classes in the U.S and abroad. He's been the creator and teacher of the online Awakening Joy course since 2003. He's also a co-founding teacher of Spirit Rock Meditation Center in Woodacre, California. In recent years, he's been focusing on dharma and climate change, and serves as an advisor to One Earth Sangha, a website devoted to Buddhist responses to climate change. His books include Awakening Joy with Shoshana Alexander, and Awakening Joy for Kids with Michele Lilyanna. He lives in Berkeley, California, with his wife, Jane, and has two sons and three grandchildren.