Join us VIRTUALLY this month to hear an overview from venture capitalists about fundraising for your company!
About this Event
Are you an entrepreneur starting a new company? Recently moved your company to Texas? Wondering how to fundraise for your company in 2021?
Join us VIRTUALLY to hear an overview from experienced entrepreneurs, venture capitalists, and angel investors at our next Intro to Fundraising & Ask Me Anything! Get a chance to introduce yourself and ask any questions on funding and other related topics.
Speakers: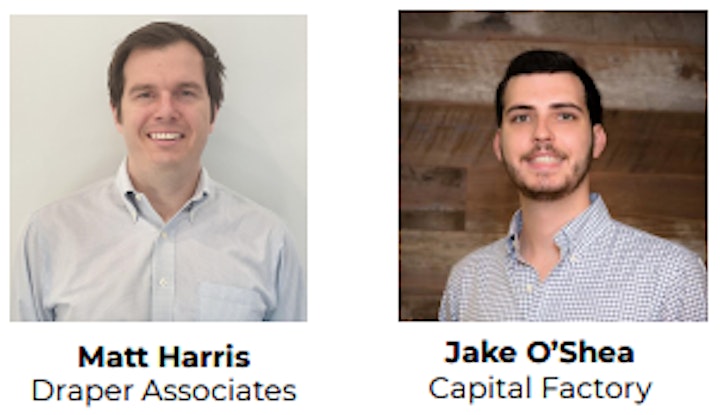 Matt Harris is on the investment team at Draper Associates. Currently, he has a regional focus on deal flow from Texas. Matt joined the Draper Associates team in 2020. He was formerly a Vice President at The Blackstone Group where he focused on providing growth financing to global energy companies. Matt has a bachelor's degree in business administration and finance from Texas A&M University. He is based in Austin, Texas where he lives with his wife and two daughters.
Jake O'Shea manages Capital Factory's Investor Relations program helping portfolio companies prepare to raise institutional capital and connecting them with the right investors. Since joining the Capital Factory team in May 2019, Jake has personally curated and coordinated over 3,000 individual meetings between startups and investors. Prior to joining Capital Factory, Jake worked with local Austin startups Lawgix and Brobe International and was also on staff at SXSW. Jake is an active mentor with the Social Entrepreneurship Learning Lab at the University of Texas and an alumni evangelist for UT's first early-stage investment fund, Genesis.
You'll get answers to questions like...
How do I meet my first investors?
What do investors look for?
How do I pitch to investors virtually?
Should I join an accelerator?
What market trends are defense innovation investors interested in 2021?
How is COVID changing the landscape of the VC industry?
You will find out about...
Why Texas
Capital Factory
Texas Startup Scene
Investing
Startup trends
Incubators & Accelerators
Early Stage Startup Mentorship