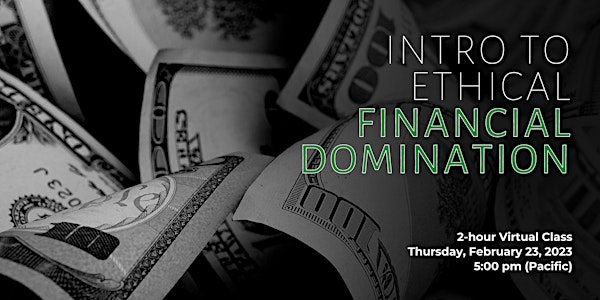 Intro to Ethical Financial Domination: Use Sense When Playing with Dollars
Go beyond stereotypes to learn how to enjoy authentic & ethical financial domination. For dominants & submissives, lifestyle & professional.
Refund Policy
Refunds up to 7 days before event
Eventbrite's fee is nonrefundable.
About this event
To this day, financial fetish and domination is one of the most misunderstood (and misused) power play experiences. Like any expression of power, it has the potential for abuse and has gotten a rather bad rap because of the exploitation possibilities. However, using money within a healthy D/s relationship (whether lifestyle or professional) can be an exciting and edgy way to open up a whole new realm of submission and dominance. This class will give you concrete guidelines to enjoying this complex and sexy kinky activity.
In this online class, you'll learn:
The psychology behind the attraction to money-kink for dominants and submissives
Why being ethical isn't about being nice
Why stereotypes and myths that are commonly associated with findom are mostly bullshit
Different goal feelings, categories, activities, and mechanisms to explore during financial domination (and the differences between them)
What the responsibilities are on both sides of the power dynamic
The top six negotiation questions and how to use language to adapt them to your personal style
How to use the Authentic FinDom Framework as a tool to help you brainstorm numerous ways to play with money and gifts, no matter who you're playing with
Includes a 2-hour live class with Q&A and printable worksheets. Recording is not included
Dominant Registration
$69 Early Bird Registration (until January 23rd or whenever it's sold out)
$169 Regular Registration (until February 22nd or whenever it's sold out)
Submissive Registration
$129 Early Bird Registration (until January 23rd or whenever it's sold out)
$199 Regular Registration (until February 22nd or whenever it's sold out)
So, when's the workshop?
Thursday, February 23, 2023
5:00 p.m. to 7:00 p.m. Pacific
FAQ
Who is this class for?
This class is for anyone who wants to play with money or gifts as part of a consensual kink exploration. I will be sharing concepts and ideas that are applicable to lifestyle and/or professional players.
Can I attend if I am a submissive?
Absolutely. I speak primarily from my experience as a dominant, but the concepts and questions posed in this class will help you to understand and communicate your desires and limits.
Can I attend if I don't have a partner?
Absolutely. Understanding your own needs is the best gift you can give yourself and any future play partners.
Will the webinar be recorded?
There won't be a class recording available.
Will you offer this again?
Probably, but there's no guarantee.
Will this be in-person or online?
Completely online and accessible from anywhere in the US or internationally (that has a reliable internet connection).
Where will we be meeting online for this workshop?
We'll be using Crowdcast.com; there's nothing to install, and you can join the webinar from your browser. All attendees will receive the webinar link ahead of time.
Can I be anonymous in this workshop?
Yes, absolutely. You get to choose what name you use when you join the webinar, and you're not on camera at any time. You're welcome to simply listen to the workshop as you would at a live event, or engage in the chat box with comments and questions.
Give me two hours, and I'll give you a deeper understanding of your own complex kinky interests.
Registration ends Wednesday, February 22, 2023 at 11:30 p.m. Pacific.