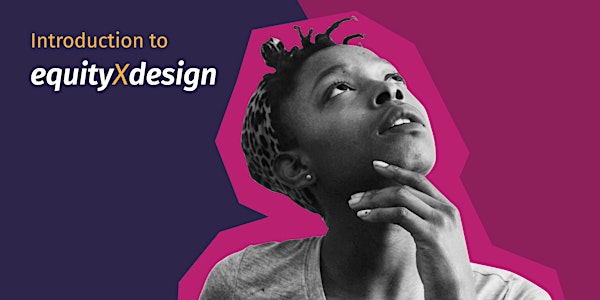 Intro to equityXdesign: live, remote, 5-week cohort (Spring 2023)
Explore equitable ways of thinking about the world, learn the equityXdesign framework, and build shared language with your teammates
Refund Policy
Contact the organizer to request a refund.
Eventbrite's fee is nonrefundable.
About this event
This course is designed for folks who are new to equity design to take alongside their coworkers so y'all can explore equitable ways of thinking about and looking at the world, learn the equityXdesign framework and basic concepts, and build shared language with your teammates by starting to talk through what it could look like to apply an equity lens to your organization, role, and day-to-day work.
There are two parts to this course:
1. The homework you'll do for ~2 hours every week outside of the workshop on your own time (rest assured: we'll tell you exactly what to do and how to do it), and,
2. The live, remote sessions we'll have together once a week for 5 weeks on Thursdays from 12:00 pm - 1:30 pm eastern for 90 minutes each starting on February 9th, 2023, during which you'll engage in deeper dialogue with teammates from your org (or, if you're coming alone, colleagues from your field) around what we learned during homework time and what it means for us and our work. We'll be sure to provide more context using examples and of course save time for Q&A 🤗
This workshop will require approximately ⏳3.5 hours of your time⏳ every week for five weeks (that's ~2 hours of outside-of-class homework time and 1.5 hours of in-class time per week).
WHAT YOU'LL GET TO DO:
Challenge your perspective & develop new ways of thinking
✅Start to learn new ways of thinking about and looking at the world using an equity lens
✅Begin to interrogate yourself and your role, bringing more awareness to your power and the ways in which you're showing up and moving as a designer
✅Relearn what it means to listen well and closely – both as you're in community with other designers and when you're engaging with the folks you're designing for
Learn the equityXdesign framework and basic concepts
✅Get exposed to ideas and concepts in equity design, such as targeted universalism, meta-empathy, equitable problem definition, prototyping, designing at the margins, ceding power, and more
✅Learn the importance of engaging folks who are at the margins in the design process
✅Explore multimedia resources (articles, podcasts, videos) around equity design
Talk and think through what equityXdesign could look like on your org/team
✅Learn and think in a space that's safe-to-fail
✅Explore the equityXdesign framework and concepts alongside other folks on your team, talking through how they apply to your org's specific context
✅Start to develop shared language around the equityXdesign framework and equity design practices that you can take back with you in your day-to-day work as a team
✅Practice applying an equity lens to the ways in which your organization has historically operated and the problems you've been tasked with solving in your day-to-day work
✅Have held time/space to talk through/process guided questions with your coworkers around what it could look and feel like to center equity in your roles and day-to-day work
WHAT YOU WON'T FIND IN THIS CLASS:
❌Application
❌Lots of direct instruction
❌Implementation support
❌Lots of specific tools and details around how to use them
❌Concrete strategies for applying equityXdesign
❌Extensive coaching around applying equity to your org's challenges
❌Opportunities to develop and practice equity design skills
❌Deep-dives around privilege and identity
❌Deep dives into applying the different parts of our design process (find this in our more advanced upcoming Problems with Problems Workshop and Train-the-Trainer Series or peep our go-at-your-own-pace online courses)
❌Support around engaging other folks you work with in this process
❌Feedback on specific problems and situations
SCHEDULE:
We'll meet once a week for 5 weeks on Thursdays from 12:00 pm - 1:30 pm eastern for 90 minutes starting on Thursday, February 9th, 2023. Here's what the schedule looks like:
2/9/23: 12:00 pm - 1:30 pm et
2/16/23: 12:00 pm - 1:30 pm et
2/23/23: 12:00 pm - 1:30 pm et
3/2/23: 12:00 pm - 1:30 pm et
3/9/23: 12:00 pm - 1:30 pm et
We highly recommend that you do your best to make all or most of the meetings since a sizable chunk of each session will include in-person discussions and, real talk -- you def won't get the same experience by playing back the Zoom recording. That said, recordings of each session will be made available to you within a couple days of each class.
🚨 WORDS-TO-THE WISE! CAUTIONARY NOTES! 🚨
In order to truly get the most from this class, make sure you know what's up:
✔️ THIS SPACE IS DESIGNED FOR BEGINNERS: This is an intro class, not an advanced class…if you're looking for skill-building, tools, implementation guidance, etc. check out our more advanced upcoming Problems with Problems Workshop and Train-the-Trainer Series or peep our go-at-your-own-pace online courses (the latter contains our 🤩entire🤩 equityXdesign learning arc)
✔️ DO YOUR HOMEWORK: You gotta put work in outside of the workshop in order to really get what you came for (it's approx. ~2 hours of homework per week, and you'll move through that week's course content in advance of our sessions outside of the course on your own time)
✔️ BRING YOUR COWORKERS: You'll get wayyy more out of this if multiple folks from your org participate because you'll be able to think and talk together about the concepts in terms of real-life challenges your org and team are experiencing, and take this shared language/understanding back to your day-to-day work as a team (hence the hefty discounts for group tix 😎)
✔️ LOTS OF INTERPERSONAL INTERACTION REQUIRED: This workshop requires loads of engagement/interaction/conversation at each session and requires you to 1. Talk to folks from your org team (i.e. your work colleagues, or, in the case that you've gotta come alone, folks from your field or a related field) 2. Be fully present in front of a computer for the duration of the live sessions (as opposed to off-cam, multi-tasking, driving, etc.). Also, occasionally you'll chat with someone you don't know [yet] (and hopefully make a pretty cool new friend)!
If this lots-of-discussion structure sounds like it might not jive with you, there's absolutely no shame in the not-a-people-person-game, and there's loads of ways to learn equityXdesign that might work better for you: explore our website for other options
INVESTMENT:
$325 per person, or $250 per person if you bring a friend(s)!
ACTUALLY, MY JOB SHOULD TOTALLY FREAKING PAY FOR THIS!
We agree, which is why you should send them this Employer FAQ and ask👏🏽them👏🏽to👏🏽pay👏🏽up👏🏽 🤑💸
I'M TRYING TO BRING MY FRIEND / DOG-WALKER / EX / BOSS / EX-BOSS / NEIGHBOR / BFFL / AUNTIE / FRENEMY / SIDE PIECE…
Buy two or more enrollments at once and get them each for $250, literally $75 off retail price. Yes, we know it's the steal of the century so again #dontsleep, #dontnap, #dontevenrestyoureyes 👀👀👀
WANT A REFUND?
We want you to be totally happy and fulfilled, so, if you're not satisfied with the course, please let us know at sayhello@equitymeetsdesign.com and we'll do our best to make it right. Refunds can be requested up until one calendar week after the course ends
🚨 Important Caveats!🚨
*Refunds are not available for scheduling conflicts, even unforeseen ones ☔
Please note: we cannot retroactively apply coupon codes!
ProTip: If you're having trouble finding where to input a coupon code, you're not alone -- when you're on the shopping cart page, look for the blue "Enter promo code" button in the upper left-hand corner.
~~~
TRANSPARENT PRICING POLICY:
Why is this priced lower than your other offerings?
This offering is priced pretty low, because if you're new to equity design, Intro to equityXdesign is a great way to dip your toes into what we do and how we do it. Also: it's a lot of folks' first touchpoint with our work and we want to make it really accessible. It's also an intro class, which means it will give you an introduction to the foundations, but it's not the place to do higher-level skill-building or learn about tools and implementation…so in that sense, introductory course = introductory price 😎
Why are group tickets less expensive than single-person tickets?
We offer significant discounts on group tickets because taking this course with your coworkers is extremely helpful -- if y'all come as a group, you'll be able to think and talk about the concepts in terms of real-life challenges your org and team are experiencing (which is truly invaluable for when the course is over and the rubber hits the road because it's time to actually redesign things, have hard convos, etc.).
Also: we encourage lots of people to sign-up because a huge value of this course is in connecting with other like-minded, awesome folks who are interested in redesigning our world for equity, liberation, and belonging.
Who gets discounts and how do those happen?
Folks who are subscribed to our newsletter are offered discounts, so make sure you're signed up!
What if someone wants to attend, but their job won't pay and they can't afford it?
It's important to us to teach equitable design equitably, so we're offering three spots on a pay-what-you-can basis -- please email sayhello@equitymeetsdesign.com and we'll give you instructions for how to enroll (first come, first served).
HAVE QUESTIONS?
Email us at sayhello@equitymeetsdesign.com and we'll get back to you soon 😘