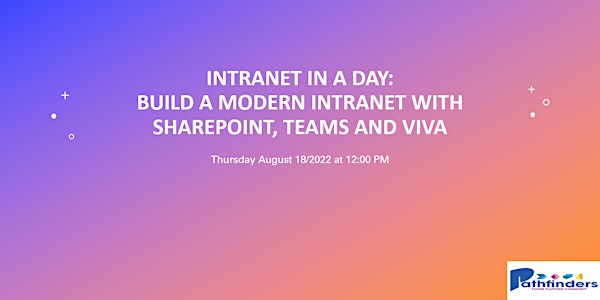 Intranet in a Day: Build a Modern Intranet with SharePoint, Teams and Viv
• Intranet in a Day: Build a Modern Intranet with SharePoint, Teams and Viva
About this event
ABOUT THIS EVENT:
Do you want to create a SharePoint Intranet (or even just a site) that is beautiful, simple, dynamic and that keeps your users coming back?
In this how-to workshop, you'll learn how to create a complete intranet and employee engagement platform using SharePoint, Teams, and Viva!
Attendees will start by creating Teams, then a departmental site, and a home page using Modern SharePoint, then integrate it all using Microsoft Viva Connections. You'll also learn how to:
• Link SharePoint Teams and Team Sites to your intranet by creating Hub sites• How to work with Document Libraries to make it easier to know where to go to store (and find) documents• Integrate your SharePoint home with Teams using Viva Connections • Use best practice governance and information architecture concepts for your Teams and Sites to keep content organized and simple• The basics of SharePoint and Teams security management
If you're new to modern SharePoint sites, want to learn all about Viva, or are migrating your classic SharePoint to modern – this is a can't miss session.
KEY OBJECTIVES AND TAKEAWAYS:
• Designing SharePoint sites• Connecting Hub sites• Team Sites, Communications Sites, Hub Sites and Home Sites – what they are and when to create them• Managing SharePoint Document Libraries• Teams-First: What it means and how to build an intranet using Teams and Team Sites• Integrating SharePoint into Teams• Integrating the SharePoint home page and navigation with Teamso Viva Connectionso Teams Channel Tabs• Keeping it simple—governance and information architecture• The basics of SharePoint and Teams security• Dozens of briefs "learning bite" videos you can follow-along with and use for reference for years
MODULE 1: Team and Site Design
• Creating a Team and Designing a SharePoint Team Site• Setting up a Hub Site• Hub-to-Hub Connections• Design and Planning Best Practices• What is a "Teams-First" Intranet?• Working with News, Events and other standard web parts
MODULE 2: Document Libraries
• Metadata - what it is and when to use it• Creating and Managing Views• Information Architecture - keeping SharePoint Simple
MODULE 3: SharePoint Security
• The security hierarchy• Inheriting and breaking security• Security best practices• Changing and maintaining security settings
MODULE 4: Teams and SharePoint Integration
• Setting up Viva Connections• Other SharePoint/Teams Integration Options