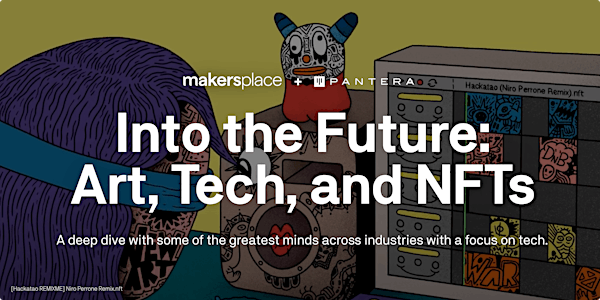 Into The Future: Tech/Art/NFTs Meet up
A tech-focused deep dive into the past and future of NFTs, technology and art with some of the greatest minds across industries.
When and where
Location
Glasshouse Chelsea 545 West 25th Street New York, NY 10001
About this event
Join MakersPlace and Pantera for an evening of fireside chats, panel discussions and networking centered around the intersection of technology and art. Hear reflections, insights, predictions from distinguished tech entrepreneurs , engineers, artists and more for a new perspective on the world of NFTs.
Event is on the 21st Floor
*Due to Covid safety measures, only the first 100 guests will be admitted to the event. Proof of vaccination is required. Please plan accordingly.*
Program:
6:30 PM - Welcome
6:35 PM - Not your UX, not your users
7 PM- The Rise of NFTs and Digital Collecting
7:35 PM- Looking to the Future: NFT Use Cases Across Industries
Speakers:
Yiying Lu, Artist, entrepreneur, global educator, and bilingual TEDx speaker
Yiying Lu is an award-winning artist, entrepreneur, global educator, and bilingual TEDx speaker. She was named a "Fast Company's Most Creative People in Business", Microsoft's "Top 10 Emerging Leader in Innovation", and a "Shorty Awards" winner in Design. Her work has been featured in The New York Times, Forbes, Bloomberg, The Atlantic, Wired Magazine, TIME, and BBC. Yiying has created iconic art and campaigns for corporations from Apple to Adobe and built brands for hundreds of companies during her time as a creative director at 500 Startups. She is also the artist behind the Dumpling 🥟 and Boba Tea🧋 Emoji, the "Twitter Fail Whale", the Conan O'Brien Pale Whale, and the Chinese paper-cut style Mickey Mouse for Shanghai Disneyland. Her life purpose is to bridge the gap between Art & Tech, Business & Culture, Work & Life, and East & West.
Elena Zavelev, Founder and CEO, CADAF and Digital Art Month
Elena Zavelev is an art and tech business professional, curator, and writer specializing in digital art and NFTs. She is the founder and CEO of CADAF, Crypto and Digital Art Fair, and Digital Art Month, a global augmented reality and video art festival. Digital Art Month travels to cities like Paris, NYC & Miami for a month-long creative celebration of new media and digital art. Elena's articles and essays get published on Forbes, Observer, and ESP Cultural Magazine, among others. Elena holds a MA degree in contemporary art and connoisseurship from Christie's Education and is based in New York City.
Colborn Bell, Founder of the Museum of Crypto Art (M○C△)
Colborn Bell is the Founder of the Museum of Crypto Art (M○C△), an immersive digital art center for NFTs in virtual reality. Unconstrained by the limitations of physical reality, the aim of this project is to create bridges to Metaverse spaces and usher in a creative renaissance that empowers digital creators and reawakens the imaginations of its participants.
He is a long-time blockchain and venture investor and advisor to individuals allocating capital towards frontier technologies and exponential change.
Mec Zilla, Founder / Designer / Strategist / Architect / Futurist
Mec Zilla is a Design Director & Strategist who has directed design and strategy campaign for brands such as Disney, Marvel, UMG, Verizon, Coca Cola, Heineken, Vice Media, Afro-Punk and the like, for 15+ years. As an active member of the maker community since 2016, Mec has spent the past year in the NFT space, hyper-focused on the intersection between the physical world and the metaverse. It is her belief that the adoption of emerging technologies will have a profound impact on our society, with regard to the redistribution of wealth, the decentralization of ownership, automation in the future of work and the extension of humanity.
Conlan Rios, Founder, CEO of Async Art
Async Art is helping to create a new art revolution built on the blockchain. Our users create, collect, and trade programmable art comprising a Master work and Layers that are independently owned and controlled: our users become part of the art themselves.
Jeremy Levine, Partner, Bessemer Venture Partners
Jeremy Levine is a partner in Bessemer's New York office. He joined the firm in 2001 and focuses primarily on software and Internet opportunities. He has led investments for Bessemer in North and South America, Europe and Asia.
Five of his early stage investments -- LinkedIn, MindBody, Pinterest, Shopify and Yelp -- grew into billion-dollar publicly traded companies. He has also served on the boards of several Bessemer-backed companies before they were acquired by larger corporations such as Amazon, Cox, Sony and Naspers.
Jeremy graduated from Duke University with a B.S. in computer science and economics. Follow him on Twitter @jeremyL.
Dannie Chu, CEO and co-founder at MakersPlace
Dannie Chu is the CEO and co-founder at MakersPlace, the premier NFT marketplace for digital art. Dannie started MakersPlace with a vision to enable a vibrant future for digital creativity, and has since grown it into a globally recognized market serving tens of thousands of collectors and the world's leading digital creatives. Prior to MakersPlace, Dannie was an early leader at Pinterest where he ran their growth engineering organization for 5+ years.
Paul Veradittakit, Partner at Pantera Capital
Paul Veradittakit is a Partner at Pantera Capital and focuses on the firm's venture capital and hedge fund investments. Pantera Capital is the earliest and largest institutional investor in digital currencies and blockchain technologies, formerly managing over $4B. Since joining in 2014, Paul has helped to launch the firm's second venture fund and currency funds, executing over 100 investments. Paul also sits on the board of Staked, Blockfolio, and Alchemy, is a mentor at The House Fund, Boost VC, and Alchemist, and is an advisor to Orchid, Origin, and AI Foundation. Prior to joining Pantera, Paul worked at Strive Capital as an Associate focusing on investments in the mobile space, including an early stage investment in App Annie. Previously, Paul was at Hatch Consulting and LECG and performed partnerships and growth for Urban Spoils, an early stage startup in the daily deal space. Paul graduated from the University of California, Berkeley.
Ed Zipco, Co-founder and Director of Superchief Gallery
Raised in the southern wilds of Florida, Zipco cut his teeth in NYC in 1999, shooting wild street photography which got him commercial and fashion photo work through the 2000s. In early 2012, Zipco and his business partner Bill Dunleavy opened Superchief Gallery, which has expanded as a cultural institution for the underground artworld in NYC, LA & Miami- which set records again in 2021 by opening the World's First IRL NFT Gallery in NYC.
Chloe Janicki, NFT/Marketing Manager at mau5trap, seven20
At the intersection of NFT and Music, Chloe has introduced some of the music industry's heaviest hitters to NFTs, sculpting the future of the music NFTscape in the process.
Sanjay Raghavan, Director of Engineering, MakersPlace
Sanjay Raghavan is the Director of Engineering at MakersPlace, the premier NFT marketplace for digital art. At MakersPlace Sanjay works alongside a team of exceptional engineers to bring the promise and power of the blockchain to our creators, collectors, and their fans. Prior to MakersPlace Sanjay ran the Application, Messaging, and Data Engineering groups at Grindr.
Michael Sofaer, Founder and CEO at Pylons, Director of NFTs at Tendermint
Blockchain veteran, and repeated "early mover". Michael is the former CIO of the first US regulated bitcoin exchange, CTO of Brian Kelly Capital Management. He also co-founded Uversity, which was the first for-profit company the Gates Foundation made an equity investment in.
Pylons is the flagship engine for NFTs in the Cosmos ecosystem. It is a sovereign chain designed to lower barriers of entry on the supply side and demand side of digital goods, their origination and experiences.
Pylons mission is to be the connective tissue for digital properties in an IBC web3 world. Its vision is to empower artists and developers of all varieties, to create the taste by which they are enjoyed.