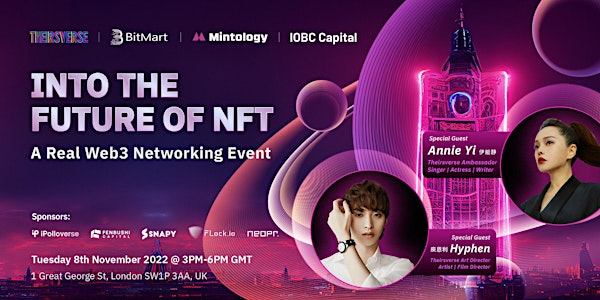 Into the Future of NFT: A Real Web3 Networking Event
Into the Future of NFT - A Web3 Networking Event Hosted By BitMart, Theirsverse, Mintology, and IOBC Capital.
When and where
Location
1 Great George St 1 Great George Street London SW1P 3AA United Kingdom
About this event
London is a world-class city, so it's the perfect location for a premier BitMart event!
Inquire, interact, and investigate some of the greatest minds in Web3 and build more than just memories. Pitches from blockchain startups and access to thought leaders on the frontier of NFTs and crypto are just the beginning of this exclusive mixer.
Arrive curious and leave refreshed, with a complimentary bar and craft hors d'oeuvres to round out the incredible company.
💬 Join our discussion group: https://t.me/+J0Gcs-XSgKA1MWEx
IMPORTANT: Signing up via this event page adds you to the waitlist and DOES NOT guarantee an attendee ticket. You will receive an update on your ticket status closer to the event.
Agenda
3:00 PM - 3:30 PM: Reception
3:30 PM - 5:30 PM: Keynotes & Panels
5:30 PM - 6:00 PM: Networking Hour
*This agenda is subject to change*
Co-Hosts
Theirsverse - Theirsverse has created a brand connecting Web 2 and Web 3. From NFT artworks to fashion toys and DTC beauty brands, Theirsverse would like to invite creators globally to co-create our brand together. We are founding a global young artists' fund to promote more artists into the booming NFT world. We love the passionate artists across the world that share their knowledge and insights in the Theirsverse community. Theirsverse is an invitation to unlock your creative future!
BitMart - The premier global digital asset trading platform. With millions of users worldwide and ranked among the top crypto exchanges on CoinGecko, we currently offer 1,000+ trading pairs with one of the lowest trading fees in the industry. Constantly evolving and growing, BitMart is interested in crypto's potential to drive innovation and promote financial inclusion. NEWLY registered users may receive up to $3,000 in welcome bonuses >>> Sign Up Now.
Mintology - A premiere NFT-commerce platform. While the value of NFTs may have dropped drastically, NFT holders are yearning for added utilities and innovative use cases for their PFP jpegs. This is exactly why we are launching Mintology - offering real life brand benefits with your NFTs! Platform soft launch on 8th Nov, come celebrate with us! Early sign up for the launching campaign with ETH prize here.
IOBC Capital - A thesis-driven global fund focused on FOF and direct investment for blockchain. IOBC's vision is to deploy our best resources to invest in and empower the next generation of top Blockchain & Web3 funds and entrepreneurs, with a broader goal and value added of accelerating the growth of the crypto ecosystem. Help build decentralized communities and ecosystems all over the world.
Special Guests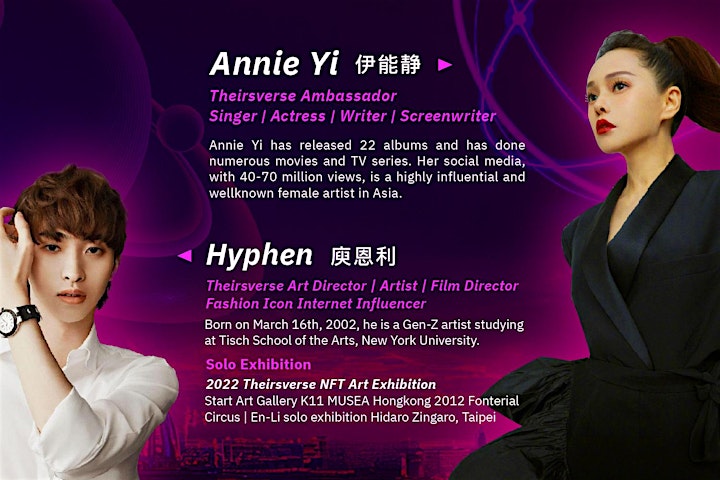 Annie Yi
Theirsverse Ambassador | Singer | Actress | Writer | Screenwriter
Annie Yi has released 22 albums and has done numerous movies and TV series. Her social media, with 40-70 million views, is a highly influential and well-known female artist in Asia.
Hyphen
Theirsverse Art Director | Artist | Film Director | Fashion Icon Internet Influencer
Born on March 16th, 2002, he is a Gen-Z artist studying at Tisch School of the Arts, New York University.
Solo Exhibition
2022 Theirsverse NFT Art Exhibition
Start Art Gallery K11 MUSEA Hongkong 2012 Fonterial Circus | En-Li solo exhibition Hidaro Zingaro, Taipei
Sponsors
iPolloverse - A real-time rendering chain for the metaverse. On top of it, developers can create plenty of 3D metaverse of low latency and low cost, and users can play, work, and even live in the real metaverse that beyond anyone could have imagined. iPolloverse public chain uses innovative PoMC (Proof of Meta Computing) consensus. Miners donate their GPU, storage and bandwidth to provide rendering ability and get rewards. Test1 is ongoing recently and the mainnet will go public next year. There are 30+ projects that have joined the iPolloverse ecosystem.
Fenbushi Capital - The first and most active blockchain-focused venture capital firm in Asia. Founded in Shanghai in 2015 by veterans across both blockchain and traditional financial industries, it has supported more than 60 leading projects across four continents, leveraging blockchain technology to reshape numerous sectors such as finance, healthcare, supply chain, and consumer goods.
SNAPY - SNAPY is a next generation web3 reward-based social media app that introduces a new ecosystem which merges lifestyle, passion and user-generated income inside a single mobile application. Unlike any other popular social media site, where 100% of the platform's value and revenue goes to the corporate shareholders, SNAPY enables all users to earn a fair share of the overall revenue, as well as a creative influence within the network, through our reward-token "SNAPY".
FLock.io - FLock.io is a London-based start-up focused on privacy-preserving federated learning orchestrated by the blockchain, so that data owners can jointly train models while their data stay local and are secure against attacks. We are founded by a group of Oxford alumni and are passionate about applying the latest technology to one of the most pressing concerns in the data economy - data privacy and security.
NEO PR - A marketing, public relations and strategic advisory operating globally. Our clients are focused in the Crypto, Fintech, Emerging Tech and Blockchain Industries. Our culture is hands-on. As a team and partnership, we're accountable. We nurture an attitude that fights for what is right for the project. We develop solutions that make a difference. Personal beliefs and opinions are left at the door.
Venue
A central London conference centre in Westminster. Set in a magnificent Grade II listed, four-domed, Edwardian building the conference centre is very close to the Houses of Parliament, Westminster Abbey, Buckingham Palace and St James's Park.well-known