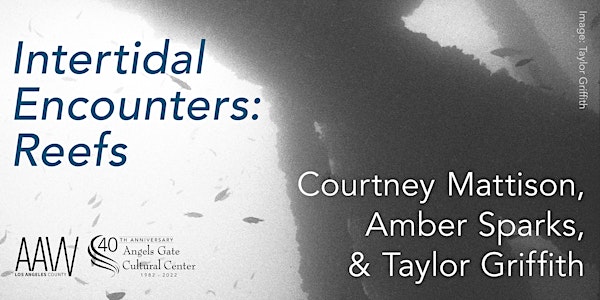 Intertidal Encounters: Reefs
Panel discussion about our coastal reef ecosystems with Courtney Mattison and Amber Sparks, facilitated by Taylor Griffith
About this event
Angels Gate Cultural Center (AGCC), in conjunction with the Artist At Work (AAW) program, presents Intertidal Encounters, a panel discussion series led by Taylor Griffith, AAW Artist Fellow. This public program series brings together artists and scientists whose work focuses on the ocean, with an emphasis on southern California coastline.
Intertidal Encounters: Reefs on September 28th will explore the importance of biodiverse reefs and coastal ecosystems. Artist Courtney Mattison and scientist/co-founder of Blue Latitudes, Amber Sparks, will be in discussion with AAW artist fellow Taylor Griffith.
Intertidal Encounters instigates exploratory dialogue that considers our natural world through the complementary, yet divergent perspectives of art and science. We hope these interactive conversations develop our shared community understanding of the urgency of our rapidly changing climate, and prompt us to action.
Courtney Mattison hand-crafts intricate and large-scale sculptural works that visualize climate change through the fragile beauty of marine life. Her background in marine conservation science informs her work, which has been commissioned internationally for permanent collections. In 2020, the United Nations Postal Administration published Mattison's work on a stamp to commemorate Earth Day. Born in 1985 and raised in San Francisco, Mattison received an interdisciplinary Bachelor of Arts degree in marine ecology and ceramic sculpture from Skidmore College in 2008 and a Master of Arts degree in environmental studies from Brown University with thesis coursework at the Rhode Island School of Design in 2011. Her work has been featured on the covers of international magazines, numerous solo and group museum exhibitions.
Amber Sparks is a marine biologist, educator, and entrepreneur. She has a B.A. in Marine Science from UC Berkeley and a M.A.S in Marine Biodiversity and Conservation from Scripps Institution of Oceanography. In 2018, Amber was recognized on Forbes 30 Under 30 list in the energy sector for her work developing sustainable, creative, and cost-effective solutions for the environmental issues that surround the offshore energy industry. Mrs. Sparks is also a PADI certified rescue diver and Ambassadiver.
Taylor Griffith is a multi-disciplinary artist from Oakland, California. Currently he is living and working in Los Angeles. He received his BA of Photography with a Minor in Studio Art from the University of La Verne and an MFA of Art from Art Center College of Design. His work calls into question the relationships between natural systems and changing human interactions with the landscape. Taylor takes a multi-medium approach to the interdisciplinary nexus of art and ecology focused on the ocean. He works in photography, sculpture, time-based media, and printmaking. He collaborates with scientists, artists, and organizations to get out in the field, collecting, imagery, audio recordings, notes, and samples that then come into the studio to be distilled down into a body of work. His work aims to continue conversations about the challenges that face our planet and act as a place to start conversations about moving towards a more ecologically minded future. Taylor Griffith is a current Artist At Work in LA County Fellow, developing creative public programs in partnership with AGCC that urge civic social engagement within our communities.
Artists At Work (AAW) is a workforce resilience program designed to support the rebuilding of healthy communities through artistic civic engagement. THE OFFICE performing arts + Film has partnered with the LA County Department of Arts and Culture to implement the AAW initiative in Los Angeles with the goals of supporting local cultural organizations, paying participating artists a living wage, and building healthy communities through partnership. Angels Gate Cultural Center is partnering with ocean research institute AltaSea at the Port of Los Angeles and artist Taylor Griffith, to deliver free and engaging programming to the local communities in the South Bay Harbor region. More information about the program is available at www.artists-at-work.org.