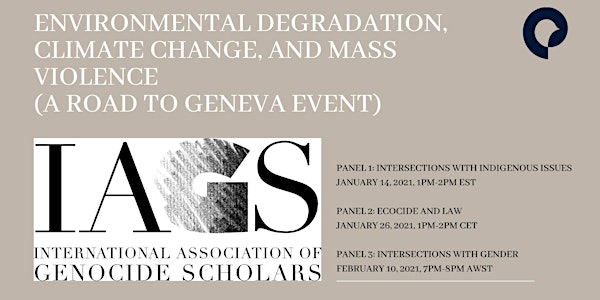 Intersections with Gender: Environmental Conflict & Security
Environmental Degradation, Climate Change, and Mass Violence: Intersections with Gender
About this event
In conjunction with an upcoming special issue of Genocide Studies and Prevention of the same title, the International Association of Genocide Scholars is sponsoring three panel discussions for the purposes of sharing ideas, building connections, and highlighting the interdisciplinarity of this subject. This event is co-sponsored with the Raphaël Lemkin Genocide Prevention Program, the Environmental Peacebuilding Association (EnPAx), and is part of the Road to Geneva.
To create the most inclusive setting, these panels will be hosted by institutions in the Eastern Standard time zone, Central European time zone, and West Australian time zone, and they will be recorded and made available. Each panel will focus broadly on a sub-topic under the umbrella of environmental conflict & security, with the acknowledgement that these topics are intertwined.
The University of Western Australia will host the final panel in the series, which will center on the gendered dimensions of environmental security. Pulling in topics from the previous two panels, this discussion will emphasize how gender affects and is affected by environmental conflict dynamics, and what that means for potential solutions.
Featuring panelists:
Introduction: Dr. Tobias Ide, Lecturer in Politics and Policy, Murdoch University
Dr. Marisa O. Ensor, Justice and Peace Studies Program, Georgetown University
Nyachangkuoth Rambang Tai, Gender and Social Justice Manager at Assistance Mission for Africa
Dr. Úrsula Oswald Spring, Researcher and former Secretary of the International Peace Research Association
The panel series will include these other two events: January 14, 2021, 1pm-2pm EST
Environmental Degradation, Climate Change, and Mass Violence: Intersections with Indigenous Issues
The first panel will be hosted by Worcester State University in Massachusetts, USA. This panel will focus on how Indigenous people worldwide have been affected by and are at the forefront of issues of environmental justice, environmental security, and climate change. This topic is inherently intersectional and interdisciplinary, and the discussion aims to reflect that reality.
Register here: https://www.eventbrite.com/e/intersections-with-indigenous-issues-environmental-conflict-security-tickets-135401189603
January 26, 2021, 1pm-2pm CET
Environmental Degradation, Climate Change, and Mass Violence: Ecocide and Law
The Institute for International Law of Peace and Armed Conflict in Germany will host the second panel, which will highlight issues of international law and ecocide. This panel will discuss the legal defense of the environment and its inherent value, with a historical and future focus, acknowledging the unprecedented challenges in the face of climate change.
Register here: https://www.eventbrite.com/e/environmental-degradation-climate-change-mass-violence-ecocide-and-law-tickets-135407071195
Please email Emily Sample at esample3@masonlive.gmu.edu if you have questions about the event or the upcoming special issue of Genocide Studies and Prevention.