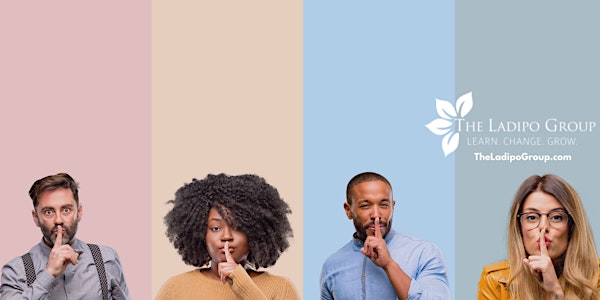 Intersectionality: Unpacking & Unifying Identity
The Ladipo Group is excited to host an event on Intersectionality, facilitated by Nicole Blackson, DEI Lead Trainer
Date and time
Monday, May 23, 2022 · 3 - 4:30pm PDT
Refund Policy
Contact the organizer to request a refund.
About this event
Do you suppress your authentic self at work or around family? This Intersectionality workshop is a supportive space for everyone to explore their identity. With facilitation led by our lead DEI Trainer Nicole Blackson, attendees will actively engage by reflecting on who they are, the challenges they face, and the ways that they cope.
This workshop is also for anyone struggling to express empathy for people in their professional and personal lives. By sharpening their emotional intelligence skills, attendees will walk away with meaningful group interactions and coping tools to unpack and unify their intersecting identities.
The "Intersectionality: Unpacking & Unifying Identity" workshop will be held on Monday, May 23, 2022 from 6 PM -7:30 PM. Register here and join via Zoom!
There is a $10 reservation fee due at the time of registration and will cover this workshop.
We look forward to you joining us!
If you have any questions about the event, please contact our Intake Department at scheduling@theladipogroup.com.
Guidelines for Workshop
• Find a quiet space with few distractions (e.g. a room, car, porch)
• Use headphones to reduce background noise
• Turn off phone and computer notifications for the next hour
• Close other tabs on computer
• Keep an open mind and be willing to try new things
• Have video on so that the group can see each other
About the organizer
The Ladipo Group is working to create an equitable future by shifting perspectives, shaping behaviors, and supporting growth in committed individuals and institutions.
 What we do: 
Train leaders to lead with empathy to foster diverse and inclusive workplaces
Consult on matters of workplace micro-aggressions and unconscious biases
Counsel with cultural and gender competence 
And Coach executives as they create a diverse, inclusive and equitable environment for all 
We advocate for Black and brown people to live well. And we champion institutions that are intentional about creating equitable workplaces.