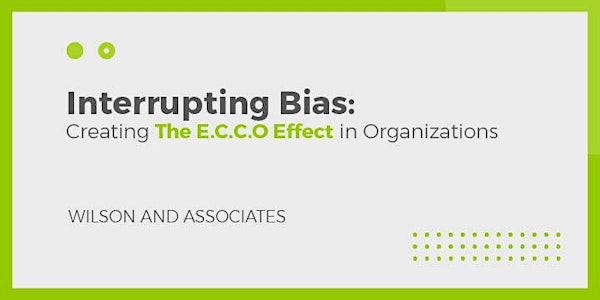 Interrupting Bias: Creating The E.C.C.O Effect In Organizations
Sales Have Ended
Ticket sales have ended
Thanks for registering for the training session! Have questions about the event? Email us at hello@wilson-and-associates.com
You know what bias is, where it comes from, and how it's showing up in your organization. Now you want to know what to do about it.
About this event
NOTE: We recommend taking this class after taking "Everybody's Biased", or if you have a good grounding and understanding of Implicit Bias and the connection to Systemic Racism.
Workshop Description
Organizations are full of implicit biases because they are filled with people, and people are full of implicit biases because it's in our human nature. Our training team is often asked "How do we prevent biases?"—and after 30 years of research, the results show that's nearly an impossibility.
That means the real question that we have to ask ourselves is "How do we increase our awareness of our biases?" And, "How to we begin to interrupt our biases, and the biases of others, before they create harm?". These are the 2 questions upon which this training is built.
In this 2-hour interactive workshop:
We bring in a Cultural Somatics approach which teaches the principles of grounding and pausing to help participants learn how to disrupt the "System 1 Brain" that generates biases at hyper-speed.
Participants learn how Cultural Somatics helps us become more connected to our mind and body, which helps us feel more empowered to interrupt biases and microaggressions.
Participants will deepen their understanding of how and when implicit bias creeps in so they can identify the opportunities for intervention and mitigation.
Participants learn our 4 -part E.C.C.O. Framework (and over 20 best practices) for interrupting and mitigating biases in ourselves and our organizations.
We believe that once all of us begin to live out the E.C.C.O Framework, it will create a ripple effect, or echo, within our organizations that will lead to an increase of de-biasing strategies and behaviors. And that's what we call The E.C.C.O. Effect
Workshop Format
This workshop will be delivered in a live, 2-hour interactive session conducted online in Zoom.
Our workshops are designed to be engaging and foster connection, unlike a more one-directional webinar format. We engage all of the senses and cater to multiple learning styles. We also believe in engaging the whole body and schedule screen and stretch breaks into the session.
Registration Process
Upon registration, you will receive a Zoom link and prior to the meeting.
Participation & Recording
Our sessions are designed as true learning communities. While the spaces are designed to raise awareness and share information, we believe that participants contributing to the learning even though they come to the sessions to learn.
As a result, we invite participates to engage all the senses, participate in session activities, and interact with others in the session.
We're mindful that the training will take place during this global pandemic where most participants will still be joining from their homes where we're all juggling the work and life responsibilities and demands.
We are mindful that there may be times where participants may be distracted and can't be fully engaged, and we hold empathy and understanding for that.
That said, to protect the safe space and confidentiality of all participants, we do not provide recordings of our sessions.
Cancellations, Refunds, Credits and Transfers
Transfer: If you cannot attend the training, you may send someone in your place. We allow registration to be transferred to a different attendee up to 5 days prior to the training session. To request a registration transfer, email hello@wilson-and-associates.com
Credit: If you cannot attend a training that you have registered for, you have 5 days from the training date to email us at hello@wilson-and-associates.com and request a credit for a future offering of the same training.
Refunds: No refunds are made for our trainings.