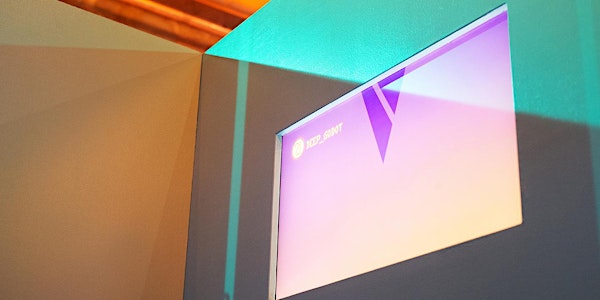 Multiple dates
Interrobang's Deep Godot Performance @Viral Theatres
Book your time-slot for Deep Godot: A -one-to-one Encounter with an AI (in English & auf Deutsch)
By Interrobang (hosted by Viral Theatres)
Date and time
April 28, 2022 · 3pm - April 30, 2022 · 7pm CEST
Location
Tieranatomisches Theater Philippstraße 13 Campus Nord, Haus 3 10115 Berlin Germany
About this event
DEEP GODOT
Ein one-to-one-Encounter mit einer KI
Mit DEEP GODOT macht die Performancegruppe Interrobang die Ambivalenzen künstlicher Intelligenz für das Publikum erfahrbar: die eigens entwickelte und trainierte künstliche Intelligenz DEEP GODOT bietet eine individuelle Altersbegleitung für Menschen von 15 bis 100 plus. Mit dem Programm Smart Ageing lernt DEEP GODOT die Menschen schon lange vor ihrem Lebensabend kennen, um sie später im Alter besser und persönlicher begleiten, unterhalten, pflegen und auf ihren Tod vorbereiten zu können.
Mit der Performance erforscht Interrobang die Grenzen und Möglichkeiten individueller Handlungsfähigkeit und gesellschaftlicher Solidarität in einer zunehmend von KI geprägten Welt. In welchem Verhältnis stehen dabei profitorientierte Fortschrittsversprechen und emanzipatorische Potenziale? Wie beziehungsfähig sind künstliche Intelligenzen? Gleichzeitig ermöglicht die Kommunikation mit DEEP GODOT eine persönliche und poetische Auseinandersetzung mit der eigenen Vergänglichkeit.
Konzept: Interrobang Entwicklung und Text: Lisa Großmann, Peggy Mädler, Till Müller-Klug, Lajos Talamonti, Nina Tecklenburg Programmierung: Florian Fischer Bühne: Sandra Fox, Dominik v. Stillfried Musik: Friedrich Greiling Lichtdesign, Technische Leitung: Dirk Lutz Grafik, Animation: Jürgen Fehrmann, Julia Elger Produktionsleitung: ehrliche arbeit, Sandra Klöss Öffentlichkeitsarbeit: Tina Ebert
Eine Produktion von Interrobang in Koproduktion mit SOPHIENSÆLE. Gefördert durch die Senatsverwaltung für Kultur und Europa und vom Fonds Darstellende Künste aus Mitteln der Beauftragten der Bundesregierung für Kultur und Medien und dem Bundesministerium für Ernährung und Landwirtschaft.
DEEP GODOT
A one-to-one-Encounter with an AI
DEEP GODOT turns the ambivalences of artificial intelligence into an individual experience. Therefore, Interrobang trains DEEP GODOT, an A.I. that offers individual age guidance for people from 15 to 100plus. The Smart Ageing program DEEP GODOT gets to know people long before they reach the end of their lives, in order to better and more personally accompany, entertain, and prepare them for their later passing away.
DEEP GODOT explores the limits and possibilities of individual agency and social solidarity in a world increasingly shaped by A.I.. What is the relationship between profit-oriented promises of progress and emancipatory potentials? At the same time, communication with DEEP GODOT enables a personal and poetic confrontation with one's own transience.
Concept: Interrobang Devising and Text: Lisa Großmann, Peggy Mädler, Till Müller-Klug, Lajos Talamonti, Nina Tecklenburg Coding: Florian Fischer Stage: Dominik v. Stillfried Music: Friedrich Greiling Lightdesign, Technical Director Dirk Lutz Graphic, Animation: Jürgen Fehrmann, Julia Elger Production: ehrliche arbeit, Sandra Klöss PR: Tina Ebert
A production by Interrobang in co-production with SOPHIENSÆLE. Supported by the Senate Department for Culture and Europe and by the Performing Arts Fund with funds from the Federal Government Commissioner for Culture and the Media and the Federal Ministry of Food and Agriculture.
This event is part of the Symposium Viral Theatres: Pandemic Past/Hybrid Futures, which is taking place at the Tieranatomisches Theater Berlin and online from April 28- April 30, 2022.
The Viral Theatres-Research Project, a collaboration of the Free University, the Humboldt University and Bard College Berlin, is funded by the VolkswagenFoundation. The Opening Events are co-financed by the research project "Extended Audiences" in the Research Area "Travelling Matters" at the EXC2020 "Temporal Communities" and take place with kind support from the metalab@Harvard, the Harvard University Mahindra Humanities Centers, and the Open Society University Networks.