INTERPRETER CONVENTIONS - Finding the Parallels + ConVTI 2019
Description
DE LA MORA Institute and ConVTI are teaming up this year to offer two unique interpreter conferences together.
The event kicks off with ConVTI, a fully digital conference for translators and interpreters that will be presented worldwide on November 14th and 15th, 2019. Attendees can join from anywhere to learn about and discuss the future of the T&I world, as well as earn CEUs for elligible states.
November 15th begins the three-day in-person Finding the Parallels Interpreter Conference in Orlando, FL. Come join in person or register to attend the digital live-stream of the conference instead! Florida interpreters will be able to earn all of their required CEUs in one event, and interpreters from other states will be able to earn CEUs as well. We are proud to offer the most widely-accessible conferences in our history!
Read below for more information on each event. You can customize your registration to sign up for one or both conferences, as well as choosing to attend Finding the Parallels digitally or in-person.
If you have any questions, please email us at info@delamorainstitute.com or call 407-677-4155
If you are interesed in becoming a sponsor for both events, we have Sponsorship and Exhibitor packages available. Send us an email for more information at gabriella@delamorainstitute.com
---
ABOUT ConVTI 2019
ConVTI 2019 is a fully digital conference airing globally on November 14th-15th. Originally founded by Gio Lester, who also aided in designing the original Finding the Parallels conference, this online conference allows presenters from all over the world to join together in a digital forum to discuss the future of interpretation and translation worldwide. ConVTI's main focus remains making knowledge and professional growth opportunities available to T&I professionals while making geographical and language barriers a non-issue, reducing overall cost, and helping professionals meet their continuing education requirements. Our goal is to bring together bright minds to give presentations that are idea-focused, foster learning, inspiration and wonder and to provoke conversations that matter. Find out more: https://delamorinstitute.com/convti2019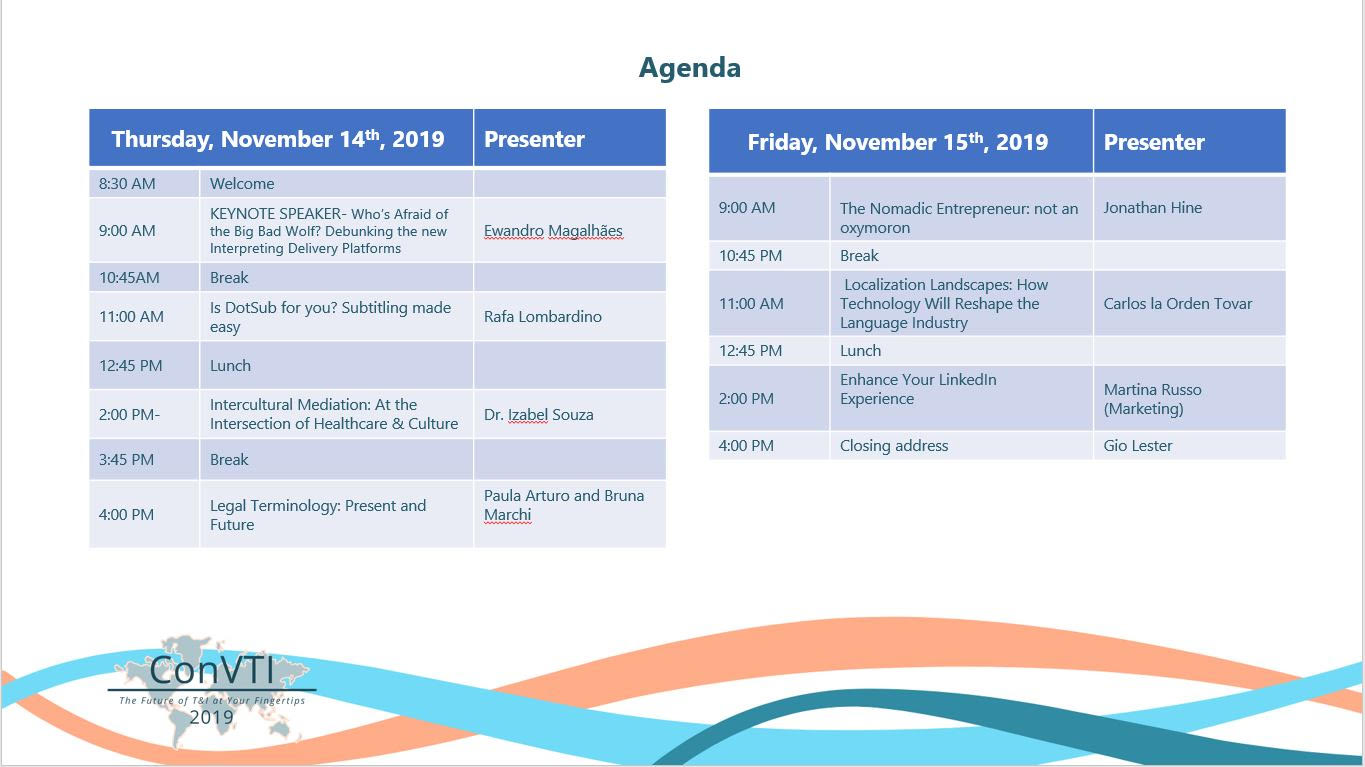 Where:
Online via KUDO



ABOUT FINDING THE PARALLELS 2019
Finding the Parallels 2019 is DE LA MORA Interpreter Training's 3-day annual conference taking place in Orlando, FL. Open to all certified/registered legal and medical interpreters, the conference features intermediate-advanced practice through hands-on classes covering all modes of interpretation as well as specialized terminology and ethics. The mission of Finding the Parallels is to provide all attendants with a fresh take on skill improvement, as well as provide networking opportunities and continued education credits.
Florida Legal Certified/Registered Interpreters & All Certified Medical Interpreters will receive credits for attending.

Where:
Orlando, FL
Questions? Email info@delamoratraining.com or call 407-677-4155
THIS CONFERENCE IS OPEN TO LEGAL AND MEDICAL INTERPRETERS