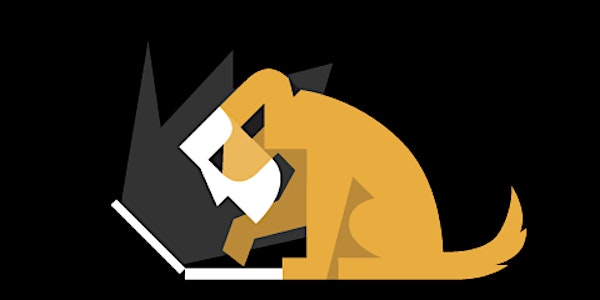 Internet Identity Workshop IIWXXXII #32 2021A
The Internet Identity Workshop #IIW has been finding, probing and solving identity issues twice every year since 2005
Refund Policy
Contact the organizer to request a refund.
About this event
Internet Identity Workshop XXXII (#32) 
April 20 - 22, 2021 |Our 3rd Virtual Event via QiqoChat
You belong at IIW this Spring!  You'll acquire the real-time pulse of genuinely disruptive technologies that are the foundation of today's important Internet movements.
Every IIW moves topics, code, and projects downfield.  Name an identity topic and it's likely that more substantial discussion and work has been done at IIW than any other conference!
IIW is at its heart a participatory conference, it is an Open Space unConference.  It has no keynotes or panels, so it's about getting stuff done!
All attendees are welcome to call and host or present sessions. No formal presentation is required to host a session. Check out the links below for more information about IIW:
While we miss being with everyone in person, we have found that the online event isn't just an acceptable substitute, but a real workshop in its own right with considerable advantages. Being virtual will allow many more people from around the world to participate in the important discussions that happen at each IIW.
Our Global IIW Community as Mapped in Qiqo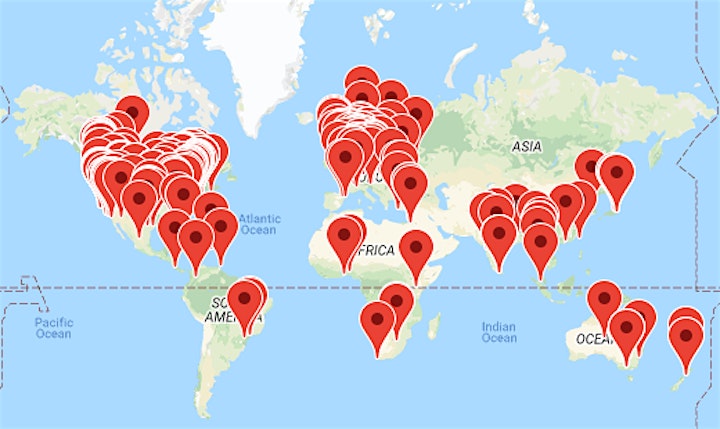 "From my perspective, IIW is the seminal conference for the digital identity space. The feedback & technical insight garnered here is so invaluable for my company that we build our internal product roadmap around the twice-yearly conference. I was admittedly skeptical about the event going fully virtual, but the organizers managed the transition with little to no loss in collaborative nature or connections. I was very pleased with the value and turnout, and am already looking forward to the next one!"
Karyl Fowler | CEO | transmute industries
How It Works
Our schedule is designed to provide session time slots in as many time zones as possible. The agenda will be created live each day by attendees present at the opening circle or closing circle, depending on your time zone.
Through dozens of sessions, you'll have plenty of chances to present your ideas, ask questions, engage in challenging dialog, and make new professional connections. The Open Space unConference format is perfect for a rapidly moving field where the organizing team cannot predetermine what needs to be discussed. We know great people will be at IIW XXXII. The attendees who have a passion for learning and contributing to the event that makes it the success it is.
This is the time and place that you get to discuss, share your knowledge, work on and learn about anything & everything related to Internet Identity today.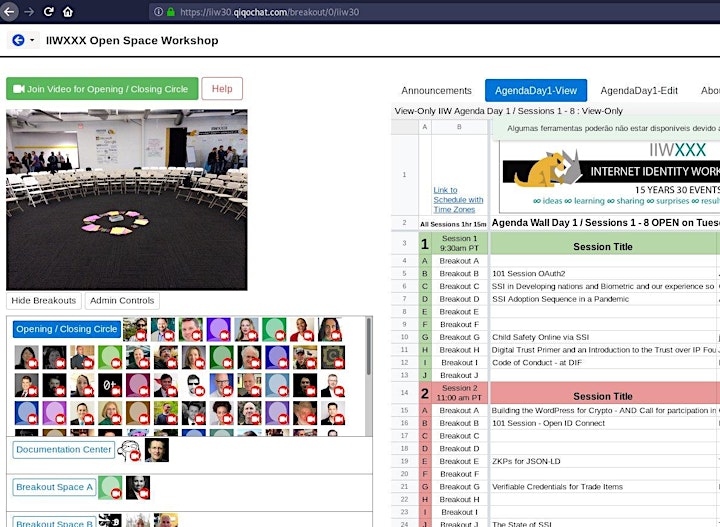 "Pamela Dingle @pamelarosiedee ~ Apr 28 Internet Identity Workshop is setting the bar HIGH for virtual conferences, amazing job @idworkshop - 240 people online now for #IIW opening circle, cool blended use of @QiqoChat and @zoom_us"
Pamela Dingle | Director of Identity Standards | MSFT
Why You Should Participate
This is the time and place that you get to discuss, share your knowledge, work on and learn about anything & everything related to Internet Identity TODAY. 
Identity is at the heart of all the topics listed below, along with others we hope to see discussed at IIW in April 2021:
Self-Sovereign and Blockchain Based Identity
Verifiable Credentials and DIDs
Credential Ecosystems
VRM (Vendor Relationship Management)
Data Liberation and Portability
Earned (rather than coerced) Customer Loyalty ~ CRM
Privacy in the Age of Surveillance
Identity and Privacy in Healthcare
Identity Verification for Internet Payments
Personal Sovereignty
International Perspectives
Multisignal Authentication
Authentication of US Government Employees
Authentication in the Enterprise/Extended Enterprise
Identity in the Context of Mobile Device Management
IoT (The Internet of Things)
Two-Factor Authentication (U2F)
Use Managed Access (UMA)
Identity Fraud
OAuth
OpenID Connect
Token Binding
Personal API's & Domain of One's Own
Biometrics
Identity Proofing
Cryptographic CredentialsEfforts to "Reboot the Web of Trust"
See the growing list of potential topics put forth by those who have already registered for IIWXXXII. 
"IIW XXX completely changed my mind about 'virtual conferences'. I was quite skeptical that it could be even remotely as effective as the in-person IIW events—of which I've never missed a single one. But IIW XXX not only captured most of the same interactions, it actually proved to be MORE INTENSE than the in-person event because there are multiple channels alive at the same time—the Zoom Rooms, the Zoom chat, and then the Garden rooms and side channels that form and keep going throughout the event. Plus being virtual meant many more people around the world could attend. In fact, it was so engaging that I left the event feeling that at least one of every two IIWs should be virtual now."
Drummond Reed / Chief Trust Officer at Evernym
Please go to the IIW site www.internetidentityworkshop.com for additional information about the event and to view the short video "What is IIW?" 
Contact us about purchasing bulk tickets - Phil Windley: windley@gmail.com
We look forward to seeing you virtually in April 2021 for IIWXXXII!