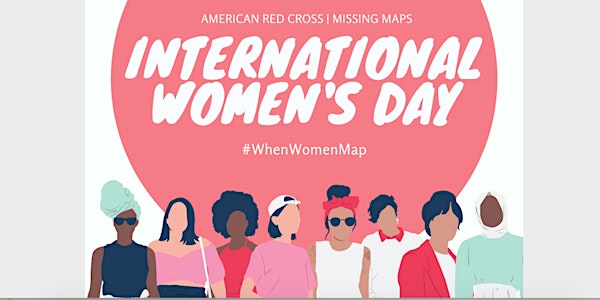 International Women's Day Mapathon 2021
Interested in volunteering for International Women's Day? Join us a for a Mapathon! No experience is required, training will be provided.
About this event
Who:  Maplovers! No mapping experience is required and training will be provided. This event is open to all ages. Please make sure to RSVP as Zoom log in information will be sent to registered attendees only.
What: Please join us for a Missing Maps mapathon in honor of International Women's Day. This event will be co-hosted by the International Services Department and the Women's Resource Group.
Where: Virtual
When: March 8, 2020 1-3PM EST (note: a second training will start at 2 so if you can't join us for the full event please plan on signing in by at least 2)
Why: International Women's Day presents an invaluable opportunity for us to rally around gender equality. Editing OSM gives participants a voice in how their communities are represented to the world, because digital literacy is a must-know skill, and because women and girls around the world are disproportionately burdened with work that prevents their participation in "extra" activities. We know the immense benefits of participating in our community – the opportunity to shape the world's map, technical training, access to a global network and professional opportunities. To participate, many of us enjoy privileges that are denied to millions of women and girls around the world, including digital literacy, access to the Internet, and the luxury of free time to edit OSM.  We will all be stronger – including the map itself – when the OSM community reaches gender parity. At this event we will be mapping to support Crowd2Map Tanzania.
What equipment do I need? You will need a computer and a mouse if possible.
WHAT DO I DO NOW? Get yourself an eventbrite ticket for the event then make sure to sign up for an OSM account if you don't already have one. You can do this by following the prompt in the top right corner on openstreetmap.org.
Note: We do anticipate this event selling out. If you have reserved a ticket and can no longer map with us, please make sure to cancel your ticket.
We look forward to seeing you there! 
Questions? 
Please email rachel.levine@redcross.org