International Invitational Symposium: Nanomaterials & Nanocomposites Processing, Synthesis & Applications

Thursday, April 26, 2018 from 9:00 AM to 5:00 PM (PDT)
Event Details
San Francisco Bay Area IEEE Nanotechnology Council
http://sites.ieee.org/sfbanano
       SFBA Nanotechnology Council's 14th Annual Spring Symposium          

  International Invitational Symposium:   
Nanomaterials & Nanocomposites
 Processing, Synthesis & Applications
April 26. 2018  9:00 AM – 5:00 PM
Job Seeker Assistance at this event  (scroll down)
Location: SEMI Global Headquarters, 673 South Milpitas Boulevard, Milpitas, CA
 Bringing together leading academic, government and industry experts to discuss innovative opportunities and technical challenges associated with nanotechnology.
Presentations and Networking opportunities
 -- Lunch, & Break Refreshments Included -- 
   SFBA Nano often recruits excellent, world class, speakers from the SF Bay Area / Silicon Valley's many universities, companies and national research labs.
   This April 26th symposium is notable for its internationally based roster of outstanding speakers. 
   Take advantage of this unique opportunity to attend lectures and meet these international researchers, while paying quite modest event fees!
I look forward to your joining us!
- Glenn Friedman;  Chair, IEEE SFBA Nanotechnology Council;                         Vice-Chair, Santa Clara Valley IEEE   
A Full Day of 
Notable speakers from around the world !
China - Xiaosheng Fang
Professor; Department of Materials Science; Fudan University, Shanghai
Hungary - Klara Hernadi
Department of Applied and Environmental Chemistry; University of Szeged
 India - Rajnish Kumar Chaturvedi
Sr. Scientist; CSIR - Indian Institute of Toxicology Research
Ireland - Parvaneh Mokarian;
Sr. Research Fellow; SFI Advanced Materials & BioEngineering Research Centre; Trinity College, Dublin
Japan - Yukiko Yasukawa
Associate Professor; Faculty of Engineering; Chiba Institute of Technology
Canada - Pavle Radovanovic 
Professor; Department of Chemistry; University of Waterloo
United Kingdom - Neil R. Thomas 
Professor of Medicinal and Biological Chemistry; University of Nottingham
 Pakistan - Bushra Jamil 
Assistant Professor at National University of Medical Sciences (NUMS)
Topics include:
ZnO Micro/Nanostuctures Based
Ultraviolet Photodetectors
abrication of Hollow Nanostructures:
CNT Forests and Spherical Semiconductors
Manipulation of Magnetism through Metal Nanoparticles
for Functional Magnetic Thin Films
Self-Assembly of NanoStructures for
Fabrication of AntiReflective Surfaces
Recombinative Spider Silk and its
Healthcare Applications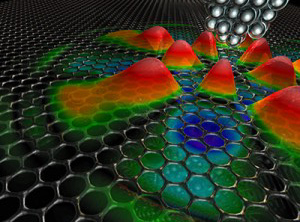 credit: Jon Wyrick CNST/NIST
  Agenda changes in progress - order of presentations may change
  Morning
Welcome and Introduction
    Nano Chair: Glenn Friedman, GXTec Consulting
   Symposium Chair: Vasuda Bhatia, Amity University
Imipenem Loaded Chitosan Based Nano-Constructs:  new addition
A New Paradigm to Cure Multidrug Resistant Clinical Isolates 

   Bushra Jamil, National University of Medical Sciences
Fabrication of Hollow Nanostructures
   Klara Hernandi, University of Szeged
 Photo-design of Nanomaterials
   Lavinia Balan, Inst Matls Sci, CNRS   cancelled
 Protein Nanocages for Healthcare
   Neil Thomas, University of Nottingham
 Nanomedicine in Neurodegenerative Disorders
   Rajnish Chaturvedi, CSIR-India Toxicology
    Afternoon
 Nanostuctured Ultraviolet Photodetectors
   Xiaosheng Fang, Fudan University
 Antireflective Surfaces from Block Copolymers
   Parvaneh Mokarian, Trinity College Dublin
 Nanoparticles for Magnetic Thin Films
   Yukiko Yasukawa, Chiba Inst of Tech
 Plasmonic Nanocrystals
   Pavle Radovanovic, University of Waterloo
Registration Fees
-- Lunch, & Break Refreshments Included --
IEEE Members:                            $75      $65 (early)      $85 (pay-at-door)
Non-IEEE Members:                    $85      $75 (early)      $95 (pay-at-door)
In Transition / Unemployed:        $40      $35 (early)      $45 (pay-at-door)
Students:                                     $30      $25 (early)      $35 (pay-at-door)
Save $ with early on-line registration on or before April 12th  EXTENDED to April 17th  !
Pay-At-Door will be available for only a limited number of attendees.
Pre-registration for Pay-At-Door begins at 3 pm on April 23rd. (Adds to your cost).
Save with early registration and purchase your ticket on-line !
Job Seeker Assistance at this event:
  In response to recent new layoffs, and continuing concerns for people seeking employment,
  SFBA Nano is offering assistance to job seekers.
  1.  A table with CVs/resumes available for people to pick up, and
  2.  An "Announcement Slide" which will be projected during the initial networking session
 Job Seekers:
  1. Bring copies of your resume for distribution & display on the resume table.
  2. Send a one-line description of yourself, to be displayed on the "Announcement Slide" (described above in item 1).
     Example, "Dr. Non Sequitur, over 35 yrs experience in Circular Arguments; seeking Marketing position"
  Send your one-line description by April 24 to:
 Please feel free to forward this invitation to any of your own colleagues who may be seeking jobs.  
Attendee List
Sort by:

Date

|

First Name

|

Last Name
No one has registered for this event yet.
When & Where

SEMI Global Headquarters
673 South Milpitas Boulevard
Milpitas, CA 95035


Thursday, April 26, 2018 from 9:00 AM to 5:00 PM (PDT)
Add to my calendar