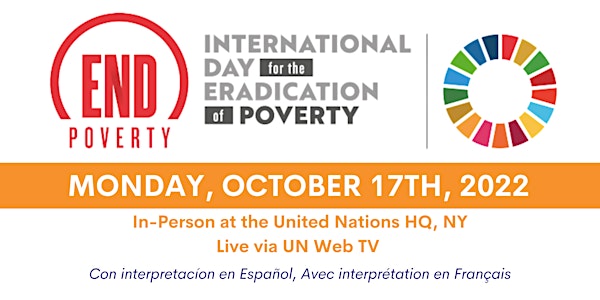 International Day for the Eradication of Poverty
DIGNITY FOR ALL IN PRACTICE: THE COMMITMENTS WE MAKE TOGETHER FOR SOCIAL JUSTICE, PEACE, AND THE PLANET
When and where
Location
United Nations Headquarters 405 East 42nd Street New York, NY 10017
About this event
Unless you are already in possesion of a UN groundspass, the deadline to register for In-Person Attendance is passed.
Those who would still like to follow along may register to view virtually via UN Web TV.
Those who are already registered to come In-Person, please remember to bring your ID and an umbrella. Please note that Vaccination Proof is NOT required and that if you registered to come In-Person before 9am Wednesday, 10/12, you will be able to collect your UN pass at the UN entrance on the Day. You do not need a ticket from Eventbrite in order to collect that pass.
An email with these instructions and more details regarding entry will be sent 10/14.
Thank you!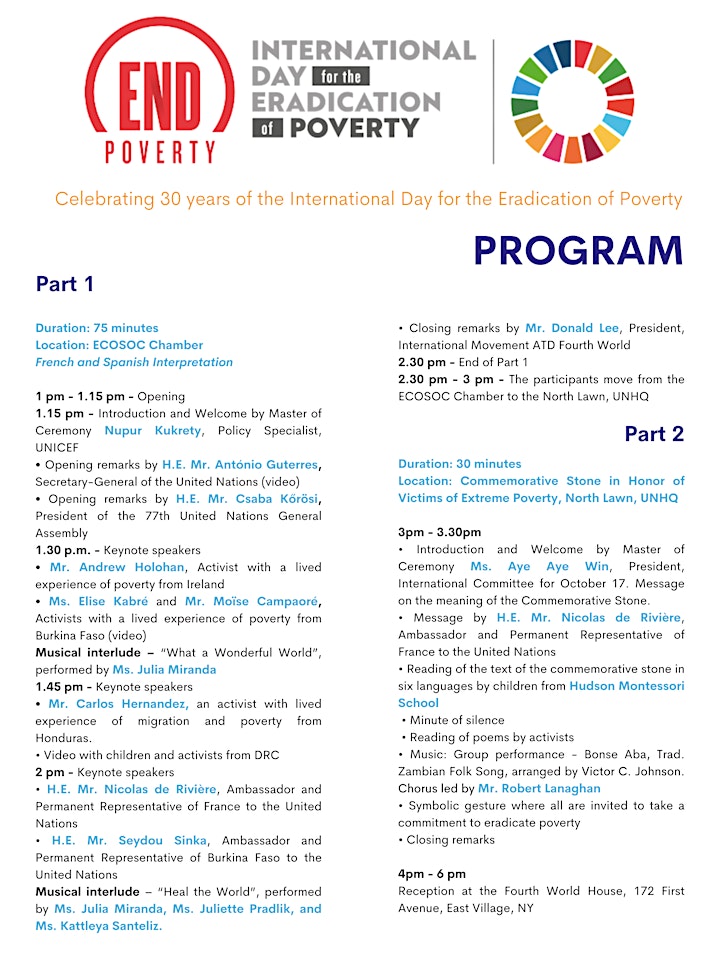 This year's International Day for the Eradication of Poverty (IDEP) marks its 30th annual commemoration as a UN day.
Please find the concept note here.
Every year, IDEP presents an opportunity to acknowledge the efforts and struggles of people living in poverty, for them to make their concerns heard by the UN system and Member States, and for the world to recognize that they are the first ones to fight against poverty. Today, they are also the most affected by the impact of the global pandemic and climate change.
Dignity for all in practice is the umbrella theme of the International Day for the Eradication of Poverty for 2022-2023. The dignity of the human being is not only a fundamental right in itself but constitutes the basis of all other fundamental rights. The 1948 Universal Declaration of Human Rights enshrined human dignity in its preamble:
'Whereas recognition of the inherent dignity and of the equal and inalienable rights of all members of the human family is the foundation of freedom, justice and peace in the world.'
"Dignity" is not an abstract concept: it belongs to each and every one. Today, many people living in persistent poverty experience their dignity being denied and disrespected. The ways in which the poorest people are treated are a measure of the respect in which human dignity is held in our societies. Personal agency helps define a life in dignity, in which individuals have the freedom to make informed choices and to participate meaningfully in the decision-making processes that affect their lives.
The promise of human rights and dignity for all in practice is possible and must be achieved. In
the words of Bertine, an activist living in poverty from Burkina Faso:
«We have to fight for dignity together because my
dignity is nothing if my neighbor has none. »