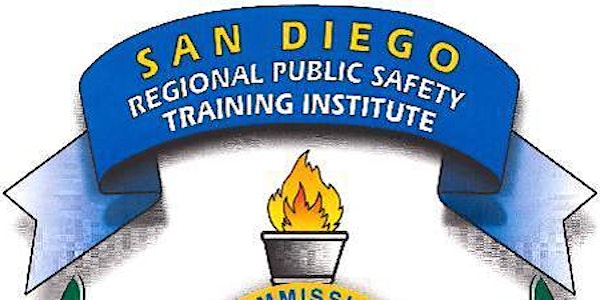 Multiple dates
INTERMEDIATE TRAFFIC COLLISION INVESTIGATION COURSE (40 HOURS)
Intermediate Traffic Collision Investigation (40 Hours)
By Deputy Michael Guerrero
Date and time
January 14, 2019 · 7am - April 10 · 4pm PST
Location
Miramar College - San Diego Regional Public Safety Training Institute 10440 Black Mountain Road San Diego, CA 92126
About this event
SAN DIEGO REGIONAL PUBLIC SAFETY TRAINING INSTITUTE
AND SAN DIEGO SHERIFF'S DEPARTMENT
COURSE:    INTERMEDIATE TRAFFIC COLLISION INVESTIGATION (40 HOURS)
DATES:                        2023: April 10th - 14th       (4690-33620-22-001)                                                                     
TIME:                          0700 - 1600
LOCATION:                  Miramar College - SAN DIEGO REGIONAL PUBLIC SAFETY TRAINING INSTITUTE
10440 Black Mountain Road, San Diego, CA 92126
Room A- 222
RESERVATIONS:          https://intermediate-traffic-collision.eventbrite.com
COURSE CONTACT INFORMATION:
Deputy Michael Guerrero
San Diego County Sheriff's Department
Desk # 760-510-5048
michael.guerreroR@sdsheriff.org
REGISTRATION:     Course registration will begin promptly at 0700 hours on the first day of class.
COURSE CONTENT: This course is devoted to the Basics of Tire Mark Identification and Analysis. Course content will include: identification of the various types of tire marks; documentation and measurements; terms and definitions relating to tire mark investigations; case preparation and courtroom testimony; determination of drag factor; and speed estimates using mathematical equations.
PREREQUISITE: Completion of a P.O.S.T. Basic Traffic Collision Investigation Course or equivalent work experience completing collision reports. There is no pre-test for this course but students should understand that the P.O.S.T. curriculum requires
students to be able to satisfactorily deal with a variety of mathematical formulas and equations. It is recommended that students be recently familiar with college level algebraic mathematics.
CERTIFICATION: This course is certified under P.O.S.T. reimbursement Plan IV. Class hours are mandated by P.O.S.T. and full participation is required for certification. Completion certificates will be awarded.
TUITION/CREDIT:   0.5 lower division semester units will be awarded for completion of this course (ADJU 304A). Tuition is $23 per student. Agencies/students can pay at time of registration on the first day of class or the agency may be billed (***** SDSO student's tuition is covered by Sheriff's Training budget *****). California non-residents will also be charged a tuition fee of $307 per unit. There may also be a $20 medical insurance fee, which is waived if you are currently employed by a Law Enforcement agency. Students are expected to be honest and ethical at all times in their pursuit of academic goals. Please refer to SDCCD Procedure 3100.3 for more detailed information.
EQUIPMENT/SUPPLIES: Students will need the following items in class each day: pen/pencil, note paper, clipboard, two line scientific calculator (i.e. TI-30X, TI-82, TI-83 or higher) or a smartphone application with trigonometric functions. A student book will be provided electronically. Students will need to either print their own book or bring a tablet/laptop computer. Traffic collision report forms and a SWITRS manual will be provided for use.
DRESS: Casual clothing is appropriate. No shorts, sandals or flip-flops. Outside practical exercises will be conducted regardless of weather conditions.
PARKING: Parking is available in the Student Parking Lot (upper lot) and parking structure at Miramar College. Parking permits are required and will be issued the first day of class at the time of registration. The permit must be displayed on the vehicle dashboard. Any vehicle not displaying a permit will be cited. Do not park on Campus Point Drive, any Staff spaces and/or the parking lot next to the "A" building. This area is reserved for staff and faculty by permit only. Marked and unmarked law enforcement vehicles are not exempt. Additional parking is available on Gold Coast Drive without a permit.