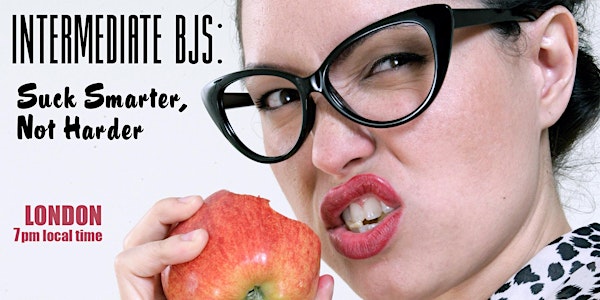 Intermediate BJs: Suck Smarter, Not Harder - (7PM LONDON LOCAL TIME)
Refund Policy
Contact the organizer to request a refund.
Description
Expand your bag of tricks! Sex Nerd Sandra shares techniques for custom designing incredible head. This class builds upon skills learned in "Balls Deep: the Fundamentals of Fellatio" TOPICS COVERED: Types of penis personalities, sensation layering, playing with arousal, mid-tongue strengthening and fun ways to create exciting visuals.
FAQs
How long is the class?
The workshop is 1 hour and Sandra will stick around to answer questions for 15 minutes after class.
How do I access the workshop?
After you finish registering with Eventbrite, you should receive a confirmation email from Eventbrite with the link to access the class. Welcome!
What if I don't get the 2nd email from Zoom with worksnhop log-in details?
Email sandra@sexnerdsandra.com with subject line ONLINE WORKSHOP HELP and a helper monkey will be standing by at the time of the workshop to help with snafoos.
Is there an age limit to enter the event?
Yes. You must be 18 years or older to attend.
What can/can't I bring to the event?
You can bring all your friends, follow up questions and a notepad. You are NOT invited to record the workshop. These workshops are meant to be special, exclusive live events for those who attend.
How do I find out about future Sex Nerd Sandra workshops?
By signing up for this free workshop, you'll most likely get an email heads-up for future stuff. Also, feel free to check events at sexnerdsandra.com, along with the @SexNerdSandra Twitter and Facebook page.
Why are these classes so cheap?
While many good folks have pointed out that the info gained in each class are worth much more than $10 US, Sandra is focusing on making her work accessible and affordable. You can help by spreading the word about these weekly, global Wednesday classes.
Why are your workshops in 3 time zones?

Sex Nerds are everywhere! Sign up for whichever class time is most convenient for you. Each class is taught live 3 times, at 7pm Wednesday, first on Sydney time, then London and finally Los Angeles. (Yes, that means Sandra will be teaching at 12am, 11am and 7pm her local Hollywood time every Wednesday.)
Will there be boobs and stuff?
Nope! No nudity. This is a sex-positive, lighthearted, comedy-leaning informational workshop. Sandra is an educator, professional sex nerd and podcast host. Though she may use teaching aids and diagrams to illustrate her points, the aim is to empower you to explore pleasure in your own life.
Will people be able to see me?
No one can see or hear you. This is a one-way mirror. When you log into Zoom, you can fill in you real name or an alternate online handle. If you want to ask questions, you name may be seen by others so feel free to sign up with an alternate to your real name.