About this Event
In a world where facts and evidence aren't enough to persuade, mastering the power of a story is key to breaking through the noise and making an impact.
There is no one-size-fits-all method for telling a story; Storytelling has guidelines, but no hard and fast rules. The goal is to tell an impactful story that your audiences care about.
And behind the glamor of your "powerful video" or "impact story" lie the challenges of finding a good story and agreeing how to tell it. What if your smartest expert is your weakest storyteller? How do you make sure that communities can tell their stories on their own terms? This session will help communicators, fundraisers, and funders tell better stories by making storytelling a more cooperative, inclusive process.
Our hands-on workshop will help participants understand that they are already natural-born storytellers.
You will walk away with the tools and techniques they need to tell stories about yourself and about your work.
Participants will be asked to create a first-draft story for the medium best suited to their goals.
Working in peer groups, we will then review selected stories to discuss approaches and apply the principles we've discussed.
Co-create the workshop with us - take this super short survey!
We will end with a reflective happy hour!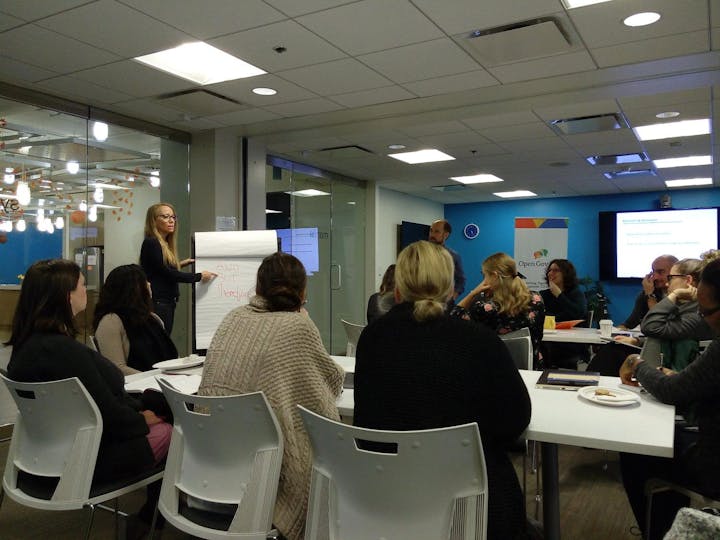 You will learn:
What you need to do to tell stories that people will care about
Tips on how to surprise and delight your audiences
How to collaborate across your team to create more effective, authentic stories
The power turning your organization's challenges into its best stories
The rules of replacement, using and, but, and therefore
How to make your content "clicky and sticky"
About the Facilitators:
Stacy Whittle is an entrepreneur and has over 30 years experience in international development, communications, and storytelling. She is Co-Founder of Front Page Live, the antidote to the Drudge Report, and is a award-winning actor based in Washington, D.C. She has worked with NASA, USAID, and Fortune 500 Companies. She is also Co-Founder of the GojiBox, the world's lightest in-flight entertainment system. She has lived and worked in over a dozen countries--everywhere from Argentina to Tanzania. She speaks fluent Spanish and is conversational in Arabic, Italian, and French. Stacy holds an MPA from Middlebury's Monterey Institute of International Studies and a BA in Anthropology from the George Washington University.
Jed Miller is a digital strategist focused on human rights, open government and the effective adoption of technology by NGOs and foundations. His report, "The Story Behind the Story," written with the Transparency and Accountability Initiative, explores how organizations can tell authentic, compelling stories about their work. He has taught advocacy communications at Columbia's School for International Public Affairs and was previously digital director at the American Civil Liberties Union.
John Healy is a filmmaker & marketing communications specialist with over 20 years experience with leading advertising agencies and media companies (Ogilvy & Mather, CNN). At CNN, John headed digital marketing in its commercial department. By 2009, John founded a digital marketing software startup, KindCitizen; a social enterprise to help non-profit organisations add new revenue streams. John is also a screenwriter and professional actor.