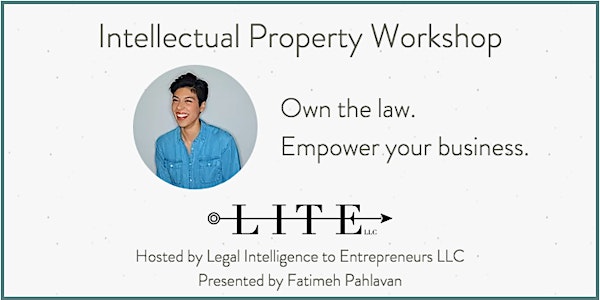 Intellectual Property Workshop Hosted by LITE
Learn how to leverage intellectual property to protect your ideas, enhance your influence, and create passive revenue for your business.
Refund Policy
Contact the organizer to request a refund.
Eventbrite's fee is nonrefundable.
About this event
This webinar is hosted by LITE. For more details, visit litecounsel.com.
OVERVIEW
We will discuss the roles of the major protectionary mechanisms available through law (copyright, trademark, and patent). You will also receive resources designed to help you make informed choices about your IP independently, without having to consult an attorney.
DETAILS
We will address these questions and more:
- What is intellectual property?
- What is the difference between copyright, trademark, and patent?
- When is it worth it to capture IP rights as a business with limited resources?
- How can I use my IP rights to expand my brand and cultural influence?
- Can IP be used to generate passive revenue?
- What is the process and cost of building an IP portfolio?
AUDIENCE
This course is for entrepreneurs based anywhere in the United States.
FREQUENTLY ASKED QUESTIONS
What should I expect from this workshop?
This workshop is a primer on how to cultivate and leverage an IP portfolio.
Does the cost of this workshop include fees for capturing any IP rights?
No. The cost of this workshop only covers only lecture and educational materials.
If I can't make it, when will this workshop next be offered?
This is the final time this workshop will be offered for the foreseeable future.
Will this workshop be recorded so that I can access the information later?
The workshop will be recorded and attendees will have an opportunity to revisit the content for a period of 10 days after the workshop has ended.
What tools or background do I need to participate?
This workshop begins with the basics. So all you need to participate is a basic business plan, a computer with an internet connection, and a healthy dose of caffeine. :)