InsurTech NY and InsurTech Hartford Joint Conference (100% Virtual)
About this event
Summary
InsurTech NY and InsurTech Hartford are hosting a joint Spring Conference to bring together the insurance innovators and InsurTech leaders across the globe. The conference will feature speakers from insurance carriers and brokers making strides in innovation InsurTech startups that have impacted the industry. The conference will focus on the following major themes:
Catering to the Customer of 2025
User Experience and The Mobile Experience
Insurance Role in Climate Change
Digital Transformation & Cloud
Talent: Diversity & Inclusion
Speakers will look ahead five years beyond the pandemic to understand how macroeconomic and psychographic forces are shaping the way consumers buy from and interact with insurance brands. Industry leaders and innovators will lead the discussion around the future of insurance
The conference will also host the largest global InsurTech competition. Top startups from a pool of 100+ applicants will pitch in front of investors and insurance executives. Attendees will also hear from emerging startups and have the opportunity to connect with budding entrepreneurs and new tech solutions.
Agenda Overview
Day 1: Catering to the Customer of 2025 and Global Insurtech Competition
Presented by: InsurTech NY
08:50 AM Welcome & Introductions
09:00 AM Panel: Distribution channel to sell to the consumer of 2025
09:30 AM Panel: Design a User Experience that Drives Renewals
10:05 AM Virtual Networking
10:35 AM Automated Life Underwriting Solution for Everyone
11:05 AM Building a Perennial Core System
11:40 AM Virtual Networking & Lunch
12:40 PM Startup Pitch Global InsurTech Competition
01:40 PM Keynote 1: Building a Digital-first Insurance Experience
01:55 PM Keynote 2: Becoming an Unicorn InsurTech
02:10 PM Panel: Opportunities and Challenges of Distributing via InsurTech
02:40 PM Virtual Networking
03:10 PM Panel: Investing for the InsurTech Unicorn Crop of 20250
03:40 PM Ted-style Talk: On-demand Insurance in 5 Years
03:47 PM Ted-style Talk: Talent: Diversity & Inclusion
03:54 PM Ted-style Talk: Next Generation Underwriting
04:05 PM Virtual Networking
04:35 PM Panel: Regulatory Trends for AI and Algorithm Bias
05:05 PM Share tomorrow's agenda & Open Networking
05:30 PM End
Day 2: Digital Distribution and the Forces Transforming the Industry
Presented by: InsurTech Hartford
08:45 AM Welcome & Introductions
09:00 AM Panel: Emerging Trends in Digital Distribution
09:30 AM Ted-style Talk: Digital Transformation In The Life & Disability Claims Handling Process
09:37 AM Panel: InsurTech's Role In Responding to Climate Change
10:00 AM Virtual Networking
10:30 AM Skit: He Said, She Said – The Pandemic Version!
11:00 AM Startup Pitch Sessions
12:00 PM Virtual Networking | Lunch
01:00 PM Keynote 1: Growing a Partner Ecosystem
01:15 PM Keynote 2: Diversity and Inclusion - It's More Than Statistics
01:30 PM Ted-style Talk: Timing is everything: getting to market (quickly)
01:37 PM Panel: It's 2021 - Time To Deliver A Holistic Customer Experience
02:00 PM Panel: The Value Levers of IoT
02:30 PM Virtual Networking
03:00 PM Panel: Using AI To Improve Underwriting
03:30 PM Panel: The Regulatory Perspective on InsurTech
04:00 PM Panel: Cloud Transformation in Insurance
04:30 PM Special: InsurTech Feud - The First InsurTech Game Show
04:50 PM Awards and Recognitions
05:00 PM Closing Remarks
Featured Speakers
We are bringing together an expert line up of insurance carrier leaders, InsurTech founders, and solution provider leaders. This page will be continuously updated with new speakers.
Vymo - CEO - Yamini Bhat
e2Value - CEO - Todd Rissel
Marsh - Senior VP, Client Executive - Dennis Campbell
Insurance Evolution Partners - Managing Partner - Bryan Falchuk
ClarionDoor - CEO - Michael DeGusta
Iosis Consulting - Manaing Partner - David Bradford
Anthemis - Managing Director - Matt Jones
InsurTech NY - Managing Director - David Gritz
NAIC - Chairperson of Innovation and Tech Taskforce - Jonathan Godfread
Pivot Global - CEO - Cynthia Hardy
Locke Lord - Partner - Ben Sykes
Microsoft - Director, Insurance Industry Solutions - Jonathan Silverman
Clover Health - CEO - Vivek Garipalli
Breathe Life - CEO - Ian Jeffrey
Amica - AVP Digital Experience & Innovation - Jill Rasmussen
Chubb - SVP - Sashi Aiyathurai
Rikor - Founder - Wade Millward
CT Insurance Department - Deputy Commissioner - Josh Hershman
Swiss Re - SVP Underwriting Propositions - Nichole Myers
OWIT Global - CMO - Candace Baldridge
Innoveo - Vice President & Head Global Sales - Manisha Bhargava
InsurTech Hartford - Founder - Stacey Brown
Generali - Head of Prevention Assistance UI/UX/Data Analytics - Robert Pechholz
InsurTech NY - Principal - Roi Hansraj
Root Insurance - VP of Business Development - Shereen Agrawal
eBaotech - General Manager - Martin Crew
Transverse - Chairman & CEO - Erik Matson
DealerPolicy - Chief Insurance Officer & Co-Founder - Jeffrey Mongeon
Swiss Re - BD Manager, Strategic Partnerships - Sebastien Bert
Avanta Ventures - Associate - Chris Campana
Slice - Chief Growth Officer - Phil Lafreniere
Appian - Insurance Industry Leader - Jake Sloan
Conning Research - Director, Head of Life-Annuity - Terence Martin
Britecore - VP of Marketing - Jeff Haner
InsurTech Advisors - Managing Partner - Kaenan Hertz
Slice Labs - Chief Growth Officer - Phil Lafreniere
Eversheds Sutherland - Partner - John Pruitt
Duck Creek - Innovation InsurTech - Alicia Kern
Insurtech Hartford - Mark Roth
Guy Carpenter - SVP Innovation Leader - George Woods
AAA - Managing Partner, Strategy & Innovation - Brian Gaab
Launc[H] - Healthcare Innovations Lead - Bob Hilborn
SHzoom - Founder - Ingrid Cook
reThought Insurance - CUO - Nick Lamparelli
AXA XL - Innovation Leader - Doug Alexander
Instanda - Head of North America - Greg Murphy
Cigna - Director of Client-centric Technology - Danny Mendoza
Guidewire - Solution Consultant - Scott Hammesfahr
Appian - Industry Leader Insurance - Jake Sloan
OWIT Global - CMO - Candace Baldridge
Travelers - VP, Strategy & Innovation - Flinn Mueller
Beazley - Business Analyst - Devin Sullivan
Natasha Alexeeva - CEO - Friendly
Luke Kaplan - President, Life Insurance & Brokerage - Gallagher
Ira Ziff - President - The Insurance Recruiter
Anuraag Sunder - Managing Director - The Insurance Recruiter
George Alayon - Asst. Director - Bermuda Monetary Authority
Audrey Samers - SVP, Deputy Counsel - Chubb
Susan Johnson - Chief Diversity & Inclusion Officer - The Hartford
Margaret Spence - Founder & CEO - The Inclusion Learning Lab
Ryan Keating - Broker - Keating Agency
Anthony DeSalva - Broker - Georgetown Financial Group
Joel Yarde - Technology Marketing Lead - EIS
Arlind Mucaj - Manager - HSB
Frank Sentner - Advisor / Investor - Sentwood Consulting
Bobbie Shrivastav - Co-Founder & Chief Product Officer - Benekiva
Art Harrison - Chief Growth Officer - FormHero
Blake Hill - VP Life Insurance - dacadoo
Anurag Shah - CEO - Aureus Analytics
Matt Grossberg - CEO - Integrated Specialty Coverages
Tokio Marine North America Services - CVP & CTO - Steven Hanney
Aureus Analytics - Customer Success Manager - Leland Holcomb
Erie Insurance - UX Analyst - Rhonda Longo
FastTrack - SVP of Product Strategy Solutions - Carl Capato
Rainmaking - Program Director - Dawn Leblanc
Alchemy Crew - Managing Partner - Sabine VanderLinden
Spyglaz - Founder - Neeraja Rasmussen
Intellagents - President - Mark Stender
InsureLife - Co-Founder - John Cammarata
InsurTech LA - Founder - Gilad Shai
Lincoln Financial Group - AVP, Product & Market Research - Ewelina Mroczek
InnSure - Executive Director - Charlie Sidoti
Hartford Steam Boiler - VP, IoT Marketing and Product Management - Gordon Hui
Novarica - Executive Vice President, Research and Consulting - Jeff Goldberg
GalaxE - COO - Sandipan Gangopadhyay
Loop Insurance - Co-CEO - Carey Anne Nadeau
NAIC - Data Coordination and Statistical Analysis Director - Denise Matthews
Bifrost LLC - Founder - Henry French
AXA XL - Data Privacy Officer - Brendan McKiernan
AXA XL - Head of Platform Capabilities and Automation - Jay Stillman
RLI Corp - Chief Information Officer - Bryan Fowler
Risk Strategies - Senior Vice President -Practice Leader - John Delao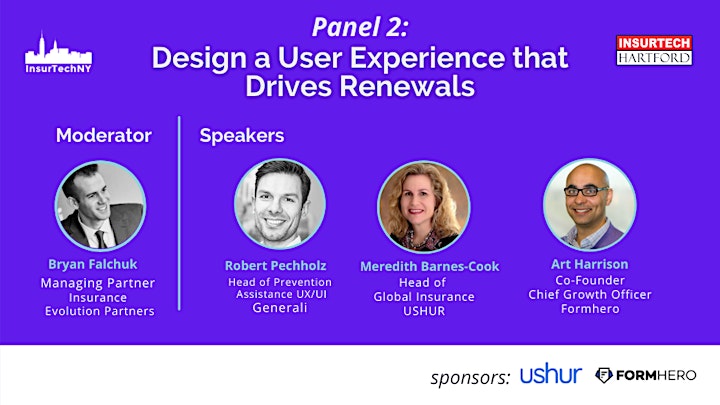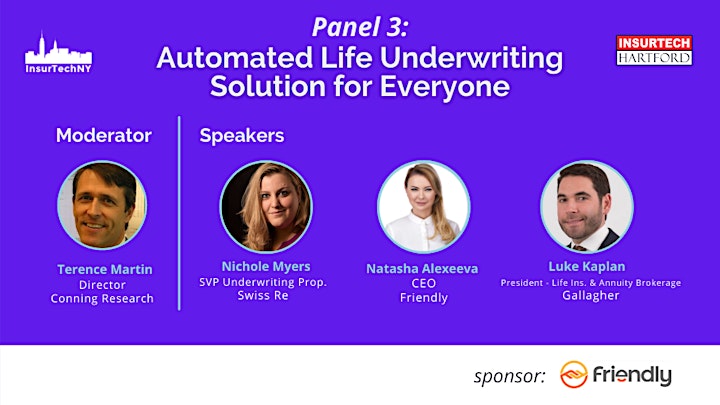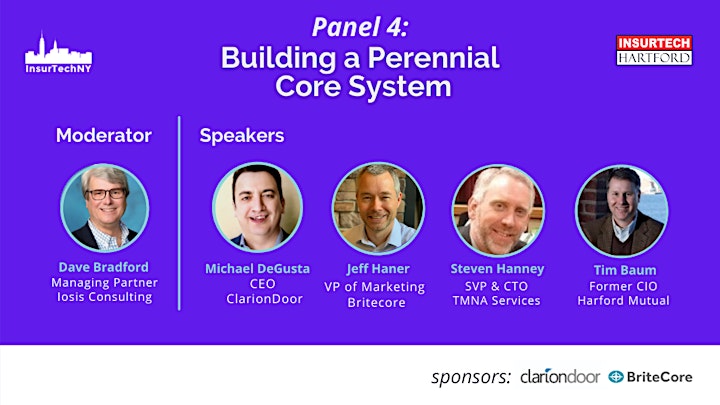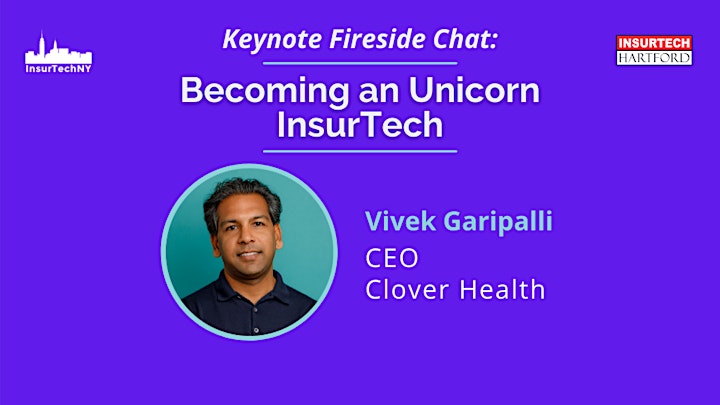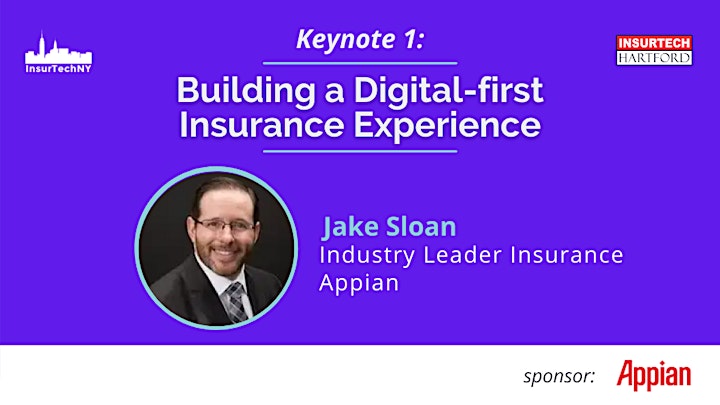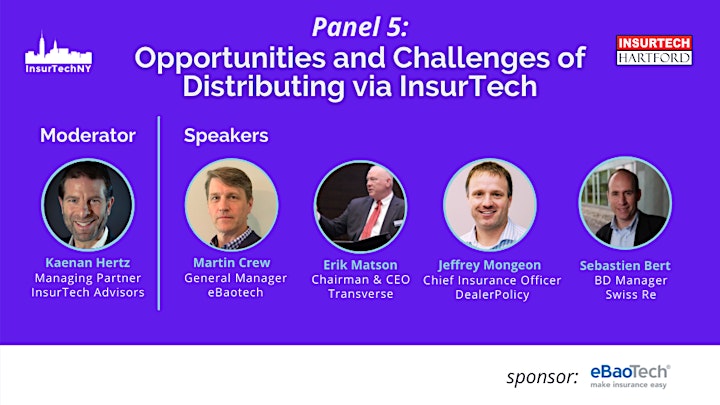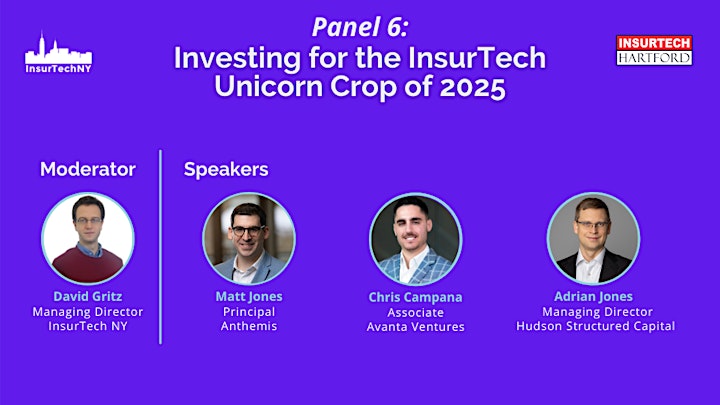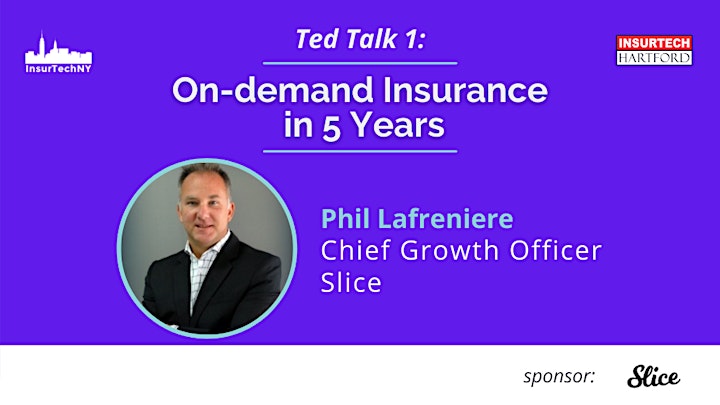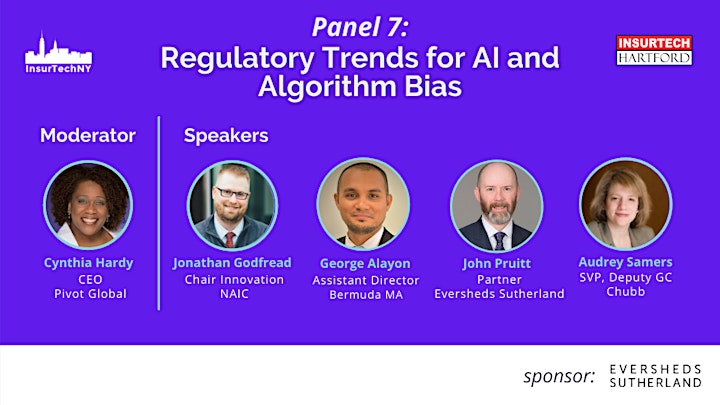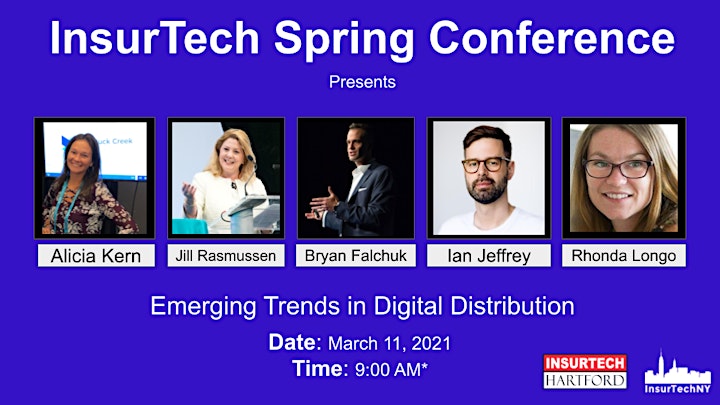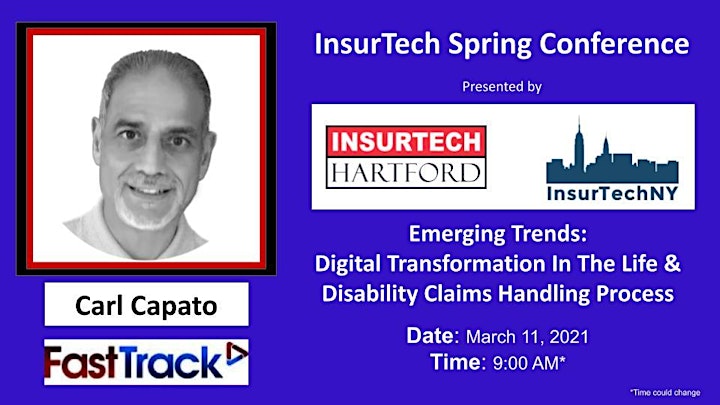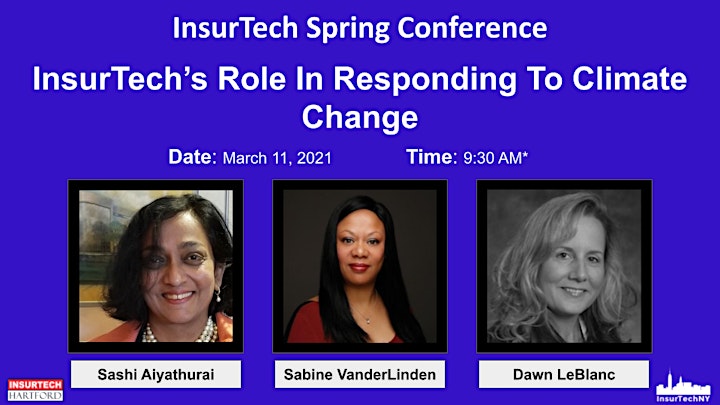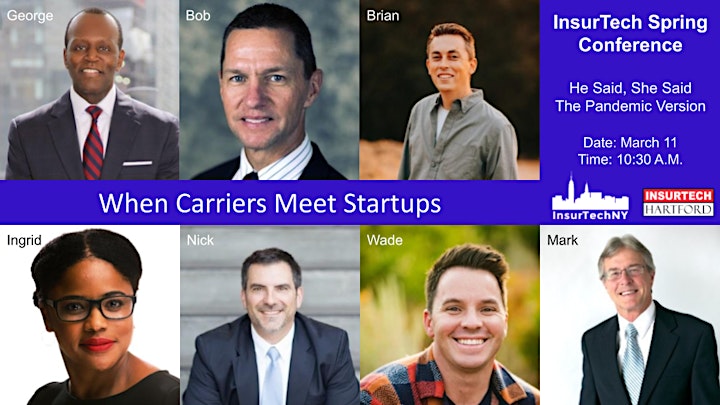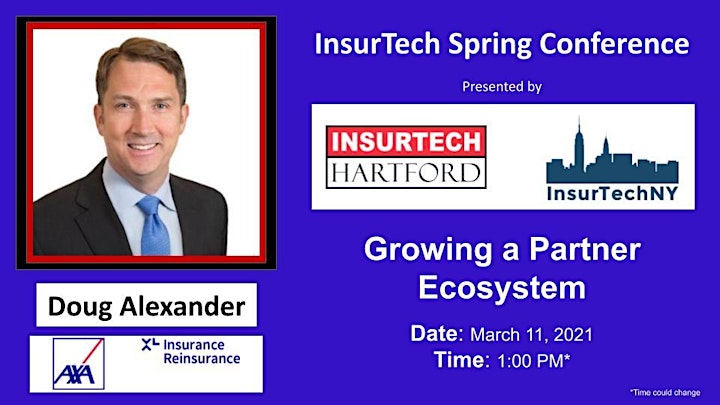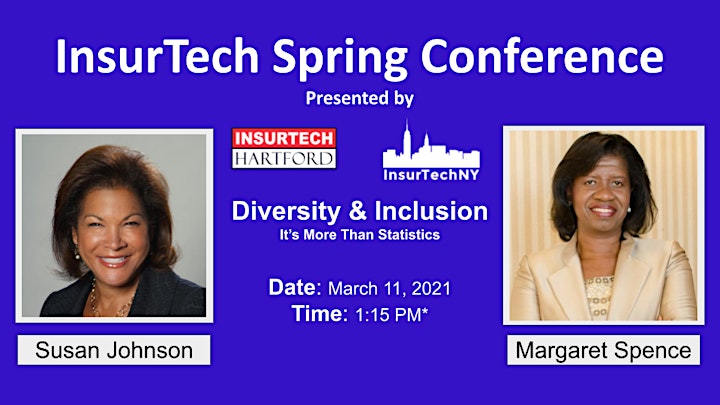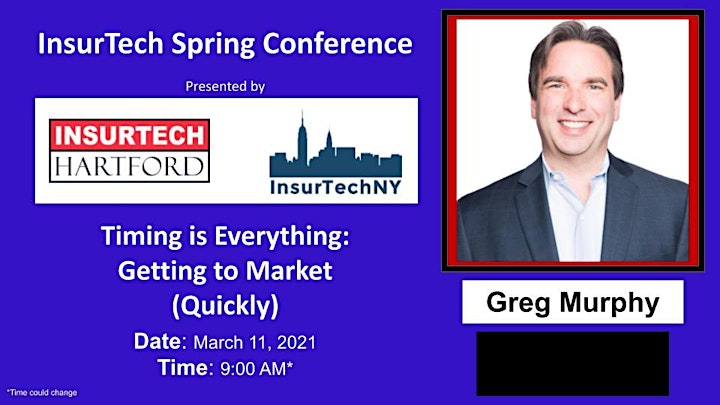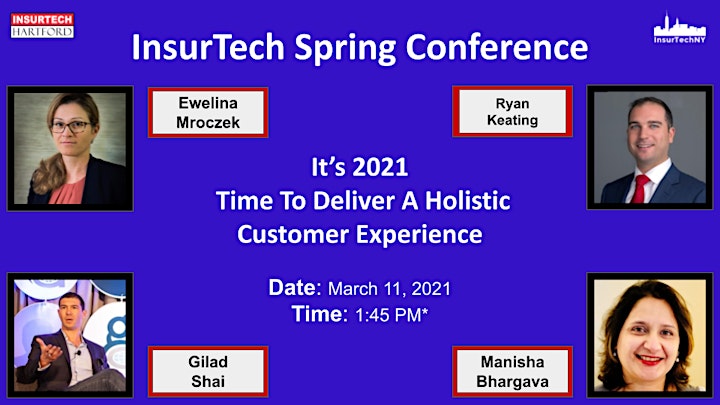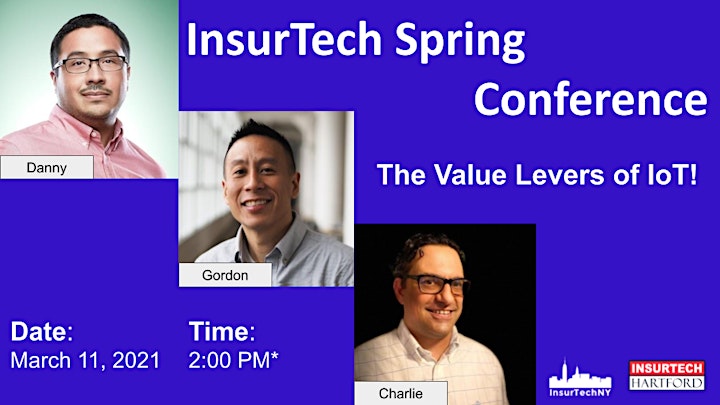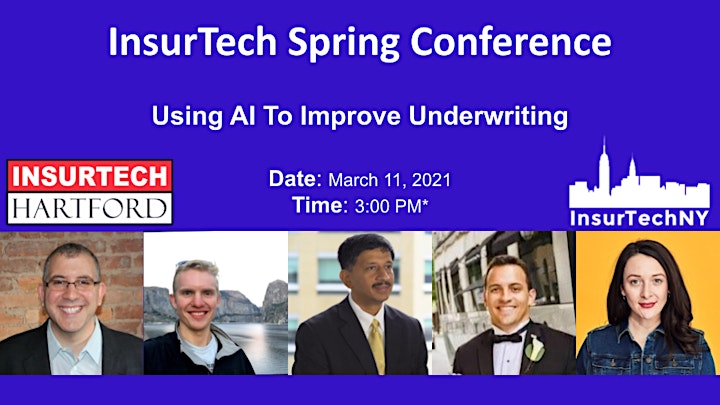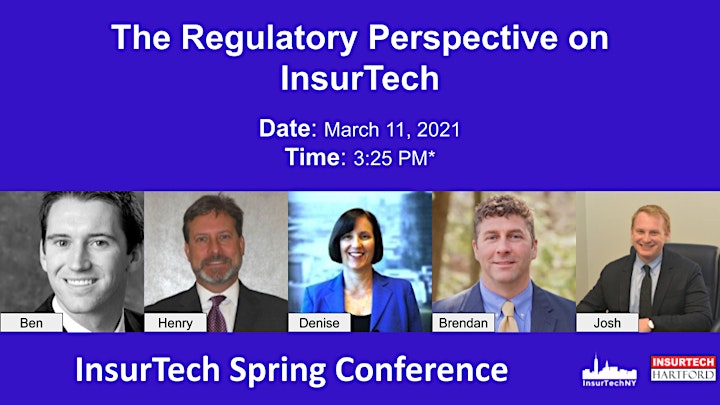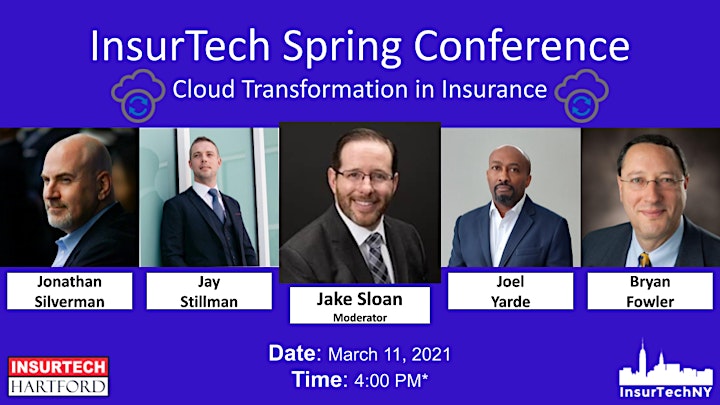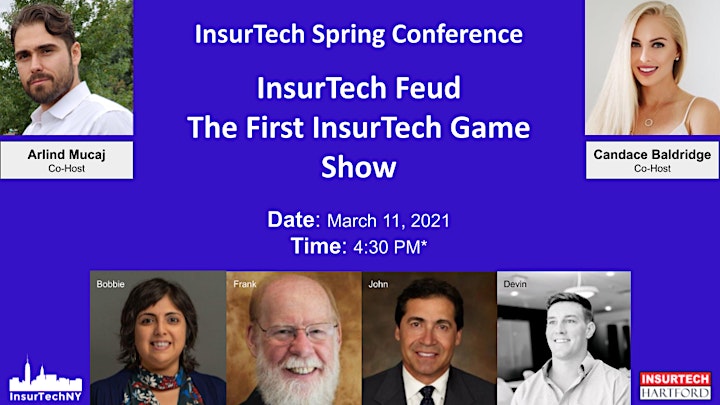 Our Sponsors
Thank you to our sponsors for supporting the event: e2Value, EY, ClarionDoor, Locke Lord, Britecore, Guidewire, EIS, Vymo, Breathe Life, Microsoft, Launch Hartford, Appian, Duck Creek, Innoveo, Instanda, ushur, Ivans, Slice Labs, eBaotech, Avanta Ventures, Eversheds-Sutherland, Friendly, FastTrack, Bermuda Business Development Agency, Thompson & Prince, The Insurance Recruiter, Fenris Digital, Gradient AI, Novarica, Dacadoo, FormHero, Rippling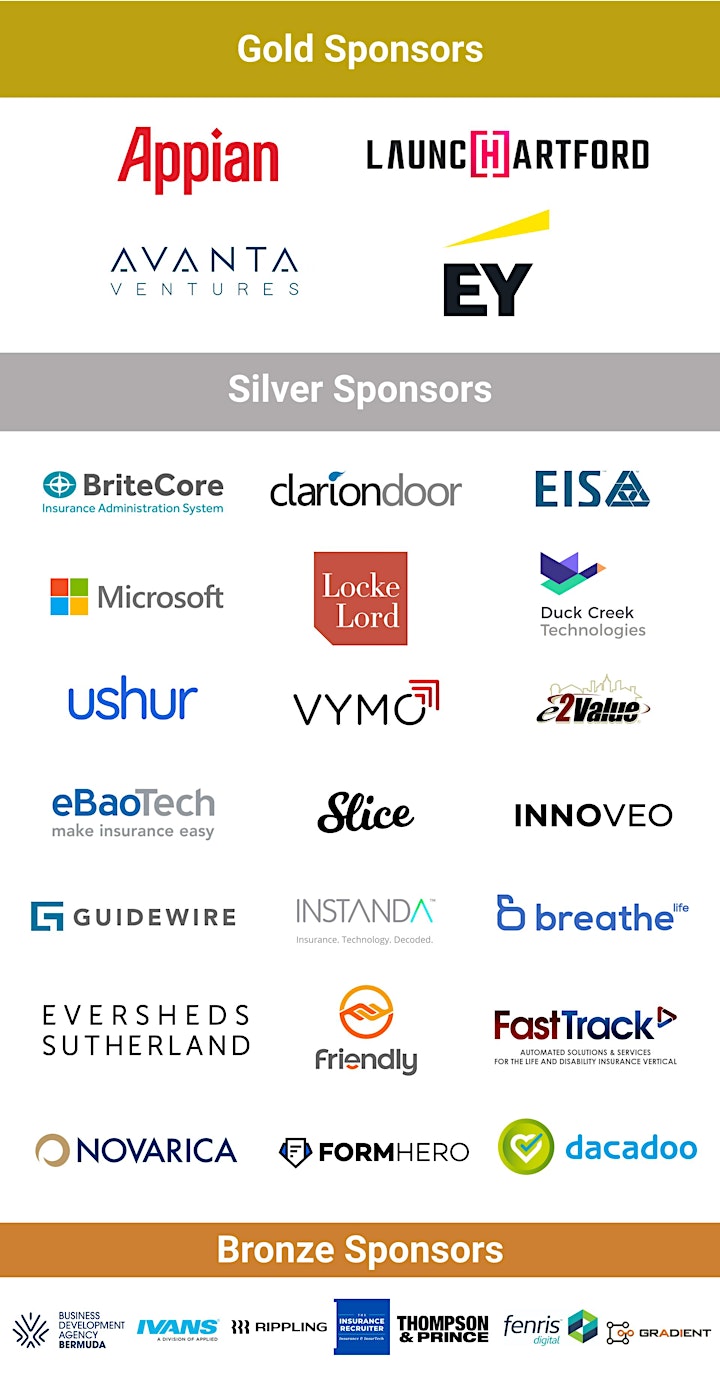 InsurTech Early Stage Competition
InsurTech NY will be hosting its Global InsurTech competition during the conference. The top ten startups from the competition will present at the conference. https://www.insurtechny.com/competition
Below are the finalists of the competition presenting in the conference.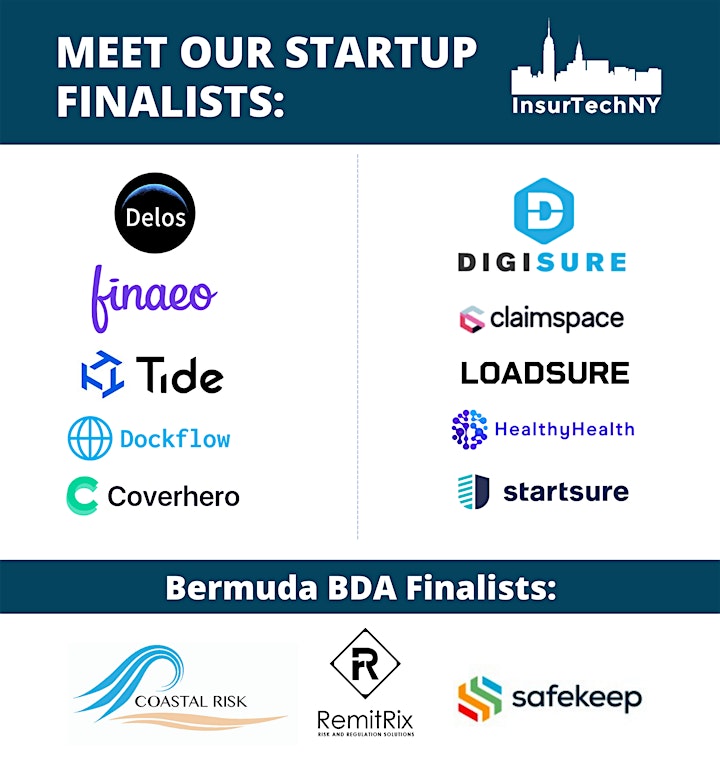 Enhanced Virtual Experience
1-on-1 networking app You will be able to schedule 1-on-1 meetings with other attendees through the GRIP networking web app
Virtual expo open networking You can visit the virtual expo and meet other attendees through an open networking area through the REMO web app
State of the art conferencing software You will have audio, video, and presentation screens through REMO web app
Full access to the content recording All of the sessions will be recorded and shared with the attendees for future review.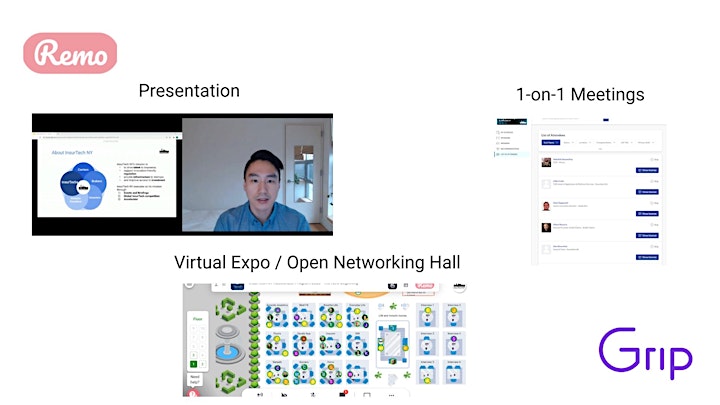 About InsurTech NY
InsurTechNY's mission is to bring together carriers, brokers, startups, and investors to help accelerate digital transformation of the Insurance Industry in greater New York region. We do this by facilitating new relationships and sharing insights from influencers within the industry through hosting 6 educational and networking events a year (est. every 2 months). Please visit our website, www.InsurTechNY.com for more details.
About InsurTech Hartford
InsurTech Hartford is founded and run by local insurance professionals. The continuously develops and matures a robust InsurTech ecosystem by bringing people together, educating, and promoting startup growth in the region. InsurTech Hartford is known for its unique content and engagement through high-impact events leveraging a deep insurance network. Please visit our website, www.insurtechhartford.com for more details.