Digital First or Customer First - 2022 Spring Insurance Conference
About this event
(COVID-19 Policy: This event requires vaccination and mask wearing will be enforced. In case of travel restrictions, event cancellations or if you test positive, a full credit for future events or refund will be provided.)
InsurTech Conference Event Details
InsurTech NY is hosting its annual spring conference to bring together the insurance innovators and InsurTech leaders to NYC. The conference will feature speakers from insurance carriers and brokers making strides in innovation and InsurTech startups that have shaken up the industry.
This conference will help answer the age-old question: should insurers focus on going digital-first or being customer-first. During the first wave of the internet revolution, Silicon Valley Tech Companies focused purely on digital-first. The result was a glut of Dot Coms with no customers to buy their products. We all know how that ended.
The insurance industry is now having its moment of massive change. Leaders of insurance carriers and InsurTech startups must make the same decision as tech founders in the late 1990s, but the right answer for insurance may be different than the right answer for early tech. Join us on March 7th to explore the issue over a series of hot topics covering distribution, underwriting, policy admin, and claims functions.
The conference will also host the largest InsurTech competition on the East Coast. Top startups from a pool of 100+ applicants will pitch in front of investors and insurance executives.
Host Hotel Booking
We have 50 rooms held for conference attendees at a special rate. First come first serve. Rate is for the night of March 6. Click here to reserve.
Contact us with questions at: contact@insurtechny.com.
Agenda Overview: Customer First vs. Digital First
08:50 AM Welcome & Introductions
09:00 AM Panel: The Small Commercial Distribution Battleground
09:30 AM Panel: Data Sources for 2030
10:00 AM Keynote 1: Digital First or Customer First?
10:25 AM Networking / Expo
10:55 AM Panel: Reducing the Underwriting Cycle Time
11:25 AM Panel: Digital First or Customer First
11:55 AM Startup Pitch Global InsurTech Competition
12:40 PM Networking & Lunch
01:40 PM Afternoon Keynote
01:55 PM Panel: Emerging and Adjacent Insurance Products
02:25 PM Networking / Expo
02:55 PM Panel: Making Life Insurance Millennial Friendly
03:25 PM TED Talk 1
03:32 PM TED Talk 2
03:39 PM TED Talk 3
03:46 PM TED Talk 4
03:55 PM Networking / Expo
04:25 PM Panel: Embedding insurance closer to the customer
04:55 PM Panel: Follow the Money - Where is InsurTech VC Moving
05:25 PM Open Networking + Announce Winner
Featured Speakers
We are bringing together an expert lineup of insurance carrier leaders, InsurTech founders, and solution provider leaders. Below speaker list will continuously be updated.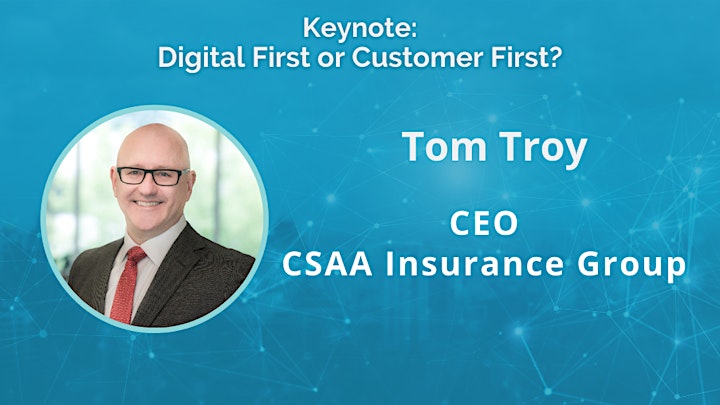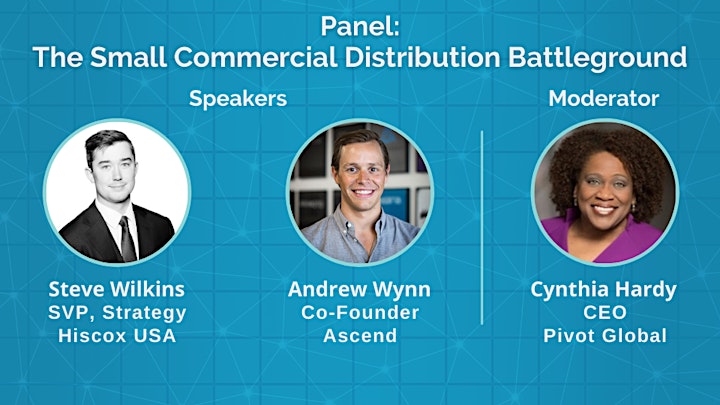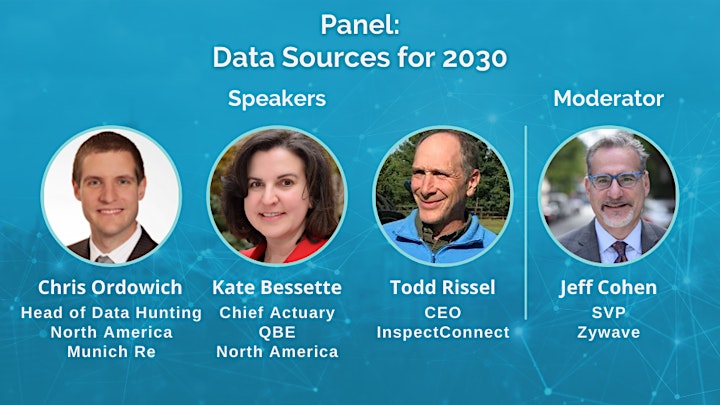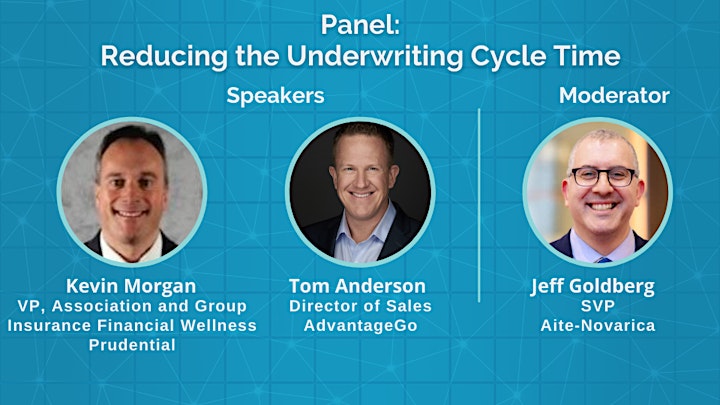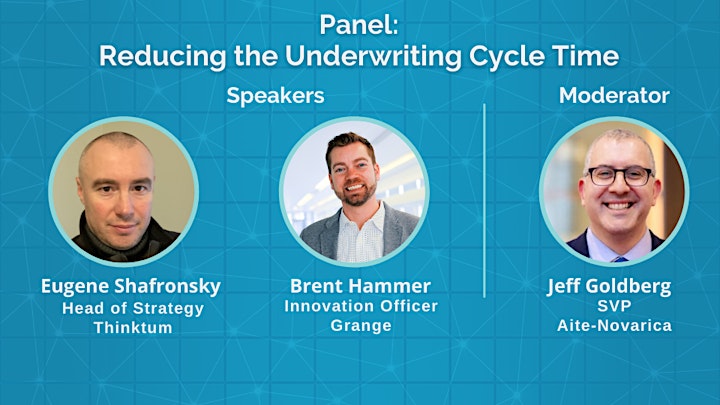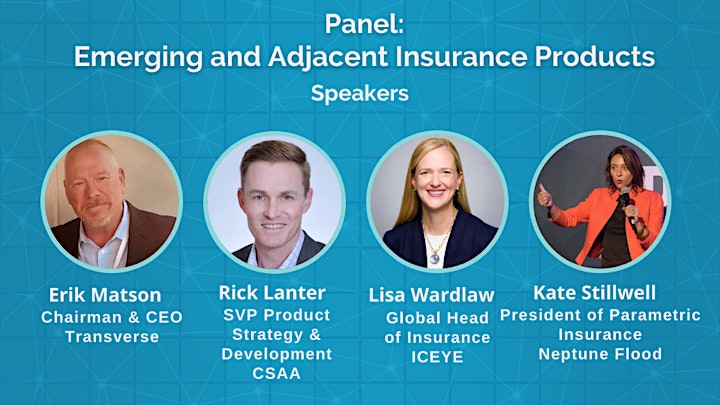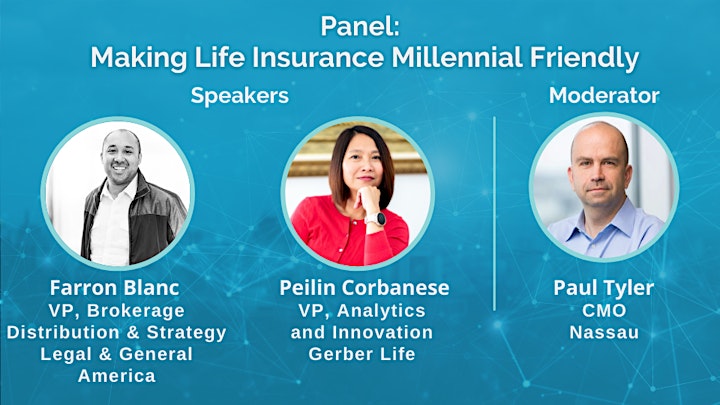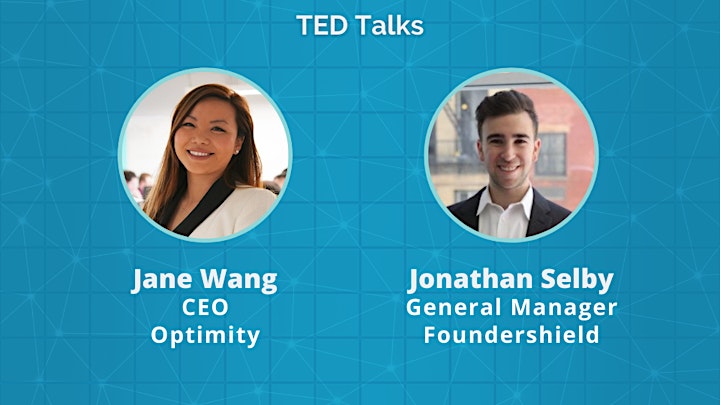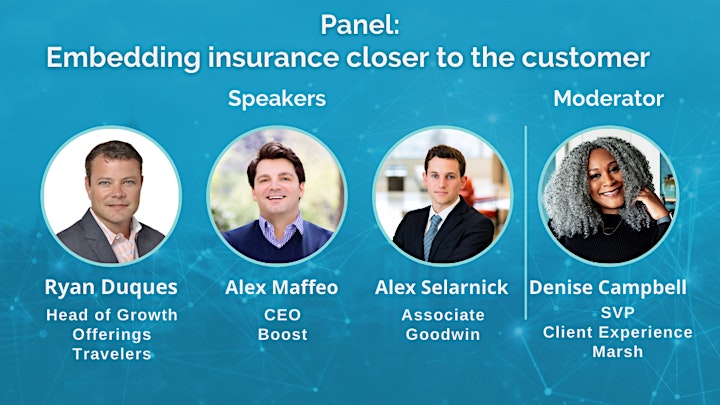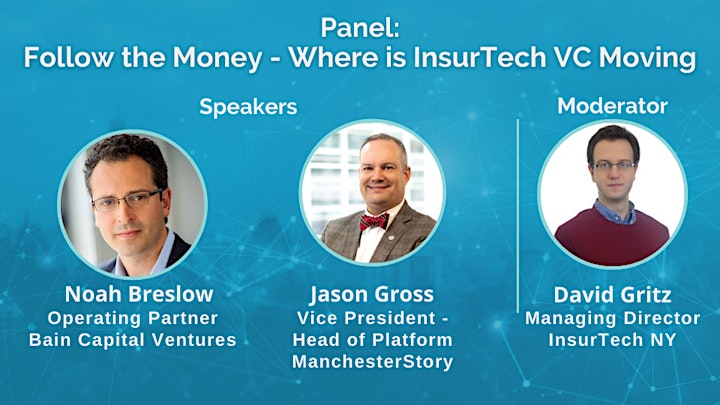 Our Sponsors
Thank you to our sponsors: AdvantageGo, Akur8, Appian, Ascend, Boost, Delos, DigitalOwl, eBaoTech, Eversheds Sutherland, EY, Goodwin, ICEYE, InspectConnect, Kiteworks, Locke Lord, ManchesterStory, Neptune Flood, Optimity, Outsystems, Planck, Safekeep, Skit, Socotra, Thinktum, Ushur, and Vymo.
If you'd like to learn how to sponsor our event, please reach out to contact@insurtechny.com.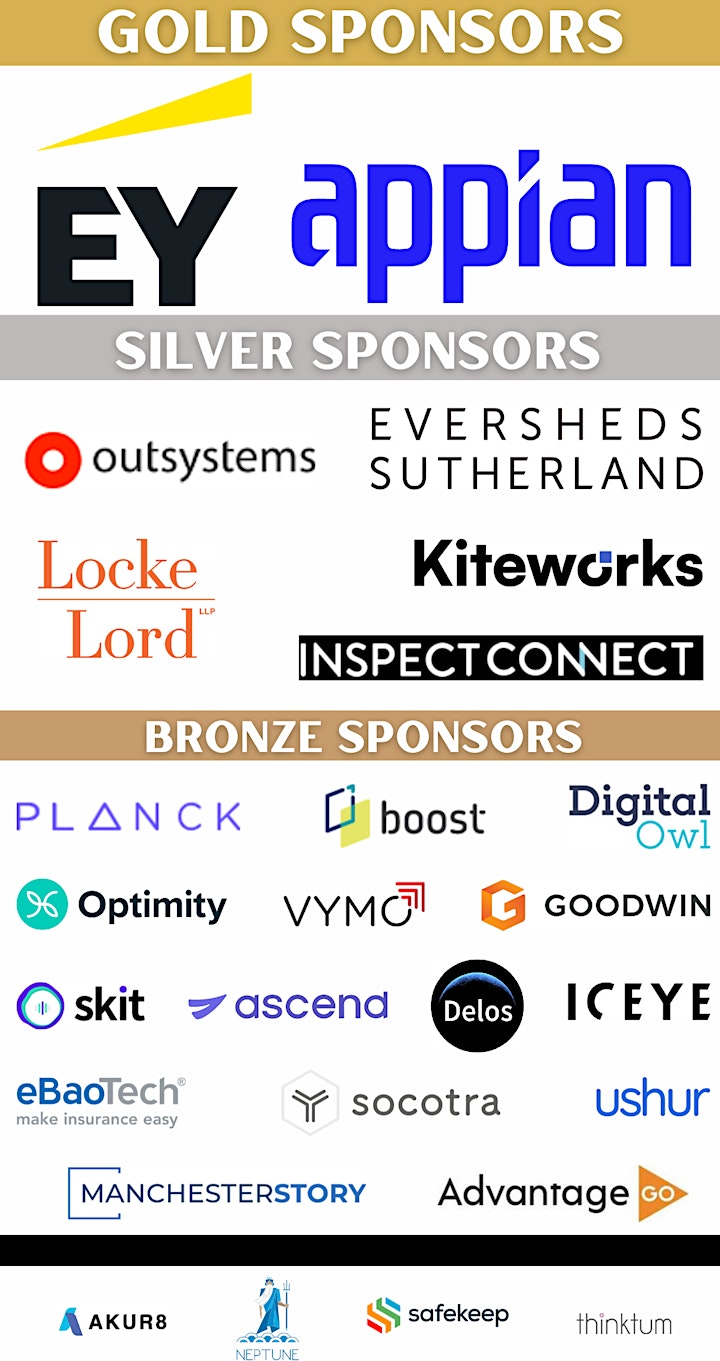 Competition Finalists
See finalists from 2021's InsurTech Early-stage Startup Competition. The list will be updated with 2022 finalists in February.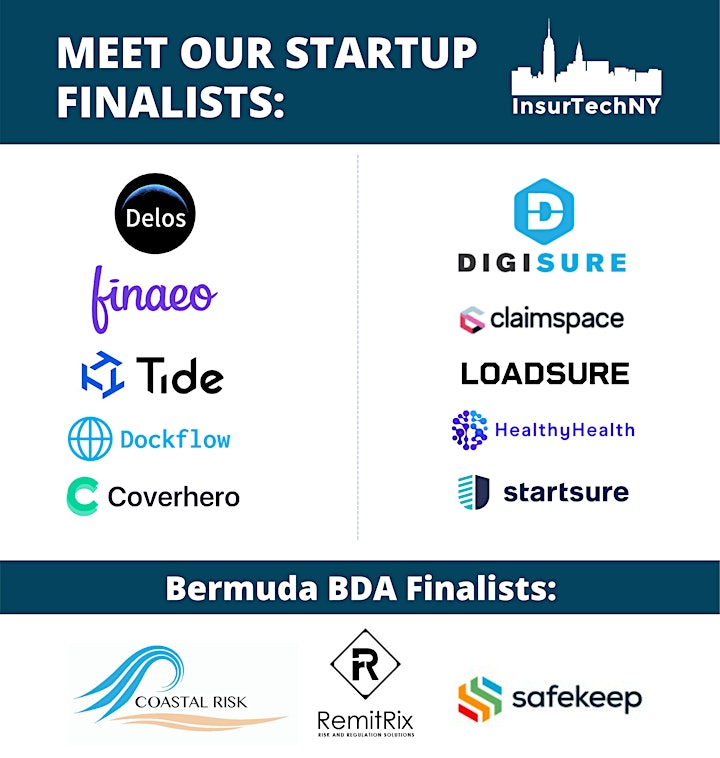 Who Should Attend
CEOs, COOs, CFOs
Distribution: CRO, Managing Directors, and VPs
Analytics: VPs, Directors, and Managers in Analytics
Data Science and Architects: VPs, Directors, and Managers of Data Science and Enterprise Architecture
Underwriting: CUOs, VPs, Directors, and Managers of Underwriting
Policy Admin: VPs, Directors, and Mangers of Policy Administration
InsurTech Founders and Executives
Innovation Leaders: VPs, Directors, and Managers of Innovation
Corporate Ventures: Managing Directors, Principals, and Associates in Corporate Ventures Capital
VCs and Angel Investors
Covid-19
If you purchase an in-person ticket to an Insurtech NY event between January 1, 2022 and March 8th, 2022 and we are unable to hold the event or you are unable to to travel due to Covid-19 restrictions, you test positive for Covid-19, or you are insolation due to exposure, we will offer you two options:
1. A full refund on your ticket
2. Or a credit for future Insurtech NY events in 2022.
InsurTechNY's mission is to bring together carriers, brokers, startups, and investors to help accelerate digital transformation of the Insurance industry in Greater New York region. We do this by facilitating new relationships and sharing insights from influencers within the industry through hosting 6 educational and networking events a year (est. every 2 months). Please visit our website, www.InsurTechNY.com for more details.
Video and pictures from the past events below:
Video: Full event on Youtube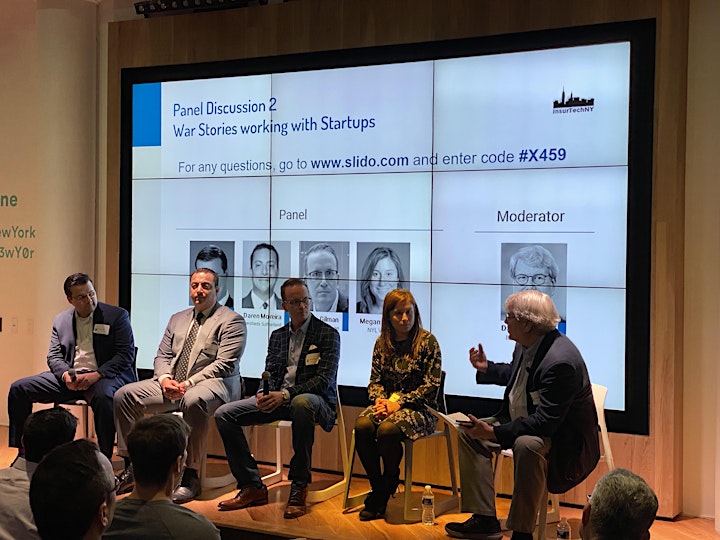 Organizer of InsurTech NY 2022 Spring Conference: Digital First or Customer First