Event Information
Refund policy
Refunds up to 30 days before event
Eventbrite's fee is nonrefundable.
Get involved with InsurTechs. Visit virtual InsurTech expo booths. Meet InsurTech founders. Discover advisory, board, or full-time ops.
About this event
Check out the 100+ open roles in the Open Role Database from the InsurTechs participating in the event: bit.ly/InsurTechExpo2020OpenRoles
Map of InsurTech Booths: Booth Floor Map
In the last 5 years, more than $20 billion has been invested in InsurTech startups and more than 4,000 companies have formed. These startups touch almost every line of business from health to auto to commercial lines.
Insurance carriers are now sourcing innovation from startups faster than they are developing it internally and major acquisitions like Cover Wallet (by Aon) and Fast Technologies (by Verrisk) have hit the global media.
if you are looking to setup your career for success in the next 5 to 10 years, it must have an InsurTech component. Executives from major carriers and brokers are serving as advisors, investors, or board members to InsurTechs. Technical and underwriting leaders are weaving InsurTech roles into their resumes.
Now, in a time of great market trubulence and change, is the best time to explore new options and expand your horizons. Find a startup you can help.
Join our InsurTech Matchmaking Expo where you can meet the most InsurTechs in the largest virtual expo on North America.
The InsurTechs are looking for:
Advisors and Board Directors - Senior leaders and industry experts who can provide guidance and advice that could bring their business to the next level
Mid to Senior Employees - Mid to senior leaders who can fill a specific need they have (e.g. Sales, Underwriting, Customer experience)
With our state-of-the art Networking tool, you will also be able to network with 300+ InsurTech aficionados from the leading InsurTechs and Carrier / Broker companies.
Agenda Overview
(All times US Eastern Time)
Information Session
09:00 AM - 09:10 AM: Announcements
09:10 AM - 10:00 AM: Panel Discussion on The Perfect InsurTech Hire: Britecore, Unqork, Carebridge International
10:00 AM - 11:00 AM: InsurTech Information Sessions - Akur8, Britecore, Everyday Life, Lifevest, Particle Health, Pinpoint Predictive, Sorcero, Stable Insurance, Unqork, The Insurance Recruiter
Expo Halls
10:00 AM - 02:30 PM: Virtual Matchmaking networking floors open
Featured Speakers
We are bringing together an expert line up of insurance carrier leaders, InsurTech founders, and solution provider leaders.
Ingrid Vasquez - HR Director - Britecore
Ben Caggia - Talent Acquisition Director - Unqork
Chris Frankland - Chief Innovation Officer - Care Bridge International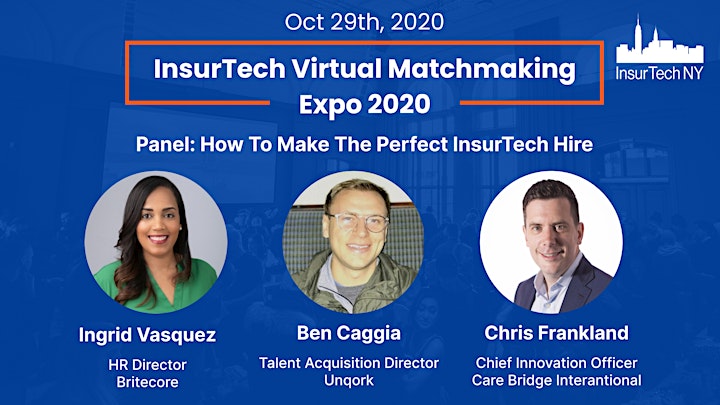 InsurTech Employers
40+ of the fastest growing InsurTechs will provide information about their open roles to attendees. Participating companies are Akur8, Apfie, BriteCore, Care Bridge International, Cazana, Clausematch, Click Insurance, Dealer Policy, Embroker, Everyday Life, Evident, Everest Re, Fenris, Floatbot, Foresight Analytics, GeoX, GradientAI, Infinilytics, Insurescan, Insurmi, IXN, Kiwi Insurance, Lifevest, Lisa InsurTech, Livindi, LodeStar Software Solutions, OVAL Digital, Omniscience, Particle Health, Pinpoint Predictive, Reeske, Rightindem, Sola Relief, Sorcero, Stable Insurance, States Title, Symbo, Unqork, The Insurance Recruiter, TrustLayer, Will 2 Click
Map of InsurTech Booths: Booth Floor Map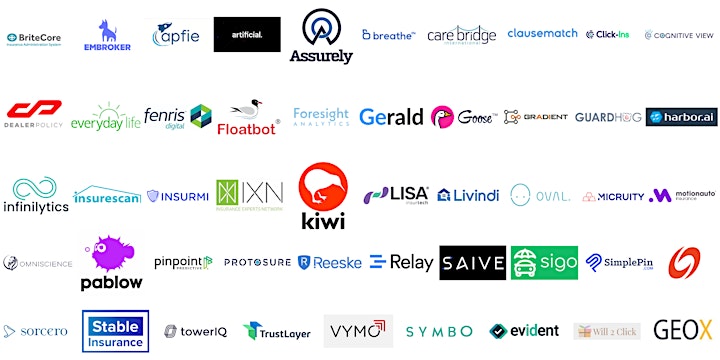 Associations and Partners
We are partnering with leading Insurance and InsurTech associations, communities and education instititues who have in aggregate 1M+ in reach. Thank you to our partners: MedStartr, CTI, NAAIA New York, Quesnay, St John's University, Innovation Underwriters, Insurtech Hartford, Empire State Development, Department for International Trade U.K., GIA and Advisen. The list will be updated continuously.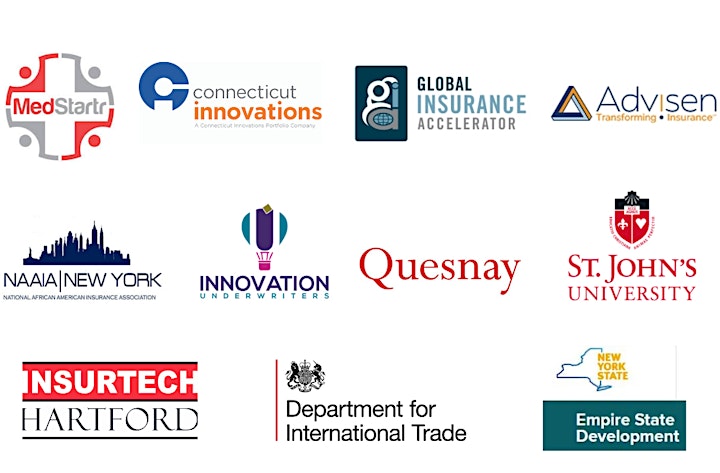 Our Sponsors
Special thanks to our sponsors who helped make this event possible: Britecore.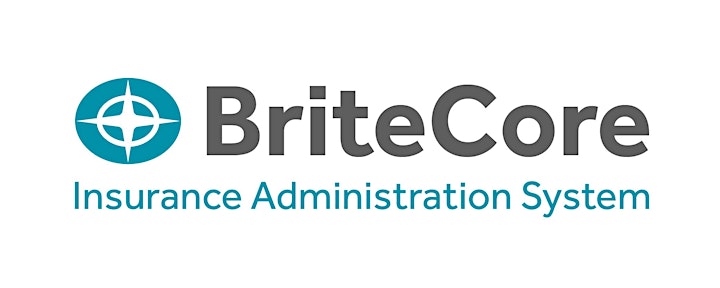 Who Should Attend
InsurTech Employers:
HR Leaders: VPs, Directors, and Managers of Human Resources
Recruiters and Talent Acquisition Leaders
InsurTech Founders and Hiring Managers
CVCs, VCs, and Private Equity Groups
Opportunity Seekers (Board + Advisory Roles):
Retired executives
Founders (with prior exits)
Angel Investors
Opportunity Seekers (Full-time):
Underwriters (all seniority levels)
Project Managers
Data Scientists
Developers (all seniority levels)
Business development and sales leaders
Implementation and Delivery Managers
How It Works
We will be using a state of the art Remo.co technology which allows us to fully experience the matchmaking event virtually.
Every employer has a virtual booth. Each booth will have 4 chairs. Employer can have ~2 representatives sitting virtually in the booth.
Attendees can hop from one booth to the next, just like they would in a real expo hall. They do this by clicking in one of the open chairs in each of the booths.
Once they click on a chair, they will start engaging in a video call right away with the employer's representative and other(s) who are sitting in the booth, just like in a real expo! If there is mutual interest, you can exchange info or go up to the interview hall to do 1-on-1 private interview.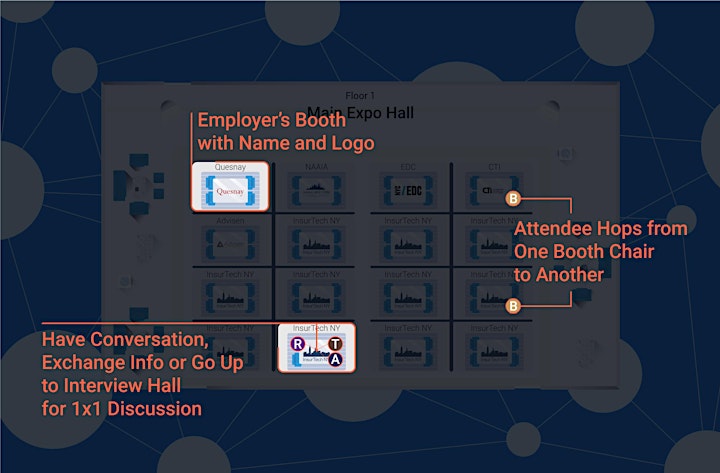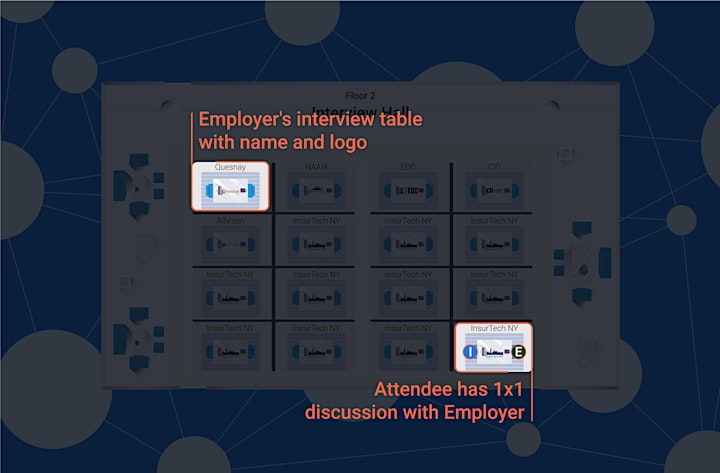 See below video which gives a quick overview of how Remo Conference technology works.
InsurTechNY's mission is to bring together carriers, brokers, startups, and investors to help accelerate the digital transformation of the insurance industry in the greater New York region. Please visit our website, www.InsurTechNY.com for more details.
Follow us on Social Media
Linkedin: https://www.linkedin.com/company/insurtechny
Twitter: https://twitter.com/InsurTechNY
Meetup: https://www.meetup.com/insurtechNewYork/
Privacy note: InsurTech NY collects your email and phone number at registration. We use your information to share news and updates about this event and future events. We also reserve the option to share your information with our event sponsors. If you wish to opt-out, please email contact@insurtechny.com.
Date and time
Location
Refund policy
Refunds up to 30 days before event
Eventbrite's fee is nonrefundable.