Location
Xero
6 Elizabeth Street
#1
Hawthorn, VIC 3122
Australia
Description
Join us for a dinner at Xero wherein we explore the evolution of UX and Product Design over recent times. You will hear from four women with amazing careers in UX talk about their journey and there will be lots of opportunity for networking with peers in tech space. This will be our final dinner for the year and we would love to see you there to celebrate the year that has gone by with us.
Agenda for the event:
5:45 - 6:45 pm Networking/Dinner
6:45 - 7:45 pm Panel + Q&A
7:45 - 8:15 pm Networking and Drinks
Speakers of the night:
Amy Sheppard, Executive General Manager of Design, Xero
Amy Sheppard is Executive General Manager of Design at Xero. She leads a 50+ global team of product designers, researchers and writers focused on creating beautiful accounting software to help change the game for small business.
As a systems thinker who excels at problem solving, Amy is passionate about helping organisations maximise their potential through design. Amy creates coherent experiences across large portfolios of work using scalable design frameworks and effective process. To Amy, good design solves problems but also fosters love and trust in a brand.
Amy began her career as a graphic designer but quickly moved into the digital world. She got her first taste of product design working as Creative Director for WeightWatchers.com. As employee #12, she led the design of the company's first digital subscription service and international websites which helped the company reach profitability within their first year.
Amy holds an MFA in Media Design from Art Center College of Design in Pasadena, California where she built her chops in strategy, design research and brand systems. Following this, she was Design Director at Johnson & Johnson, where she led the creation of brand experiences for J&J, Neutrogena, Acuvue, FIFA World Cup sponsorship and OneTouch.
Amy is a proud mum of 2 boys. She has lived the "lean-in" movement, changing jobs and companies while pregnant to advance her career and has learned a few things along the way to help support others in their journey.
Milly Schmidt, Freelance product and UX designer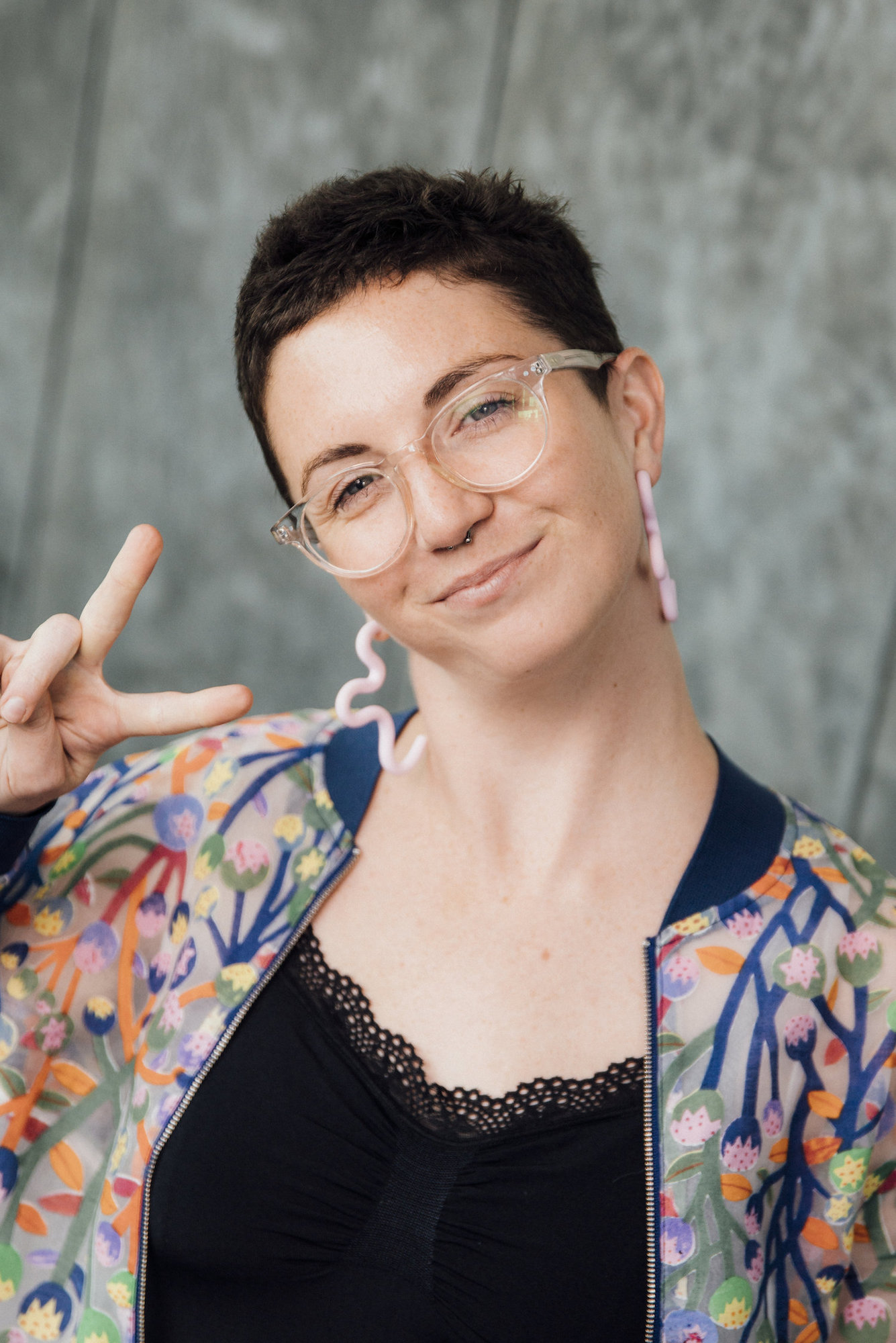 Sitting somewhere between front-end, UX and product, Milly is a creative technologist who works with startups and product teams to make products that are built for quality, scalability, sustainability and usability.
Milly has spent eight years in the digital world doing everything from building CMSs to designing UI to research, collaborative design, product management and now leadership. Her passion and talent is breaking down silos and connecting teams through shared language and collaborative creativity.
She has worked with startups Equiem, Clover, EstimateOne, as well as agencies Godel and Weave, and also spent multiple years running her own agency and product companies. Her most recent gig at RateIt was as Director of Product & Design, overseeing the entire product team, product strategy, hiring, and managing both devs and UX.
In her mission to try to find the root cause of design problems, she has followed the scent and ended up closer and closer to organisational design and management principles, and is interested in applying human-centred design and design thinking methodologies to whatever problem is really stopping any org from moving forward.
After working in the startup space for many years, Milly is taking some time to explore opportunities in larger orgs with more mature design functions in order to maximise her impact. She is a frequent speaker and writer, a teacher with Code Like a Girl and General Assembly and an advocate for a more diverse and ethical tech industry. Her dream is to find a way to work on solving the only important problem worth solving: climate change. In her spare time she likes cycling and coffee. You can follow her on Twitter at @meelijane.
Remya Ramesh, Senior Manager Design, REA Group
An outspoken advocate for inclusive design, Remya is passionate about building diverse design teams to deliver outstanding business results. Currently, she is the Senior Manager Design at REA Group where she leads a multidisciplinary design team changing the way the world experiences property.
As a one-time engineer, it's no surprise that Remya's interest in technology straddles UX design and product development. She holds an MBA from Melbourne Business School and a Masters degree in Cyber Security from RMIT. Great at connecting dots, a multifaceted background in business, design and technology is her strength.
Featured as one of GovInsider's 'Women in GovTech', Remya was the recipient of 2017 #TechDiversity award and 2015 Gold Disruptor Award for the Young ICT Professional (Female under 30) category of the ACS Digital Disruptor Awards. She also co-runs the Ladies That UX and Web Accessibility & Inclusive Design meetup groups in Melbourne.
Outside of work, you can find her performing Indian classical dance, climbing mount "tsundoku" and discovering new food joints.
Gemma Mooney, UX Manager, Intrepid Group
Gemma Mooney (previously Gemma Sherwood) leads a UX team at the world's largest adventure travel company, Intrepid Group, where she moved up from graphic design into UX.
Studied a degree in Graphic Design at the University of East Anglia in England. In 2005, Gemma begun her design career in print media designing health, fitness and bridal magazines for a number of publishers in England and Australia. Gemma has an extensive career in graphic design and UX, starting with Intrepid Travel in 2010 and working her way up to a senior position at the Intrepid Group through almost a decade of hard work.
Gemma's commitment to the transformation of her career and the direction of the business is inspiring. Not only did she teach herself how to code, which is now a skill that she helps to foster in young people through her volunteer involvement in Code the Future, but she has been key in changing the way Intrepid Group views technology and UX. She's also passionate about supporting other females starting out their career in UX and has been a Ladies That UX Melbourne meetup co-organiser for several years.
At Travel Weekly's Women in Travel 2017 awards Gemma took home the Technology category, and she was awarded 'Outstanding achievement' chosen by Intrepid Group's CEO at the company's annual awards night last year. Follow her on Twitter at @gem_sherwood.
MC for the evening:
Lucy Oldridge, Content Strategy Lead, Xero

Thank you to James O'Reilly and his Xero team for hosting us and sponsoring the food and drinks for the night.